An official Cuban Communist Party newspaper published a long editorial Wednesday targeting President Barack Obama and demanding that the U.S. government stop interfering in Cuba's internal affairs.
Cuba is scheduled to welcome Obama to Havana later this month, but the country's Communist government has no intention of revising its policies in order to normalize relations with the United States, Reuters reported.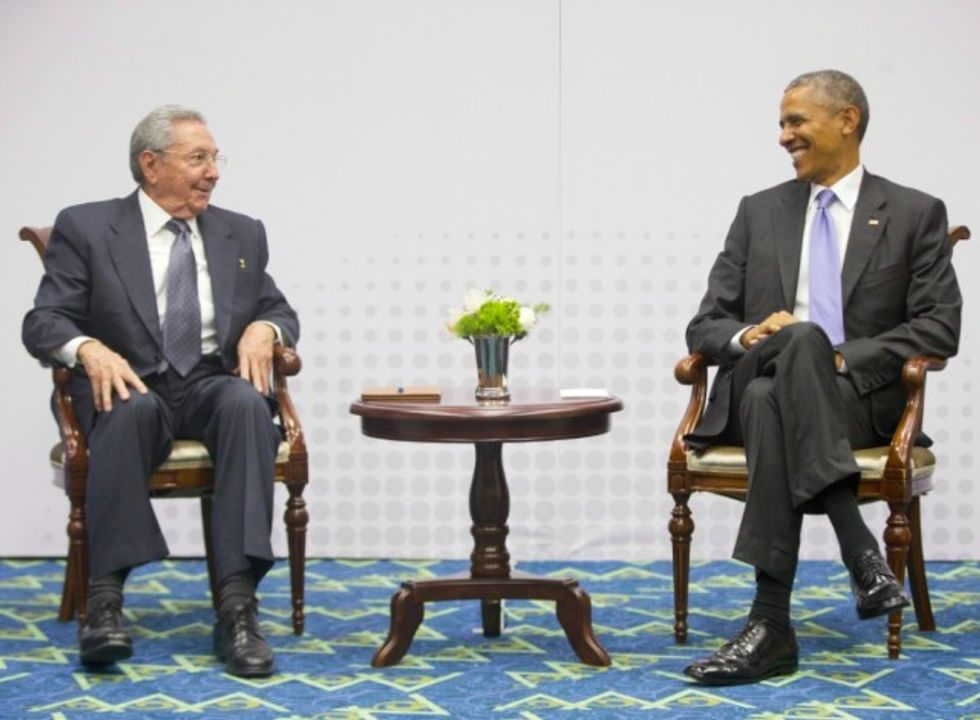 President Barack Obama smiles as he looks at Cuban President Raul Castro during their meeting at the Summit of the Americas in Panama City, Panama, April 11. (AP/Pablo Martinez Monsivais)
Obama's March 20-22 visit will mark 15 months since he and Cuban President Raul Castro pledged to the end decades-long Cold War-era dispute and try to restore diplomatic ties.
Since the initial meeting, Obama has relaxed a number of trade sanctions and travel restrictions, leading Republican critics and even some of his Democratic peers to caution that Washington's generosity wouldn't necessarily ensure that Havana would return the favors.
Now those fears are being confirmed. The editorial printed in the Granma newspaper and other official media proves that Cuba still has lingering resentment toward the United States, particularly with the comprehensive trade embargo. Obama expressed his desire to annul the embargo, but GOP leaders in Congress blocked the proposal.
The nearly 3,000-word editorial also criticized the U.S. for supporting its political dissidents, whom some Americans have applauded as champions of human rights but whom the Cuban government dismisses as an unrepresentative faction kept alive by U.S. interests.
"(The United States) should abandon the pretense of fabricating an internal political opposition, paid for with money from U.S. taxpayers," the editorial said.
Obama's visit will mark the second ever by a U.S. president and the first since the violent 1959 revolution led by Fidel Castro that ousted the country's pro-American leadership.
The editorial conceded that Cuba was working to build a new relationship with the United States, but it added that it shouldn't be assumed that the nation should have to "renounce any of its principles or cede the slightest bit in its defense" to achieve this.
The United States and Cuba have agreed to resume scheduled commercial flights and postal services and have pledged to work together on law enforcement and environmental issues. Obama also removed Cuba from a list of state sponsors of terrorism.
The editorial granted that Obama had made some positive efforts but went on to criticize their "limited nature and the existence of other regulations and intimidation caused by the overall blockade that has been in force for more than 50 years."
(H/T: Reuters)