Evangelist Franklin Graham wants God back in politics and the public square.
Speaking on Fox News' "Fox and Friends" Wednesday morning, Graham explained that he doesn't find hope in either the Republican Party or the Democratic Party, but only in God.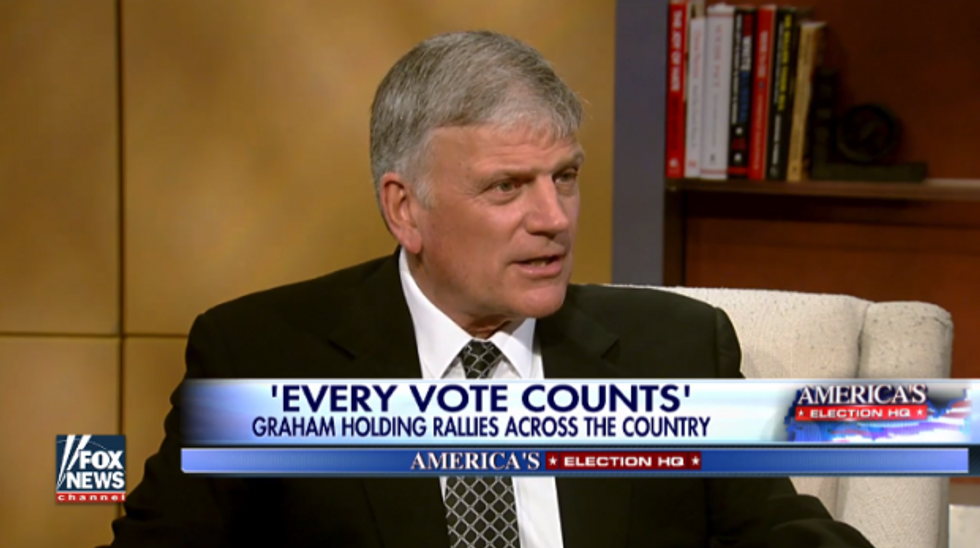 Image source: Fox News
"The only hope for this country is God," Graham said. "We have taken God out of the political debate. We've taken Him out of the public space. And I want to put Him back in."
Graham is currently spearheading a national bus tour aimed at encouraging Christians to get involved in politics and vote. The tour, titled the "Decision America Tour," has plans to visit all 50 state capitals.
Graham explained that during the tour's stops half the time spent in each capital is used to come together in prayer to openly confess the sins of our nation.
"This is what Nehemiah did in chapter one of Nehemiah and God gave him favor," Graham added, "and we need God's favor."
Graham, who emphasized that he is neither a member of the GOP nor will he endorse a candidate for president, said the purpose of his bus tour is to bring more glory to God by encouraging Christians to become more politically active.
"I want Christians to not only vote in the national elections, I want them to vote in the state elections and local elections," he said. "How important it is to get Christian mayors, to get Christian city council people, to get Christians on the school boards. I want Christians to run for office, and I want them to vote."
—
Follow the author of this story on Twitter and Facebook:
[facebook //www.facebook.com/plugins/like.php?href=