Joe Balistreri didn't think twice about shooting a home intruder — but had he known ahead of time how much it would cost him, he just might have.
Balistreri and his family were spending the night at his parents' home in Foster City, California, in March 2012 when a noise woke him up at around 4 a.m.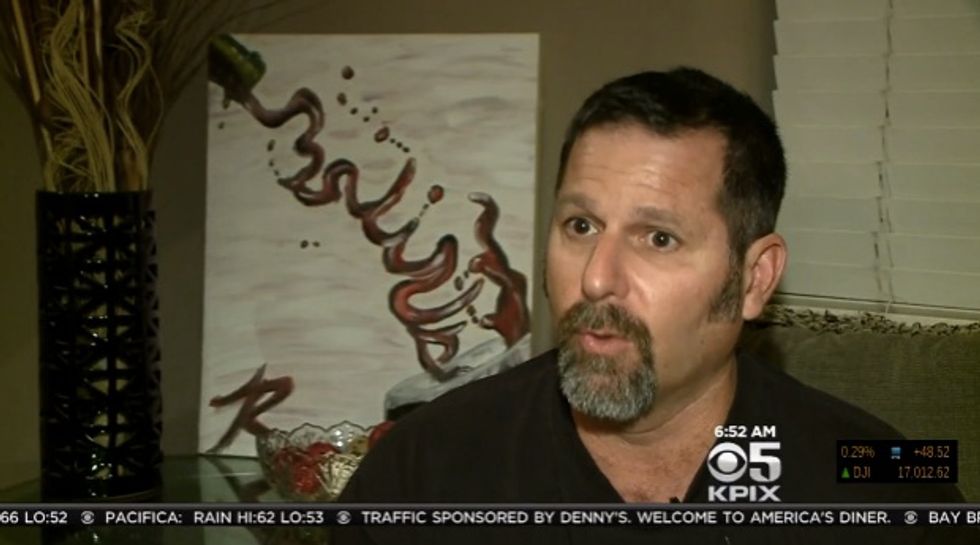 Joe Balistreri (Image source: KPIX-TV)
"I heard the noise coming from the front door. I heard clicking, rattling of the door handle," Balistreri told KPIX-TV. "I woke up my father, told him, 'Someone's trying to break into your house, where's your gun?'"
Balistreri said that when the intruder's first attempt at breaking in didn't work, he jumped the fence, made his way around the back of the house and entered the garage through a side door that was left unlocked.
"This guy is now in my house," he recalled thinking at the time.
Balistreri encountered the intruder, who stood 6 feet 4 inches tall, in the dark home and fired three shots.
"I had no choice given the circumstances," he said.
Now, in an unexpected turn of events, Balistreri, who said he was only trying to protect his family, is burdened by mounting legal fees.
Months after the incident, Balistreri was informed that the man he shot was filing a civil lawsuit against him for negligent use of a handgun. The alleged intruder claims he was intoxicated when he entered the home and mistook Balistreri's parents' house for his friend's.
"There was no knocking, there was no announcement, there was no nothing," Balistreri said.
The judge ended up siding with Balistreri, but the legal fees proved to be a lasting blow. "This guy put a huge burden on my shoulders," Balistreri said.
Since the shooting happened at Balistreri's parents' house, their insurance wouldn't cover his legal fees. He launched a GoFundMe page to help pay off the debt he incurred fighting his right to defend his family.
"That is my biggest issue — our judicial system allows these people to have the right to try to sue," he said.
(H/T: KPIX-TV)