Former Massachusetts Gov. Mitt Romney read mean tweets he received from supporters of Donald Trump during an appearance on ABC's "Jimmy Kimmel Live" Tuesday.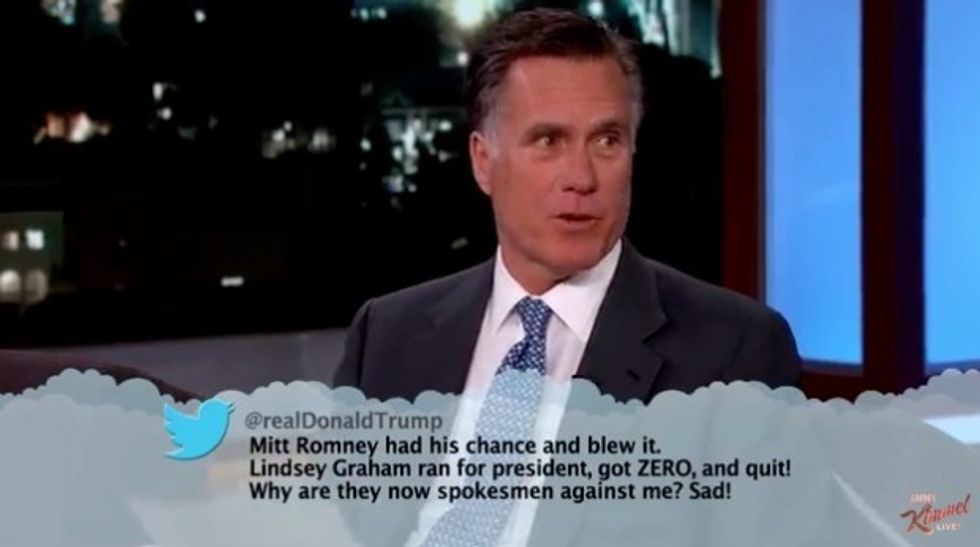 Image source: YouTube
Romney, the Republican presidential nominee in 2012, recently gave a speech detailing a strategy to defeat Trump in the primary in favor of any of the other Republican candidates.
Romney started with a tweet from Trump himself.
Mitt Romney had his chance and blew it. Lindsey Graham ran for president, got ZERO, and quit! Why are they now spokesmen against me? Sad!

— Donald J. Trump (@Donald J. Trump) 1457458560.0
"Got zero? The only people I know who got zero are the ones who paid $25,000 to be at Trump University," Romney replied.
"Mitt Romney = loser," one Tweet read.
"That's true actually. I lost," Romney replied.
The same Twitter user asked Romney where he buys "the shoe polish" for his hair.
"I buy it at Costco in bulk," Romney said.
One Twitter user said he met Romney a few months ago and is currently "working on a time machine to go back and punch him in the throat."
"Pic or it didn't happen," Romney said.
Romney also said that he hopes the Republican nominee is "someone we can be proud of."
—
Follow Kate Scanlon (@kgscanlon) on Twitter