The Obama administration actively opposed bipartisan legislation to reform the Freedom of Information Act, which have forced the federal government to be more transparent and streamline the release of documents to the public.
That's according to documents obtained by the Freedom of the Press Foundation, a transparency nonprofit advocacy group, that obtained 114 pages of documents between the Justice Department and members of Congress regarding the FOIA reform bill largely sought to codify President Barack Obama's "presumption of openness" into law.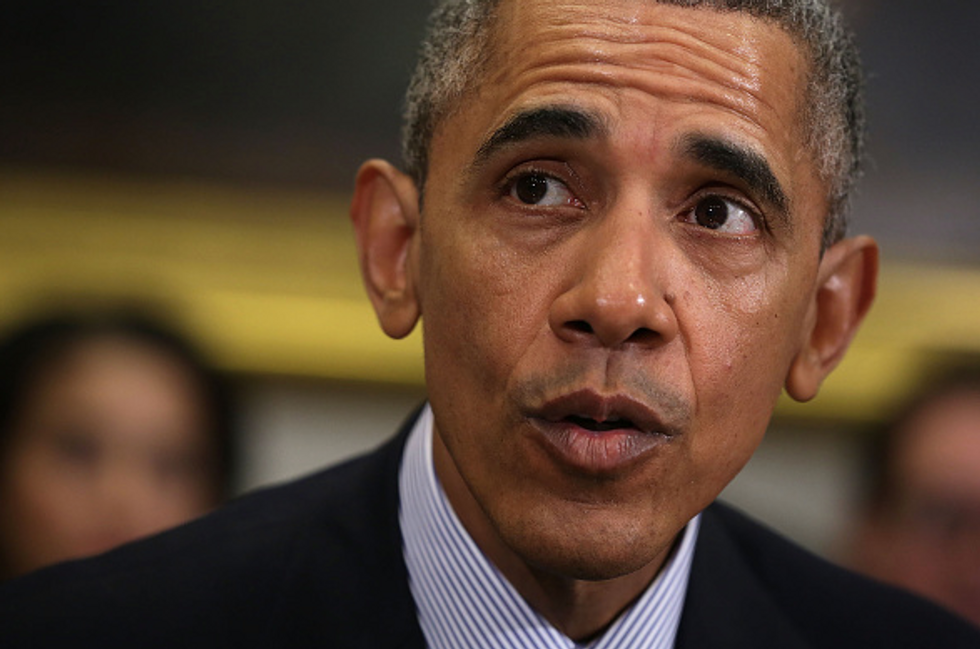 President Barack Obama speaks during a meeting at the White House Monday. (Alex Wong/Getty Images)
"The Administration strongly opposes passage of [the FOIA Act]," one of the correspondence said. "Notably, the Justice Department indicates that this policy memo is not just the agency's individual opinion, but that it is speaking for the entire Obama administration."
The fact that it took a lawsuit to pry the public documents from the Justice Department speaks to some of the flaws in the federal government's open records.
The 2014 FOIA reform bill was co-sponsored by House Oversight and Government Reform Committee Chairman Darrell Issa (R-Calif.) and ranking member Rep. Elijah Cummings (D-Md.), who rarely agree on anything. The bill passed the House and a similar bill passed the Senate. However, it was halted in conference committee. This was believed to be because the administration intervened.
"The Administration strongly opposes passage of H.R. 1211," the Justice Department documents say. "The Administration views H.R. 1211 as an attempt to impose on the executive branch multiple administrative requirements concerning its internal management of FOIA administration, which are not appropriate for legislative intervention and would substantially increase costs and cause delays in FOIA processing. In this respect in particular, this bill is vastly different from past amendments to the FOIA, which addressed substantive issues connected with access to government records."
It continued, "We are committed to improving FOIA administration across the government, and we believe that the President's FOIA Memorandum and the Attorney General's FOIA Guidelines provide the best framework for those improvements."
The Obama administration has been embroiled in other transparency controversies, largely concerning both government inspectors general and treatment of the press. An October report by former Washington Post Editor Leonard Downie for the non-partisan Committee to Protect Journalists said that the Obama administration is the most secretive since the Nixon administration and has chilled journalists' coverage by retaliation against government leakers.