BALTIMORE (AP) — Two Baltimore schools police officers have been charged with assault and misconduct after cellphone video surfaced showing one of them slapping and kicking a teen at a school while the second officer stood by.
Anthony Spence, 44, and Saverna Bias, 53, turned themselves in Tuesday night and were released on bond. City police announced Wednesday that both are being charged with second-degree assault and misconduct in office, and Spence is also charged with second-degree child abuse.
The police statement of charges alleges that a witness said Bias told Spence, "You need to smack him because he's got too much mouth," and Spence then hit and kicked the teen. Police note that Spence was not trying to arrest the teen and wasn't acting in reasonable self-defense.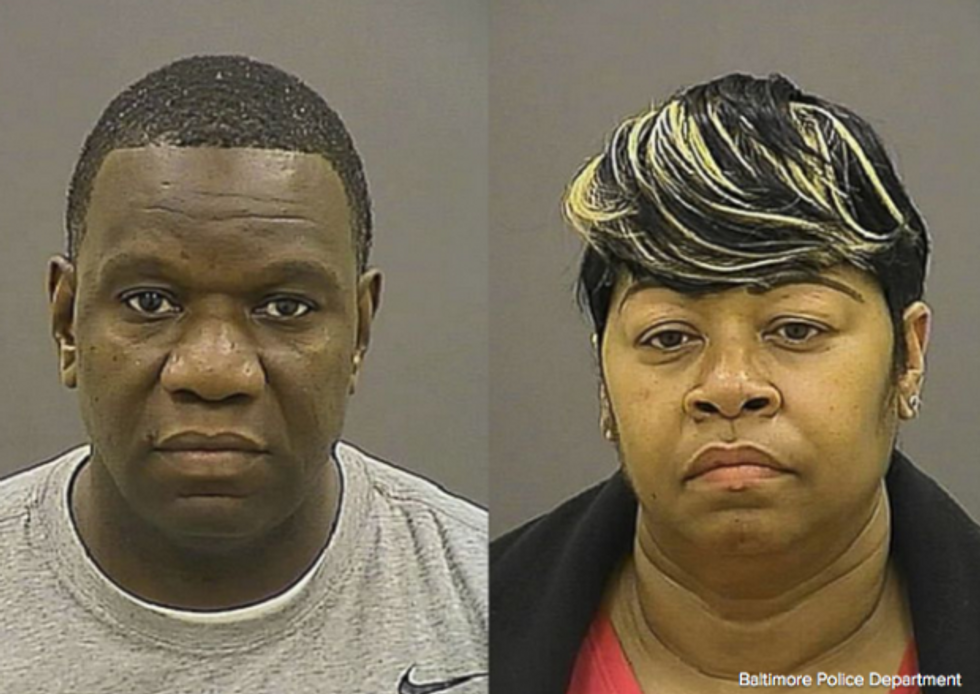 Anthony Spence, 44, left, and Saverna Bias, 53, right, are pictured here in their booking photos from March 8 at Baltimore Central Booking and Intake Center.
The video, apparently surreptitiously recorded by another teenager facing away from the officers in the hallway, shows Spence shouting profanities as he repeatedly slaps and kicks the boy and tells him to leave the school and go home.
The two officers were initially put on paid administrative leave, but Spence's pay was suspended after he was charged with child abuse, a felony. School Police Chief Marshall Goodwin is also on leave, but officials have not said why.
Attempts to reach Spence's attorney and Bias by phone Wednesday were not successful.
Spence acknowledged in a telephone conversation with The Associated Press on Friday that he was the subject of a criminal investigation into the actions captured on cellphone video last week at the REACH Partnership School. He said he wouldn't discuss it because the news media would "twist" the story.
"Right now, I'm the bad guy," he said. He referred questions to his lawyer, Michael Davey, who didn't immediately respond Wednesday.
City police began investigating after the eight-second clip was made public, a day after the confrontation. City police said in their statement Wednesday that the case is now in the hands of the public integrity unit of the Baltimore state's attorney's office.
The school district has its own police force separate from city police. The school police department also is conducting an internal investigation.
School officials initially said officers responded to a reported intruder and that the young man wasn't a REACH student. By Friday, the school system said in a statement that he is "believed to be a student on the school's roster." His lawyer, Lauren Geisser, said he's a 10th-grader there.
Baltimore City Schools CEO Gregory Thornton met with parents to discuss the video and said he will review the training and selection of school police officers.
Spence formerly worked for the Baltimore City Sheriff's Office, and was fired in 2002 after he was involved in the violent arrest of a man the officers falsely identified as a robbery suspect. Goodwin was a public information officer for the sheriff's office at the time.
Spence also serves as the vice president of Sentinel Protection Agency, a private security firm, along with Clyde Boatwright, who is the company's chief executive officer. Boatwright, who was also involved in the 2002 incident as a deputy sheriff and fired alongside Spence, is now the Baltimore School Police union president.