Amid a heated Democratic primary battle with former Secretary of State Hillary Clinton, Vermont Sen. Bernie Sanders has been unable to shake his past support for Cuba's communist Castro regime.
Sanders, who identifies as a democratic socialist, was hit with a reminder during Wednesday's Democratic debate that he once praised former Cuban President Fidel Castro. Sanders responded to a three-decade old clip of his praising the regime by advocating for normalized relations with the island-nation — a position shared by Clinton and President Barack Obama.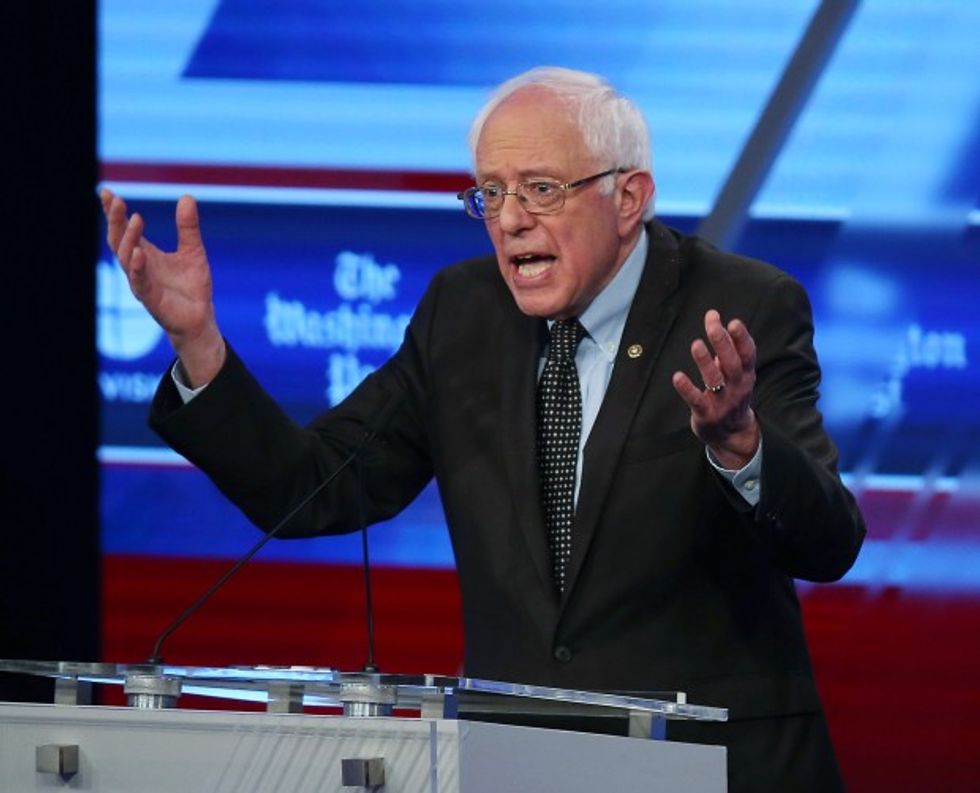 Vermont Sen. Bernie Sanders speaks during his debate with fellow Democratic presidential candidate Hillary Clinton Wednesday. (Getty Images/Joe Raedle)
The Clinton campaign was sure to pounce on the moment, given that, according to the campaign, Sanders "refuses" to disavow his support for the Castro brothers.
"Bernie Sanders just refused to disavow his past support for Fidel Castro," the campaign declared in an email to reporters late Wednesday night.
In the email, Clinton's press team made it abundantly clear that Clinton does not support the Castro regime, nor does she believe that the United States' former isolationist policy toward the country benefited its people.
"She has made clear the Castros have been enemies of their own people, and that her efforts to end our isolationist policies were driven by her belief that they were actually strengthening Castro," the campaign wrote, accompanied by a statement Clinton gave last summer.
However, the Clinton camp, trying to draw distance between themselves and Sanders, attached three press clippings to the email, detailing Sanders' past support for the Castro regime and communist Cuba. But, during Wednesday's debate, Sanders sang a different tune.
"It will enable them, I think, when they see people coming into their country from the United States, move in a more Democratic direction, which is what I want to see," he said regarding the administration's new policy toward Cuba.
Still, Clinton sees this as another opportunity to draw a contrast between herself and the Vermont senator. How it effects Florida's Tuesday primary — which will likely see a large number of Cuban-Americans hitting the voting booths — remains to be seen.
—
Follow the author of this story on Twitter and Facebook:
[facebook //www.facebook.com/plugins/like.php?href=