Looks like Keep the Promise PAC can't keep its promise of a Chuck Norris appearance at a rally for Texas Republican Sen. Ted Cruz this weekend.
According to the pro-Cruz PAC, Norris, 75, was to attend a rally along with the GOP presidential hopeful, radio host Glenn Beck and Lt. Gen. Jerry Boykin at an "American rally" in Concord, North Carolina. However, as rumors of a Norris endorsement of Cruz swirled, the "Walker, Texas Ranger" star apparently backed out of the event.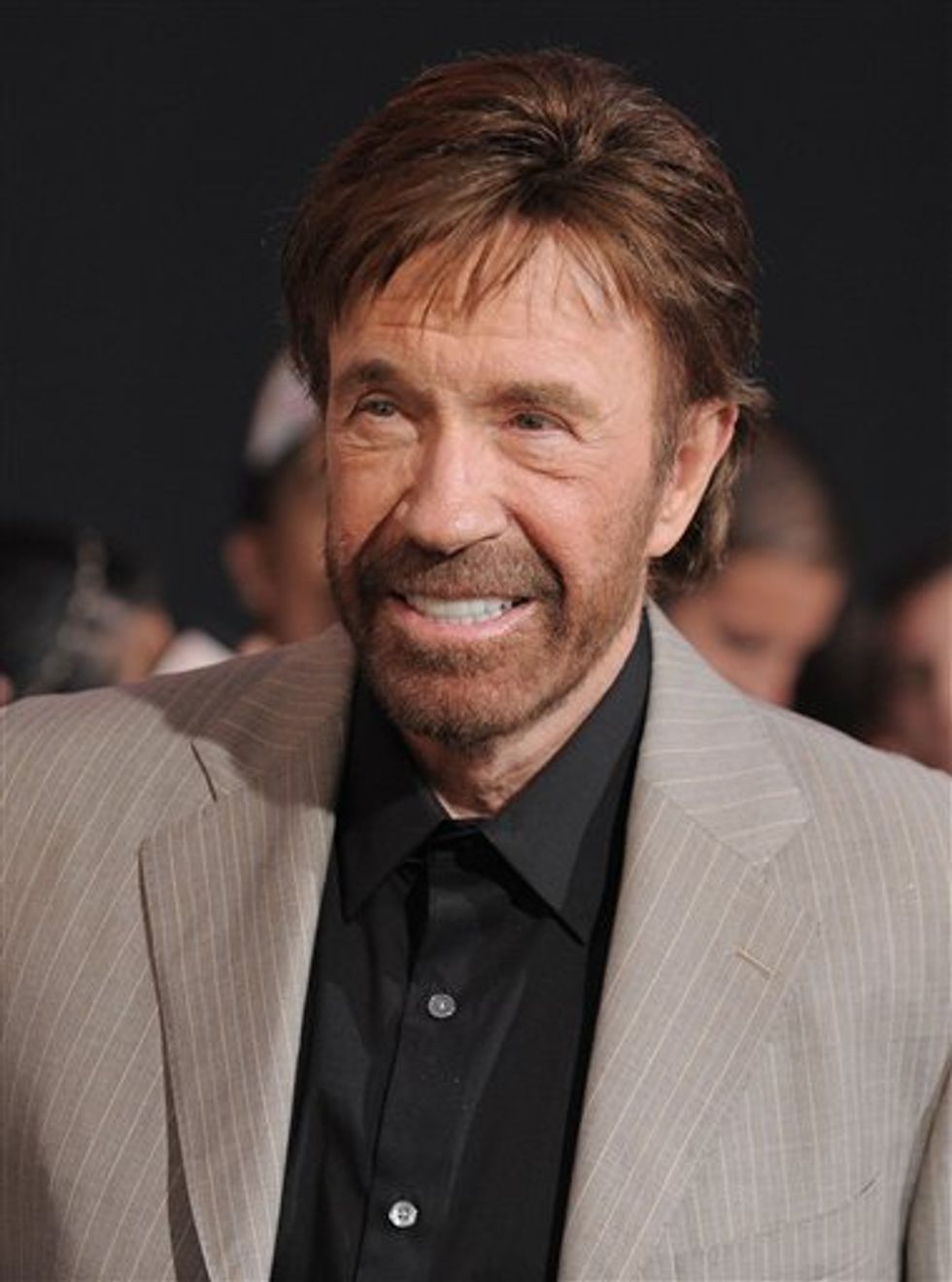 Chuck Norris. (Jordan Strauss/Invision/AP)
Kristina Hernandez, a spokeswoman for Keep the Promise I, confirmed to TheBlaze that Norris "will no longer be appearing" at the event held at the Charlotte Motor Speedway.
"Late Wednesday evening, we learned that Chuck Norris will not be attending the rally in Charlotte, North Carolina, and has not officially endorsed any candidate for president," the PAC announced Thursday. "We regret that our publicity implied otherwise and apologize to Mr. Norris and our rally participants for the confusion."
Jeff Duclos, a spokesperson for Norris, confirmed to TheBlaze late Wednesday night that rumors that Norris was to make a presidential endorsement was just that — a rumor.
"I would like to clarify for the record that I have NOT officially endorsed any candidate for president, contrary to what has been widely reported in the media," Norris said in a statement provided to TheBlaze Wednesday.
Norris added that "each of the remaining Republican candidates have strong points" and that he believes that "some have the potential to be great presidents."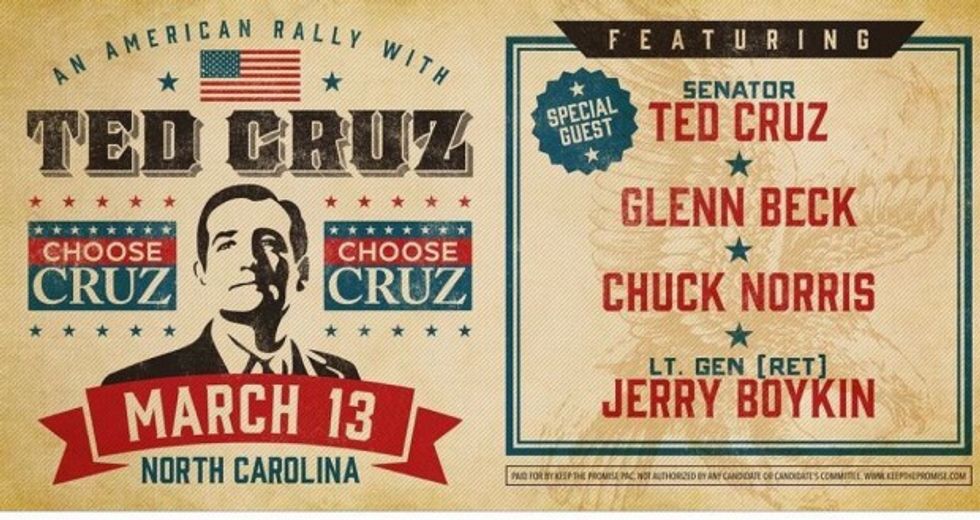 Chuck Norris will no longer be attending a rally for Sen. Ted Cruz on Sunday, Keep the Promise PAC has confirmed. (Image source: Keep the Promise PAC)
"However, I am going to let the citizens of America decide who they think would be the best candidate for the GOP," Norris said. "When the candidate is decided, I will support that person enthusiastically."
The former action film star also addressed his lack of a presidential endorsement in Facebook and World Net Daily posts Wednesday.
A spokesperson for the PAC told TheBlaze that the PAC was only expecting Norris to appear at the event — not make an endorsement.
"All I know is that Mr. Norris posted on Facebook late last night that he was not planning on endorsing any presidential candidate. Therefore, he would not be attending the rally," the spokesperson said. "This appears to all have happened very quickly late last night."
Duclos declined to comment further on Norris' lack of participation in the Cruz event to TheBlaze other than the statement he provided.
Norris, previously endorsed former Arkansas Gov. Mike Huckabee, who has since ended his campaign for president.
"He has the moral clarity and experience to lead our great country forward," Norris said of Huckabee then.
In August, Norris appeared at the Unity March in Birmingham, Alabama, alongside Beck, who has endorsed Cruz, and Cruz's father, Rafael Cruz. Based in Texas, he helped out Texas Gov. Greg Abbott (R) during his gubernatorial campaign in 2014.
This story has been updated. 
—
Follow Kaitlyn Schallhorn (@K_Schallhorn) on Twitter