Ahead of next Tuesday's important winner-take-all Florida primary, Sen. Marco Rubio (R-Fla.) has absolutely zero plans to suspend his bid for the 2016 Republican nomination.
Speaking with Fox News' Megyn Kelly at a high school in Hialeah, Florida, Wednesday evening, Rubio explained that he plans to fight through the tough primary season and even predicted that he would win his home state of Florida.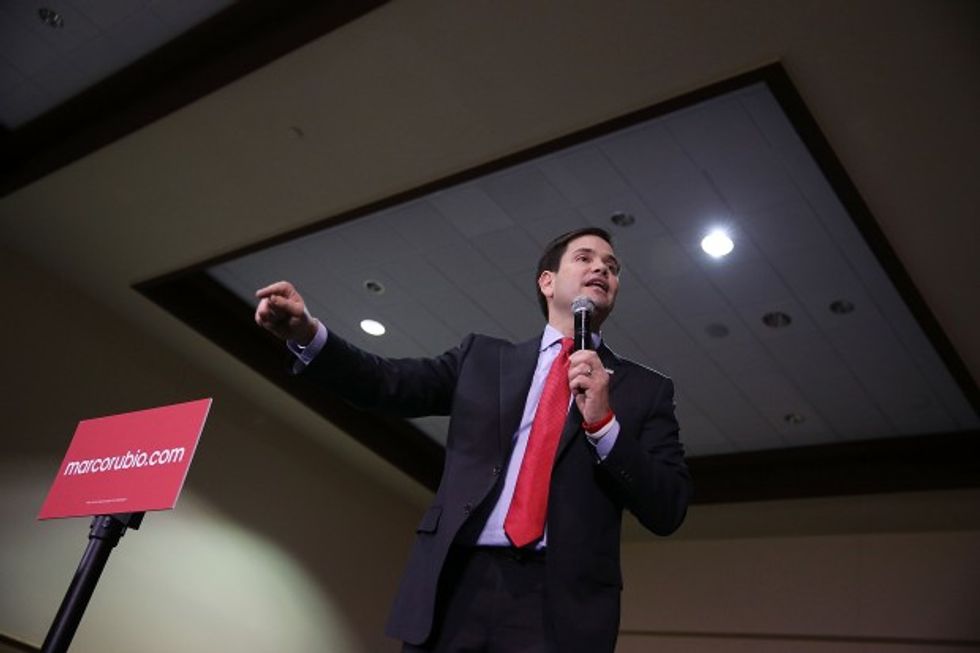 Marco Rubio speaks during a campaign rally at the Tampa Convention Center on Monday. (Getty Images/Joe Raedle)
"You know, what's funny about that, I don't know what's happening in this campaign. Every week somebody is supposed to be dropping out. I am not dropping out," Rubio said. "I'm fighting all the way through. We're going to win Florida."
When Kelly reminded Rubio that he is losing to front-runner Donald Trump in all major Florida polls, Rubio contended that the polls were wrong and don't truly reflect the sentiment of Floridians.
"Those polls are not accurate," Rubio told Kelly. "The fact of the matter is, the only poll that counts is the one they're gonna take on Tuesday when they count the votes that these people are gonna cast — and we're gonna win in Florida."
However, despite his long-shot chance at the White House, Rubio dispelled the notion of a Ted Cruz/Marco Rubio "unity ticket." According to Politico, the Florida senator labeled the idea "House of Cards stuff" during a recent MSNBC town hall.
"I'm not interested in that," he added, when asked by Kelly whether he's considered the possibility. "That's the kind of drama that makes it interesting in TV to speculate about. Those kinds of things rarely work. I can just tell you: I'm a candidate for president."
—
Follow the author of this story on Twitter and Facebook:
[facebook //www.facebook.com/plugins/like.php?href=