President Barack Obama said his nominee to fill the vacancy left by the death of Justice Antonin Scalia would be someone who will be certain that "the political system doesn't skew in ways that systematically leave people out."
In previous nominations to the high court, Obama has said that "empathy" is a high priority.
The president further asserted that if Senate Republicans persist in their plans to block his nominee, then the Supreme Court would become "one more extension of our polarized politics," which he said would mean "our system's not going to work."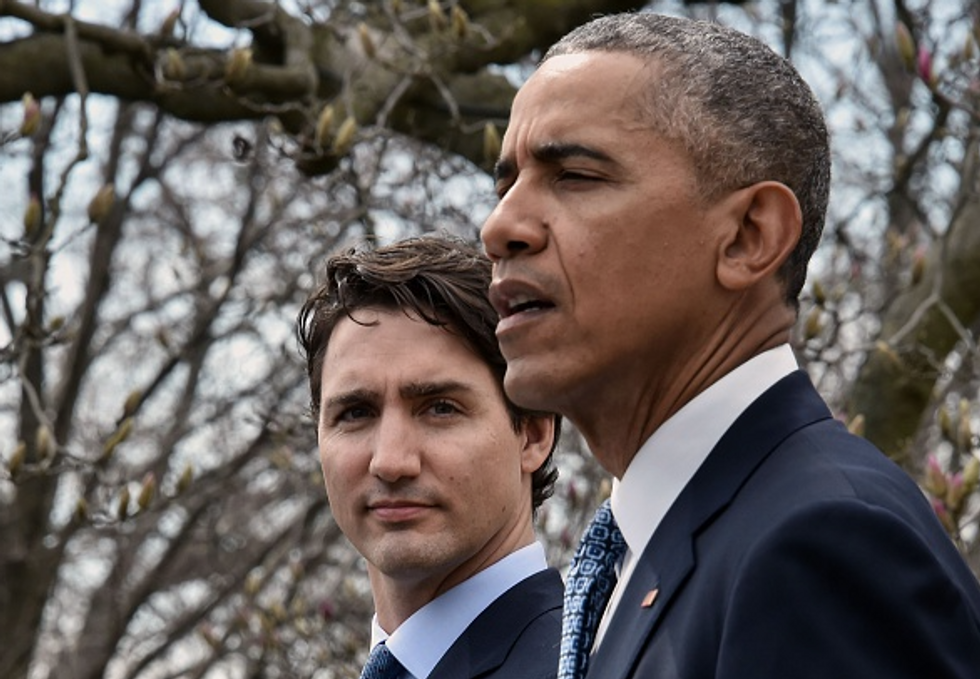 President Barack Obama and Canadian Prime Minister Justin Trudeau attend a press conference in the Rose Garden of the White House in Washington, D.C., Thursday. (Nicholas Kamm/AFP/Getty Images)
Senate Majority Leader Mitch McConnell (R-Ky.) and Senate Judiciary Committee Chairman Charles Grassley (R-Iowa) have both said an Obama Supreme Court nominee would not get a hearing and that voters should decide in the 2016 elections what type of justice would be nominated.
Obama was asked during a Rose Garden press conference with Canadian Prime Minister Justin Trudeau about the U.S. Supreme Court vacancy.
"Obviously it's somebody who I want to make sure follows the Constitution, cares about things like stare decisis and precedent, understands the necessary humility of a judge at any level in looking at statute, looking at what the elected branches are doing, is not viewing themselves as making law or, in some ways, standing above elected representatives but also recognizes the critical role that that branch plays in protecting minorities, to ensuring that the political system doesn't skew in ways that systematically leave people out, that are mindful of the traditions that are embedded in our cherished documents, like the Bill of Rights," Obama told reporters.
The president went on to blast Senate Republicans whom, he says, are not doing their job by refusing to give his pending nominee a hearing: "I find it ironic that people who are constantly citing the Constitution would suddenly read into the Constitution requirements, norms, procedures that are nowhere to be found there. You can't abandon your principles, if in fact these are your principles, simply for the sake of political expedience. So we'll see how they operate once a nomination has been made."
Obama said that if Republicans block the nominee, it will only make the Supreme Court more politicized:
It will then be up to Senate Republicans to decide whether they want to follow the Constitution and abide by the rules of fair play that ultimately undergird our democracy and that ensure that the Supreme Court does not just become one more extension of our polarized politics. If and when that happens, our system's not going to work. It's not that the Supreme Court or any of our courts can be hermetically sealed from the rest of our society. These are human beings. They read the newspapers. They've got opinions. They've got values, but our goal is to have them be objective and be able to execute their duties in a way that gives everybody, both the winning party and the losing party in any given case, a sense that they were treated fairly.