Neither the current Democratic president nor the party's 2016 presidential front-runner have a record of actually opposing abortion at any stage of pregnancy — but they're both now on record backing restrictions.
When pressed on the issue Monday, Democratic hopeful Hillary Clinton said she would support "late-pregnancy regulation" as long as the health of the mother were protected. TheBlaze asked the White House if President Barack Obama agrees with Clinton's view on "late-pregnancy regulations." The White House referred to a 2010 comment from Obama, who said,  "You can have some restrictions, for example, on late-term abortions, and appropriately so."
Clinton has regularly opposed a ban on partial-birth abortion, and Obama, as an Illinois state lawmaker, moved to block legislation designed to protect babies who survived botched abortions.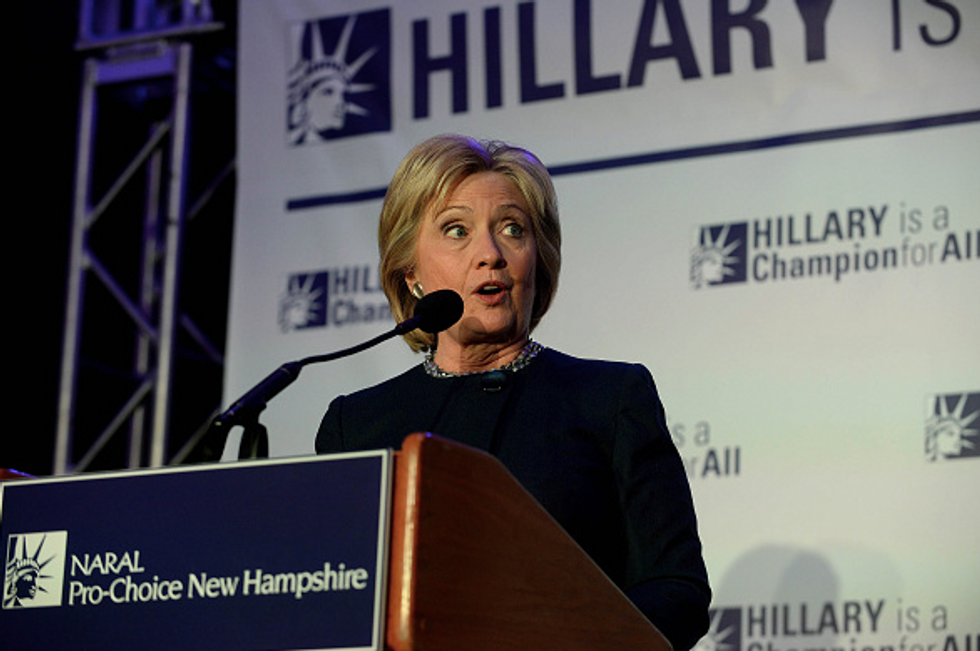 Democratic presidential candidate Hillary Clinton speaks at the NARAL Pro-Choice NH Roe v. Wade Dinner at the Grappone Conference Center Jan. 22 in Concord, New Hampshire. (Darren McCollester/Getty Images)
The Senate Judiciary Committee is set to hold a hearings Tuesday titled, "Late Term Abortion: Protecting Babies Born Alive and Capable of Feeling Pain."
During the 2016 presidential campaign, Clinton, a former secretary of state, has staunchly spoken in favor of abortion rights and defended Planned Parenthood. While serving in the Senate, Clinton even voted against the 2003 partial-birth abortion ban.
Still, during a presidential forum on Fox News on Monday, Clinton was asked about whether there should be limits on abortion at any stage.
"It's not much of a right if it is totally limited and constrained," Clinton first said.
But when moderator Bret Baier pressed her, "Just to be clear, there's no — without any exceptions?" Clinton waivered.
"No — I have been on record in favor of a late-pregnancy regulation that would have exceptions for the life and health of the mother," Clinton said.
March for Life President Jeanne Mancini said neither Obama nor Clinton have a record of supporting any restrictions on late-term abortions — beyond rhetoric.
"To the contrary, they both said they support late-term restrictions but every time a commonsense restriction is proposed, they have opposed it," Mancini told TheBlaze. "When Gov. Scott Walker of Wisconsin signed a late-term abortion ban, Hillary Clinton issued a tweet blasting it."
After TheBlaze asked the White House if Obama agreed with Clinton about "late-pregnancy regulation," the White House sent TheBlaze a comment Obama made at a question-and-answer forum on Sept. 28, 2010, in Albuquerque.
An audience member asked, "There's really no laws about the abortion law and when a woman can and can't have an abortion, whether it's two months or eight months, and what is your view on that?"
In the comment the White House referred to as the policy on the matter, Obama said:
Now, with respect to the abortion issue, I actually think, I mean, there are laws both federal, state and constitutional that are in place. And I think that this is an area where I think Bill Clinton had the right formulation a couple of decades ago, which is abortion should be safe, legal and rare. I think that it's something that all of us should recognize is a difficult, sometimes, oftentimes tragic situation that families are wrestling with. I think the families and the women involved are the ones who should make the decision, not the government. But I do think actually that there are a whole host of laws on the books that after a certain period, the interests shift such that you can have some restrictions, for example, on late-term abortions, and appropriately so. So there is in fact a set of rules in place. Now, people still argue about it and still deeply disagree about it. And that's part of our — that's part of our democratic way.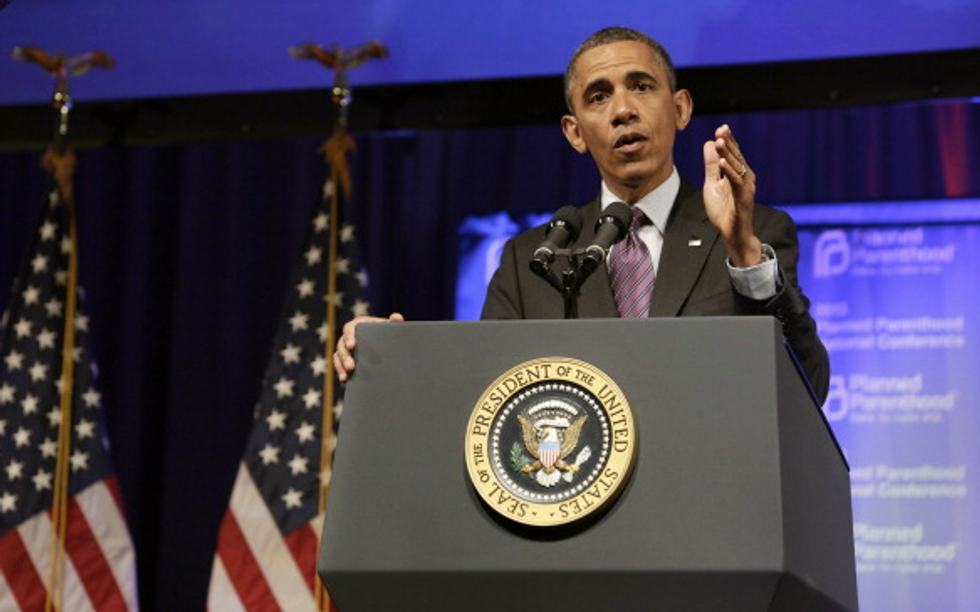 President Barack Obama speaks at the Planned Parenthood Gala at the Marriott Wardman Park Hotel on April 26, 2013, in Washington, D.C. Obama defended the organization and told delegates that he would block efforts to cut off funding. (Chris Kleponis-Pool/Getty Images)
Though he said "appropriately so" when referring to late-term abortion restrictions, last year, the White House threatened to veto a 20-week ban on abortions, a stage at which many doctors have said unborn babies can feel pain and could survive outside the womb.
"That was a historic vote and to threaten to veto that was atrocious," Mancini told TheBlaze.
As an Illinois state senator, Obama blocked a vote on the "Born Alive Infants Protection Act," regarding babies who survived botched abortions. The Illinois legislation said "homo sapiens" outside the womb with a "beating heart, pulsation of the umbilical cord or definite movement of voluntary muscles" should be treated as a "person." Obama voted against the bill in the statehouse. After Democrats became the majority party in 2002 in the state Senate, and Obama the chairman of the Health and Human Services Committee, he blocked it from coming to a vote again.