The four remaining Republican candidates spent more time clashing over Social Security than penis size Thursday — to the chagrin of those viewers hoping for fireworks in Florida.
The discussion focused heavily on policy, after the 2016 hopefuls apparently each concluded that throwing political punches at CNN's debate in Miami would do more harm than good.
It was a marked departure in tone from the previous several debates, in which businessman Donald Trump and Sens. Ted Cruz and Marco Rubio made headlines for calling each other liars, and the size of Trump's hands — and other things — were in question.
After an hour onstage, the lack of vitriol caused front-runner Trump to point out: "So far I cannot believe how civil it's been up here."
"For a while there it felt like they all had Xanax in their water," CNN analyst Ana Navarro said after the debate. "It was all about policy."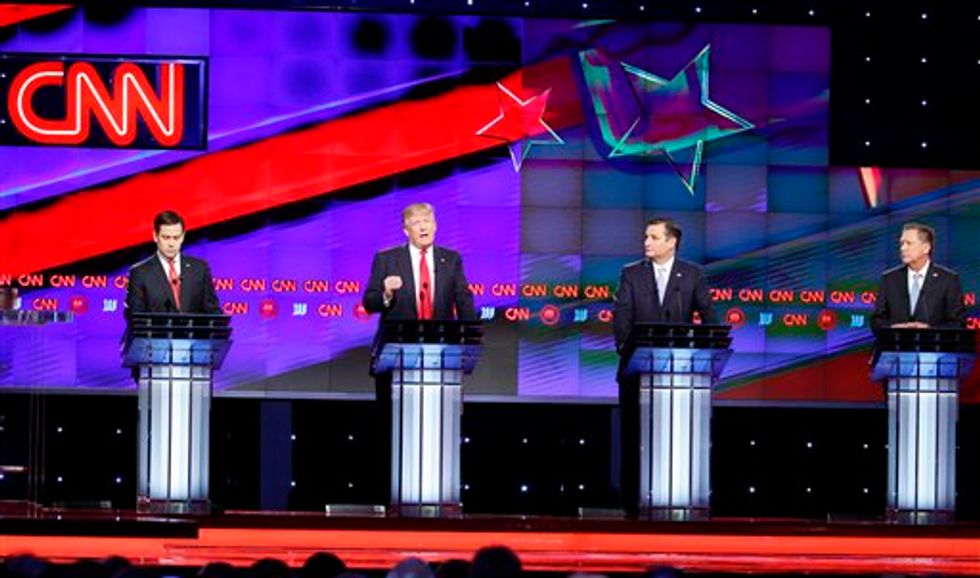 The Republican presidential candidates debate at the University of Miami in Coral Gables, Fla. (AP/Wilfredo Lee)
After the debate, Rubio credited CNN for asking policy questions, like pinning down Trump on his plans to stop Social Security from running out of money within 20 years.
"We're going to negotiate real deals now, and we're going to bring the wealth back to our country," Trump answered. "We owe $19 trillion. We're going to bring wealth back to our country."
CNN then tossed the question over to Rubio, asking if Trump's plan to remove an estimated $3 billion of waste, fraud and abuse from the U.S. government would be enough to make up for a $150 million shortfall in Social Security.
"No, and I think you've outlined why," Rubio said. "The numbers don't add up."
Trump was also asked to explain what he meant Wednesday when he said: "Islam hates us."
In his answer, Trump argued that not taking the threat from Muslims seriously led to consequences like airplanes flying into the World Trade Center and the Pentagon.
"There have been a lot of problems," he said. "Now you can say what you want, and you can be politically correct if you want. I don't want to be so politically correct. I like to solve problems. We have a serious, serious problem of hate."
A moment later, Rubio responded with one of the buzziest lines of the night: "I'm not interested in being politically correct. I'm interested in being correct."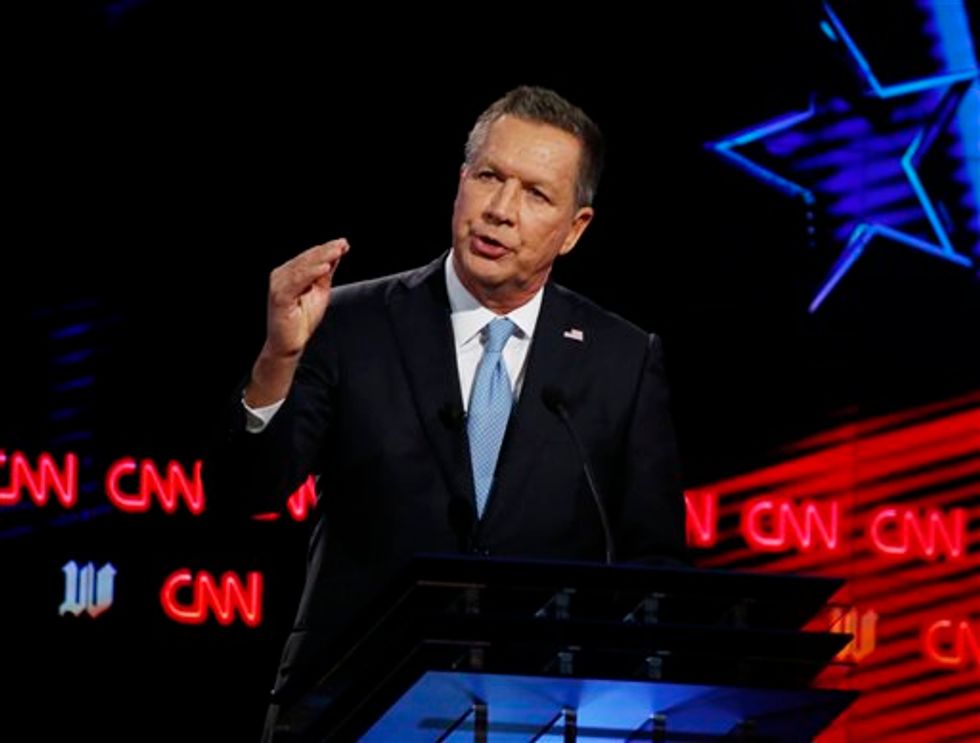 Ohio Gov. John Kasich speaks during the Republican presidential debate Thursday. (AP/Wilfredo Lee)
The field narrowed from five to four last week after neurosurgeon Ben Carson said he was leaving the campaign trail at the Conservative Political Action Conference.
Ohio Gov. John Kasich had some strong moments on foreign policy and veterans' issues, but his distant fourth place in the delegate count led to a question about why he should be the nominee when he could only win at a brokered convention, not by winning states.
"Math doesn't tell the whole story in politics," he replied, then went on to explain that being the top candidate among closely clustered contenders doesn't make you the outright winner. "You just have to win enough delegates to be the nominee."
Kasich, whose home state of Ohio is winner-take-all and votes Tuesday to award its 66 delegates, added that key upcoming wins could change the momentum heading into the GOP convention in Cleveland in July.
"I'm going to win Ohio, it's going to be a whole new ballgame," he said in an interview with CNN after the debate.
He blistered at a question about the future of his candidacy if he loses his home state.
"You have too negative of an attitude tonight," he told the reporter. "I'm going to be the nominee."
Trump and Cruz also did the delegate math at Thursday's debate — but came to the conclusion that they're the only candidates still in the race with a mathematical path to the nomination.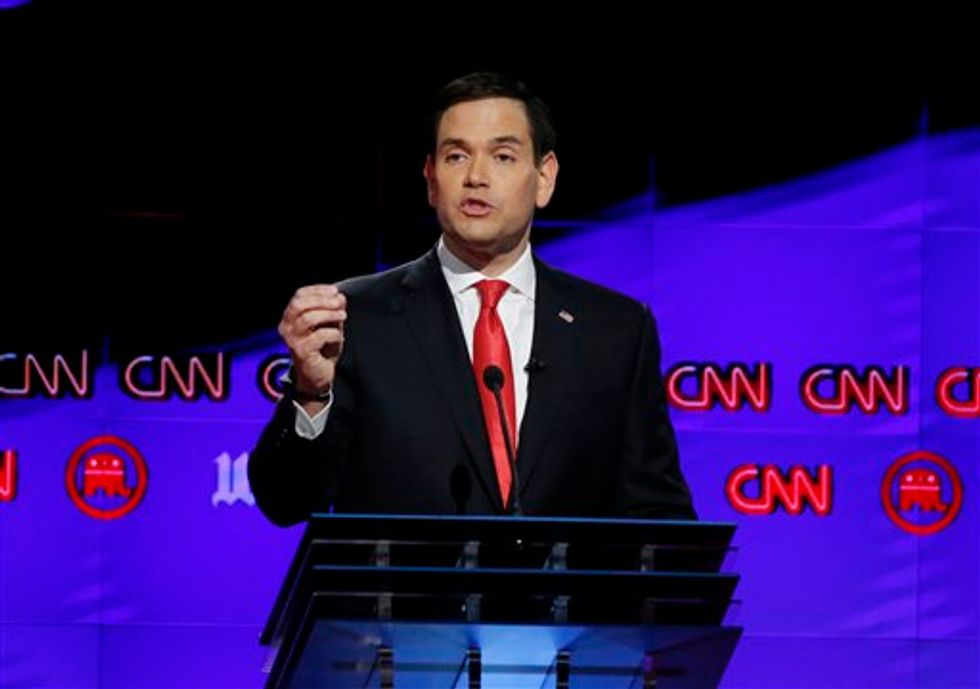 Sen. Marco Rubio, R-Fla., speaks at the debate sponsored by CNN, Salem Media Group and the Washington Times. (AP/Wilfredo Lee)
And they're right — Rubio and Kasich's hopes at this point lie in surviving until the convention and being selected the nominee if no candidate gets enough delegates on the first vote.
For Rubio, Thursday's debate was on his home turf. Florida, worth 99 delegates, votes on Tuesday.
But he's been falling steadily in national and state polls and has had a string of disappointing finishes in states where his campaign hoped for a stronger showing.
A loss in Florida could prove fatal for the hopeful's struggling 2016 bid — and Trump currently leads by 15 points on average in his home state.
—
Follow the author of this story on Twitter and Facebook:
[facebook //www.facebook.com/plugins/like.php?href=