Republican presidential front-runner Donald Trump called Dr. Ben Carson a "special man" Friday; yet in November, while on the campaign trail, the billionaire businessman referred to the doctor as "pathological."
According to Carson, who officially endorsed Trump Friday morning at the real estate mogul's Mar-a-Lago resort in Palm Beach, Florida, the two men have "buried the hatchet" and have moved on from Trump's previous attacks.
"That was political stuff. That happens in American politics, the politics of personal destruction," Carson said. "All that is not something I particularly believe in or I get involved in, but I'd recognize it is part of the process, but we move on because it's not about me, it's not about Mr. Trump, it's about America."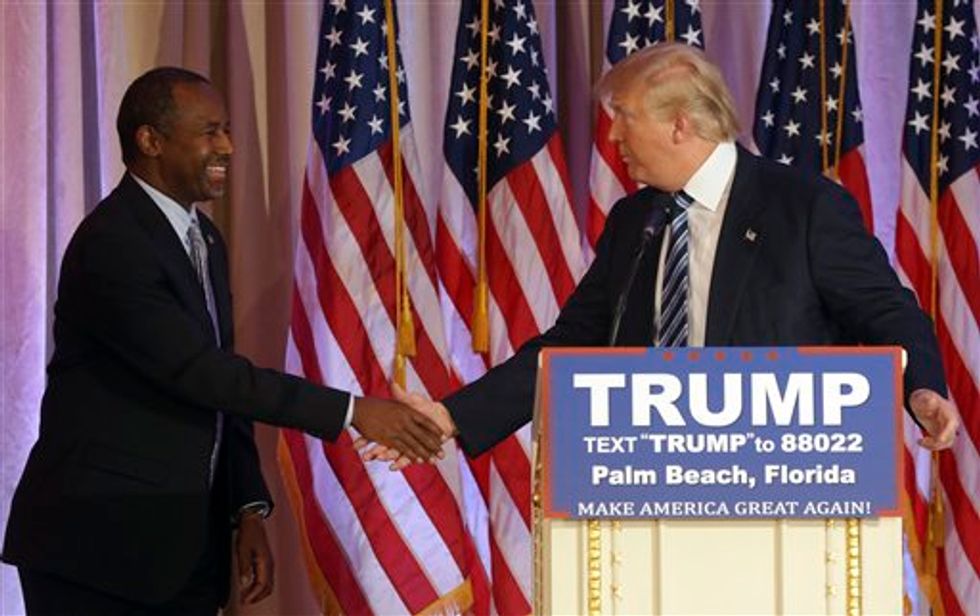 Former Republican presidential candidate Ben Carson shakes hands with Republican front-runner Donald Trump after announcing he will endorse Trump during a news conference at the Mar-A-Lago Club in Palm Beach, Florida, Friday. (AP Photo/Lynne Sladky)
Trump agreed and simply said "it's politics" when asked by a reporter Friday morning if the two men had at all apologized to each other.
"It's a tough business. I used to think real estate in Manhattan was tough. This is a tough business, this politics," Trump quipped. "A lot of things happen in politics that don't happen anywhere else. We understand that."
Trump accused Carson of being a "low energy person" and "an enigma" while the two were both seeking the Republican presidential nomination. He also called Carson "pathological" and likened him to a child molester with "no cure." Ahead of the Iowa caucuses, Trump criticized Carson for being weak on trade and immigration.
Yet on Friday morning, Trump's tune changed as he complimented Carson for his policy positions — specifically his knowledge of health care issues. He also said he has "such respect for" Carson and complimented him for being the "one person who kept sneaking up on" him in the polls.
The businessman also said Carson would have a "big, big part" in Trump's campaign and potential administration as "that kind of talent we want to keep."
Despite the praise he heaped Friday morning, Trump avoided answering if he specifically regretted anything he had said about Carson when asked by a reporter during Friday's press conference.
"It's politics. I mean, Ben understands it," Trump said. "I was really impressed with the way he fought back, because he fought back with silence and strength."
During his endorsement speech, Carson also contended that there "are actually two Donald Trumps."
"There's the one you see on the stage, and there's the one who's very cerebral, sits there and considers things very carefully," he said.
Carson made his endorsement Friday morning after both his staff and Trump confirmed the support Thursday night. New Jersey Gov. Chris Christie, also a former 2016 GOP contender, endorsed Trump last month.
Watch a video of some of Trump's past comments regarding Carson while on the campaign trail:
—
Follow Kaitlyn Schallhorn (@K_Schallhorn) on Twitter