Florida Sen. Marco Rubio experienced a bizarre interruption during a rally in his home state Sunday afternoon from a heckler who stood up and shouted, "Marco Rubio stole my girlfriend!"
The unnamed heckler, who suddenly stood up in the middle of Rubio's speech, saying, "That — that's enough. I have to tell everyone..." claimed that his girlfriend met Rubio in New Hampshire, and ever since that alleged encounter, he said that "she doesn't look at me in the same way anymore."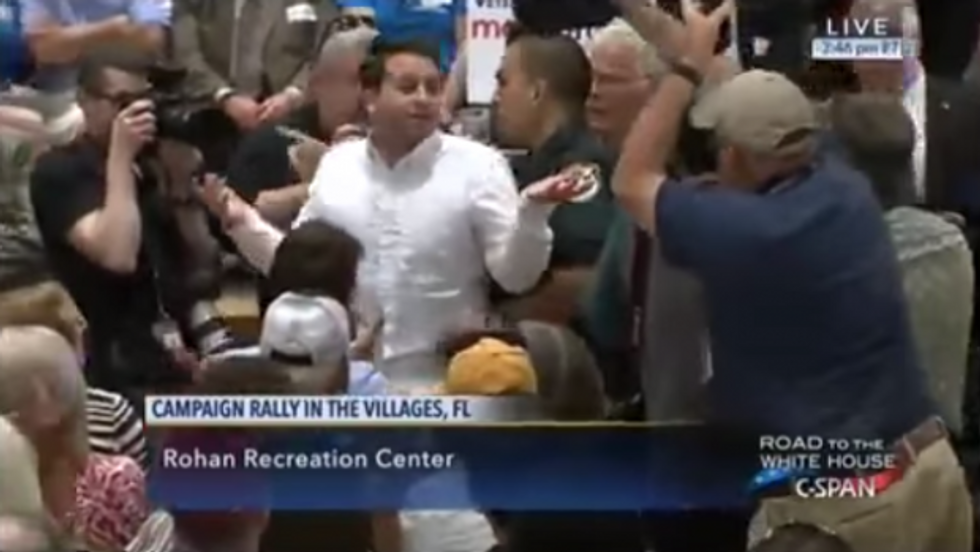 (Image source: Mediaite)
The uncomfortably comedic outburst caused the crowd to burst out in laughter, chanting, "Marco, Marco!" as the man continued to rant until security approached him and began to escort him from the rally, despite his appeals to let him stay.
As the man left the room, he shouted back at the crowd, "He's probably gonna steal yours too!"
After the man had left the premises, Rubio laughed a bit, saying, "That's all right. He, it's, uh —" before a repeated shout from the other room interrupted him once again.
"Hi, I'm sorry! I don't know, this is a — I'm still looking for the hidden camera," Rubio said, laughing as the crowd clapped and cheered.
(H/T: Mediaite)
—
Follow Kathryn Blackhurst (@kablackhurst) on Twitter