Israeli Prime Minister Benjamin Netanyahu on Sunday said he holds Hamas responsible for all rocket attacks on Israel -- regardless of which militant group fires them -- a day after Hamas warned Israel it was losing patience following the death of two Palestinian children in an Israeli airstrike on Gaza.
"Our policy regarding the Gaza Strip is clear. Israel will not accept rocket fire of any kind from the strip at its territory," Netanyahu said at his weekly cabinet meeting Sunday. Rockets were fired from Gaza at southern Israel on Friday.
He said the Israeli military would "respond to any such provocation" and that "Israel holds Hamas responsible for all firing carried out from the Gaza Strip toward Israel; Hamas must prevent such firing."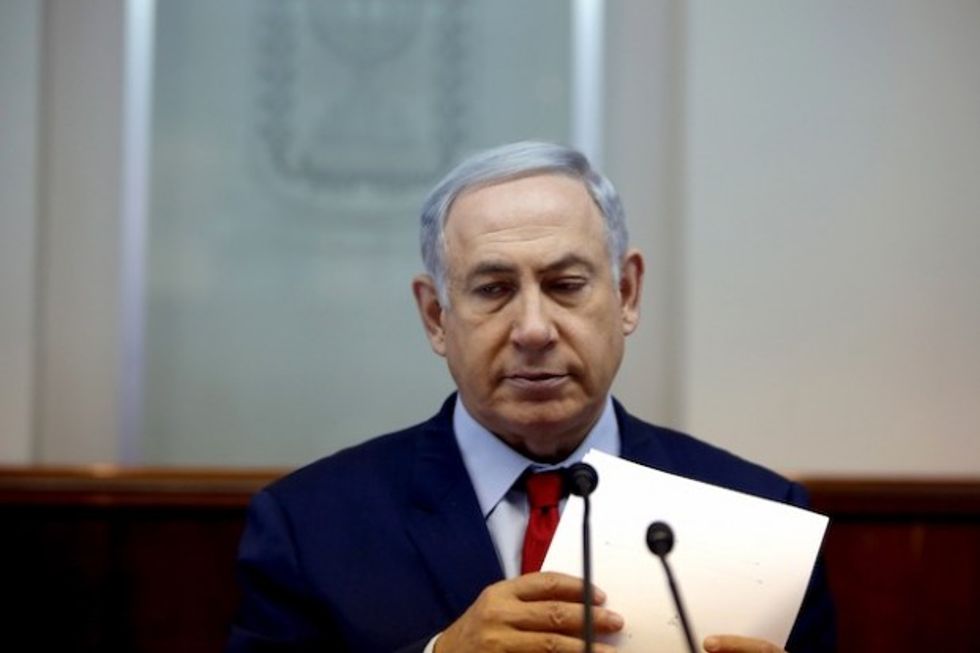 Israeli Prime Minister Benjamin Netanyahu attends the weekly cabinet meeting at his Jerusalem office on March 13, 2016. (Gali Tibbon/AFP/Getty Images)
The Israel Defense Forces said Friday night that it had struck four Hamas targets in Gaza in response to four rockets fired from Gaza into Israel hours earlier.
According to Palestinian media reports, the two siblings, a 10-year-old boy and his 6-year-old sister identified as Yasin and Israa Abu Khussa, were killed in the airstrike.
Reuters reported that debris from the explosion hit their Gaza home, which is situated next to a militants' training camp.
Hamas issued a statement warning that its patience was "limited" but seemed to stop short of signaling an immediate escalation of violence against Israel.
"The blood of the two children was not spilt in vain," the statement read, as quoted in the Times of Israel, adding, "Hamas on Gaza children's deaths: 'Our patience is limited' in the face of the occupation's crimes."
No Palestinian group claimed responsibility for firing the four rockets at southern Israel from Gaza on Friday.
Israel's traditional position is that as the governing authority in Gaza with the law-enforcement means to crack down on rival groups, Hamas is responsible for violence emerging from Gaza.
Besides the weekend uptick in violence in southern Israel and Gaza, Israelis have faced a wave of nearly daily stabbing and other attacks carried out by Palestinians since September that most recently claimed the life of an American tourist.