Donald Trump refused to retract comments he made about the protestor who tried to storm the stage of an Ohio rally Saturday on "Meet the Press" Sunday morning.
After Saturday's disruption, the Republican front-runner announced from the stage at a rally in Kansas City, Missouri, later that day that the man who charged him at the Dayton event was "probably" linked to the Islamic State, apparently basing his statement on an Internet video.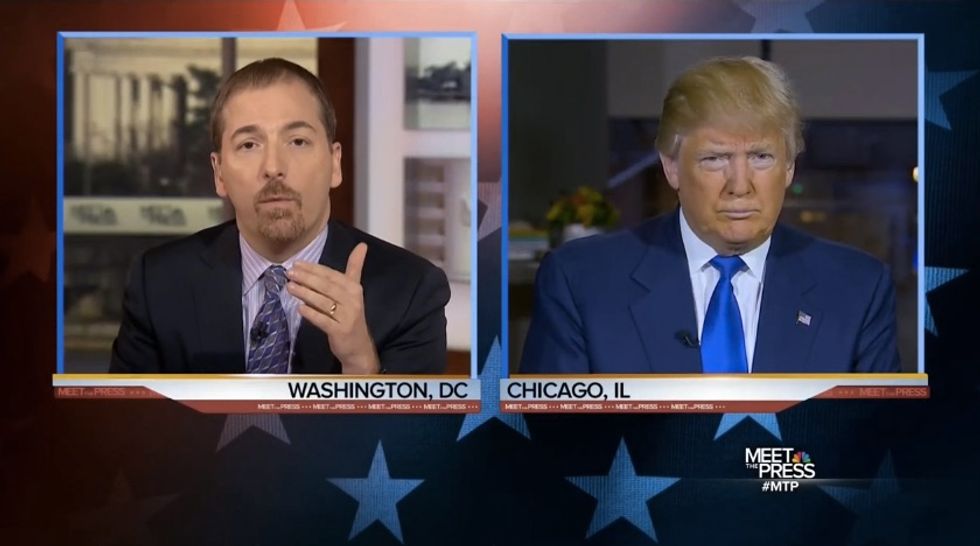 Image source: NBC

"This was a guy that was looking to do harm," Mr. Trump said Saturday. "It was probably ISIS or ISIS-related — can you believe it?"
Just before his last rally Saturday, Trump posted the video to Twitter:
USSS did an excellent job stopping the maniac running to the stage. He has ties to ISIS. Should be in jail! https://t.co/tkzbHg7wyD?ssr=true

— Donald J. Trump (@Donald J. Trump)1457826117.0
The clip depicts flag protestor, Thomas Dimassimo, as an Islamic militant and includes the same Arabic music featured in official Islamic State videos.
Dimassimo, who was arrested by Secret Service officials after attempting to rush the stage Saturday, has been in the news before for protesting the American flag.
Dimassimo is a senior at Wright State University in Dayton, Ohio. He is not, however, linked to the Islamic State, as far as records show.
When NBC's Chuck Todd questioned Trump about the "hoax" video that falsely alluded to Dimassimo's ties to Islamic terrorists, Trump responded:
"Well, I don't know what they made up. All I can play is what's there. He was walking, dragging the American flag on the ground."
"You didn't see the clip," he continued. "He was playing Arabic music, dragging the flag along the ground and he had Internet chatter with or about ISIS. So I don't know if he was or not, but all we did was put out was he had on his Internet."
Trump was referring to a clip of Dimassimo at another flag protest at Wright State University last April.
The original video, however, did not include Islamic State iconography or Arabic music and was posted my Dimassimo himself. These elements appeared to have been added by the creator of the clip Trump posted.
Todd asserted that the video was made up and that the protestor was not a terrorist:
"There's no ties to ISIS for this man ... and this video that you linked to appears to be a hoax."
But Trump, who seemed indifferent to this information, said, "All I know is what's on the Internet," and proceeded to comment on how appalled he was that Dimassimo was dragging the American flag on the ground.