ABIDJAN, Ivory Coast (TheBlaze/AP) —
Update: Ivory Coast: Government says security forces neutralized six armed men after attacks on three hotels.
—
Bursts of gunfire were heard Sunday in a southeastern Ivory Coast beach town about 40 kilometers (25 miles) east of Abidjan, said a witness, in what is the third major attack on a tourism center in a West African country since November.
Shots rang out in Grand-Bassam, a popular weekend destination for Ivorians and foreigners, said 25-year-old Josiane Sekongo, who lives across from one of the town's many beachfront hotels. People ran from the beach amid the gunfire, she said.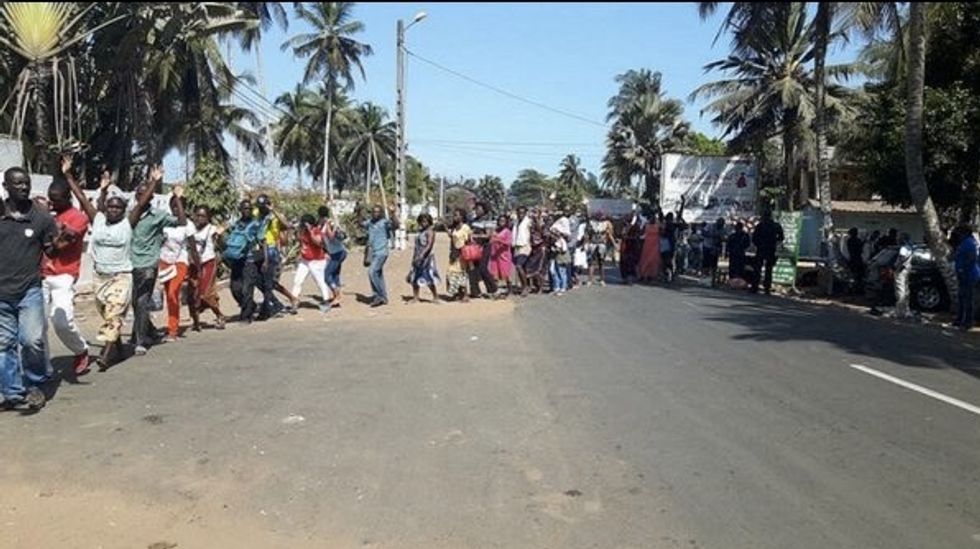 Image via Twitter/@Terror_Monitor
Security forces responded as residents hid in their homes, she said.
An American embassy delegation was in Grand-Bassam on Sunday but the U.S. Embassy in Abidjan said it is monitoring the situation in Grand-Bassam and there is no evidence that U.S. citizens were targeted nor confirmed reports of any U.S citizens harmed.
Ivory Coast shooting: Some reports suggest as many as 15 including a five-year-old killed https://t.co/4JWepLPbKl https://t.co/yzoMPKyu09

— The Telegraph (@The Telegraph)1457887275.0
Ivory Coast shooting: Video shows people fleeing as gunmen open fire on beachfront hotel https://t.co/8U577H642K

— Gold Coast Trading (@Gold Coast Trading)1457887032.0
A receptionist at the Etoile de Sud hotel in Grand-Bassam said the attacks happened on the beach.
"We don't know where they came from, and we don't know where they've gone," he said of the gunmen. Everyone in the hotel was safe, and gendarmerie were present, he said. He would not give his name.
It was unclear how many assailants were involved. Casualty information was not immediately available.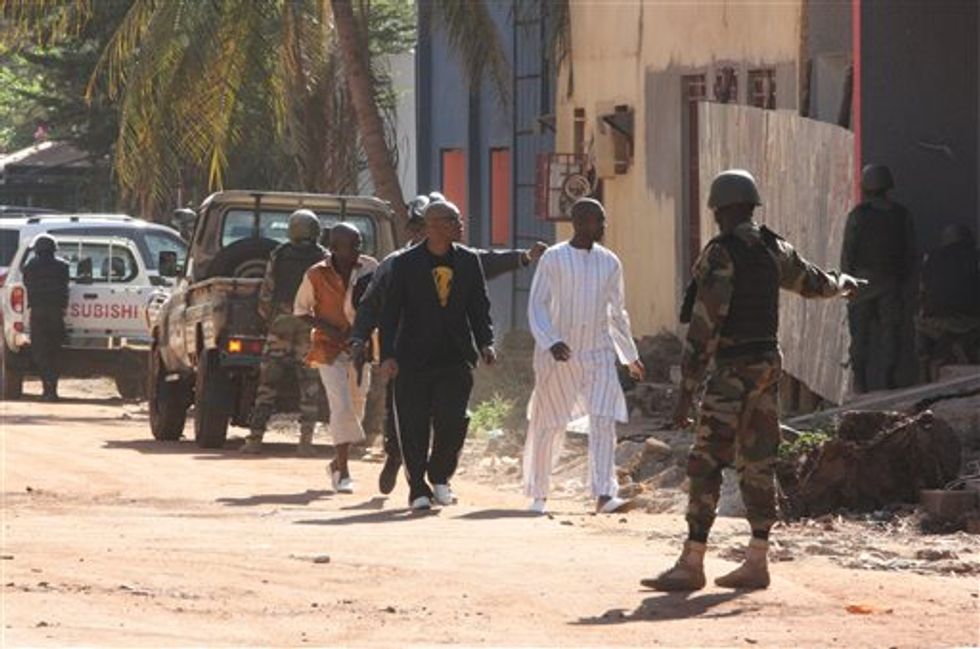 Security force personnel escort people fleeing from the Radisson Blu Hotel in Bamako, Mali, Friday, Nov. 20, 2015. The company that runs the Radisson Blu Hotel in Mali's capital says assailants have takenhostages in a brazen assault involving grenades. (AP/Harouna Traore)

Attacks by extremists on hotels frequented by foreigners in two other West African countries, Mali in November and Burkina Faso in January, killed dozens of people and indicated that extremist attacks are spreading from North Africa.