The Academy of Motion Picture Arts and Sciences issued an apology Tuesday for a joke that host Chris Rock cracked involving Asian stereotypes during the racially charged 2016 Oscars ceremony last month.
During the ceremony, Rock had already commented extensively upon the "Oscars So White" controversy leading up to the ceremony in which critics had lambasted the Academy for failing to nominate any minority actors or actresses for the second year in a row. Although many of Rock's jests and jabs centered on the relationship between Hollywood and its black and white members, one joke in particular that was centered around an Asian stereotype offended fellow members of Hollywood.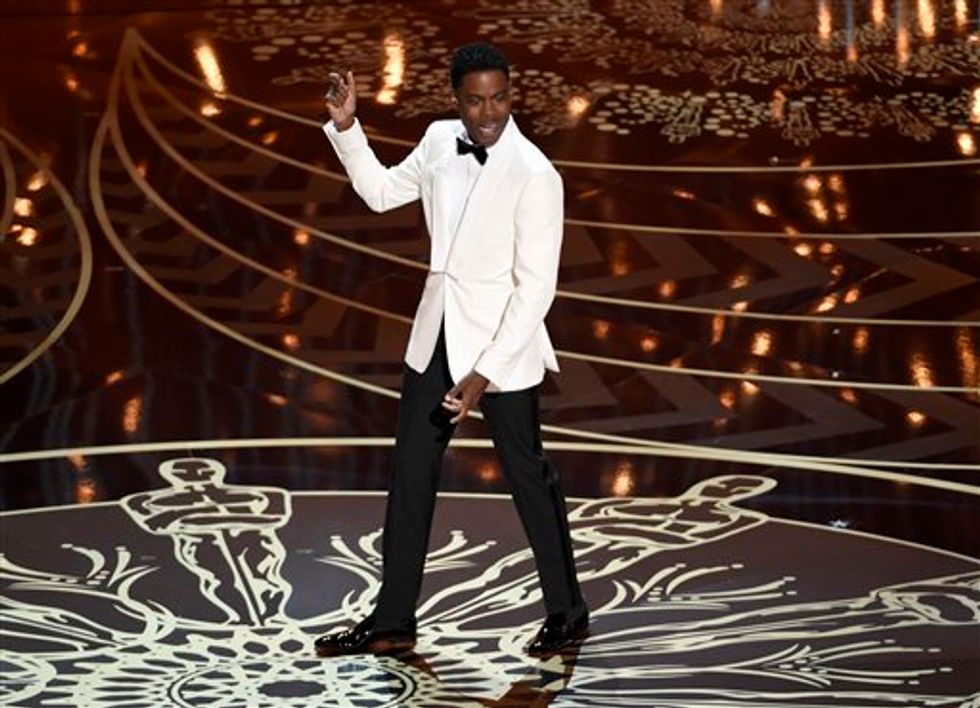 Host Chris Rock speaks at the Oscars Feb. 28 at the Dolby Theatre in Los Angeles. (Chris Pizzello/Invision/AP)
When Rock noted that the Oscars' results were tabulated by the accounting firm of "PricewaterhouseCoopers" during his routine, he praised the firm's "most dedicated, accurate and hard-working representatives" as he called three brief case-bearing Asian kids clad in tuxedos onto the stage, according to CNN Money. The joke, which critics say exploited the stereotype that presents all Asians as extremely smart and hardworking people who excel in the maths and sciences, did not go over well with everyone.
Even Rock suspected that his joke would ruffle some feathers as he hosted the ceremony.
"If anybody's upset about that joke, just tweet about it on your phone that was also made by these kids," Rock said, according to CNN Money.
Asian stars protested @ChrisRock's tasteless Oscar joke—and the Academy apologized https://t.co/23nrkhw3cu via @THR https://t.co/XcvzEdqqUw

— New York Daily News (@New York Daily News) 1458138902.0
On March 9, 25 of Hollywood's most prominent Asian figures wrote an open letter to the Academy in which they expressed their outrage and disappointment over Rock's "perpetuation of racist stereotypes," according to the Wrap. The letter writers included Academy Award-winning director Ang Lee, actor George Takei and actress Sandra Oh.
"We are writing as Academy members of Asian descent to express our complete surprise and disappointment with the targeting of Asians at the 88th Oscars telecast and its perpetuation of racist stereotypes," the letter read, according to the Wrap. "In light of criticism over #OscarsSoWhite, we were hopeful that the telecast would provide the Academy a way forward and the chance to present a spectacular example of inclusion and diversity. Instead, the Oscars show was marred by a tone-deaf approach to its portrayal of Asians."
The letter writers proceeded to question how the Academy could allow such "tasteless" and "offensive" skits to take place as they wondered what process the Academy will go through to "preclude such unconscious or outright bias and racism toward any group in future Oscars telecasts."
"We look forward to hearing from you about this matter and about the concrete steps to ensure that all people are portrayed with dignity and respect," the letter said.
In response, the Academy issued a statement in which it said, "The Academy appreciates the concerns stated, and regrets that any aspect of the Oscar telecast was offensive," according to the Wrap. "We are committed to doing our best to ensure that material in future shows be more culturally sensitive."
—
Follow Kathryn Blackhurst (@kablackhurst) on Twitter