Every St. Patrick's Day, hundreds of thousands of people flood to New York City in search of green beer, loud music and a whole lot of partying.
Perhaps unsurprisingly, the day's festivities have historically been accompanied by some poor life choices, like consuming too many pints of Guinness and urinating on the city streets.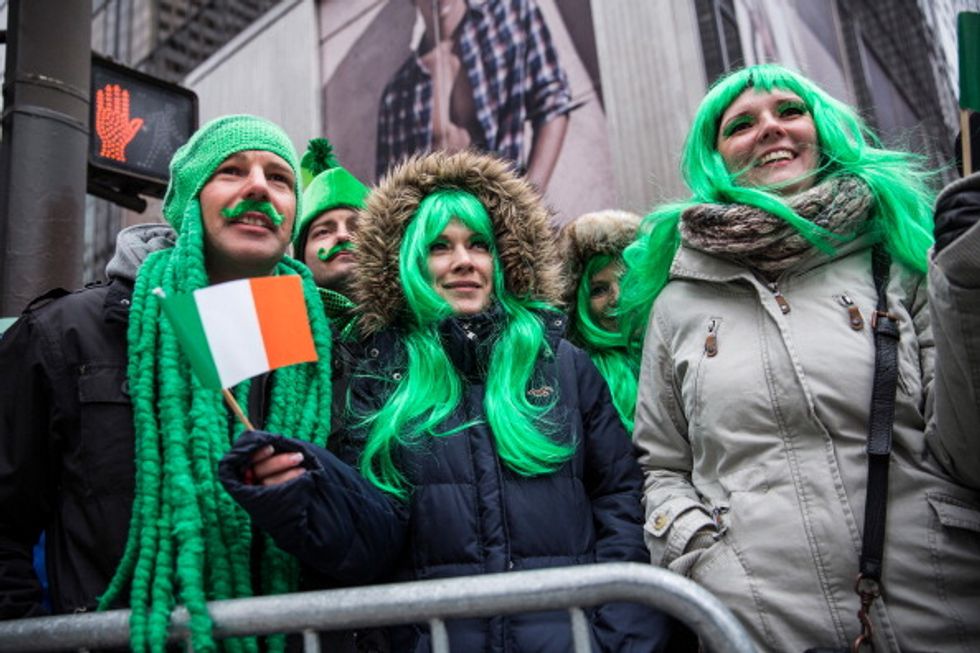 Andrew Burton/Getty Images
But for the first time in years, those who commit the offenses of public drunkenness or public urination will not be arrested for their actions, city officials said.
According to a new joint initiative between the New York Police Department and the Manhattan district attorney's office, "quality of life violations" such as public urination and public consumption of alcohol will not serve as grounds for criminal charges.
Instead, these offenses will be dealt with exclusively through the issuing of summonses. The plan, announced March 1, went into effect March 7, just 10 days before the notoriously rowdy holiday.
The DA's office explained the reform as something that will allow "the NYPD to devote its resources to investigating serious crimes, while further reducing the backlog of cases in criminal court."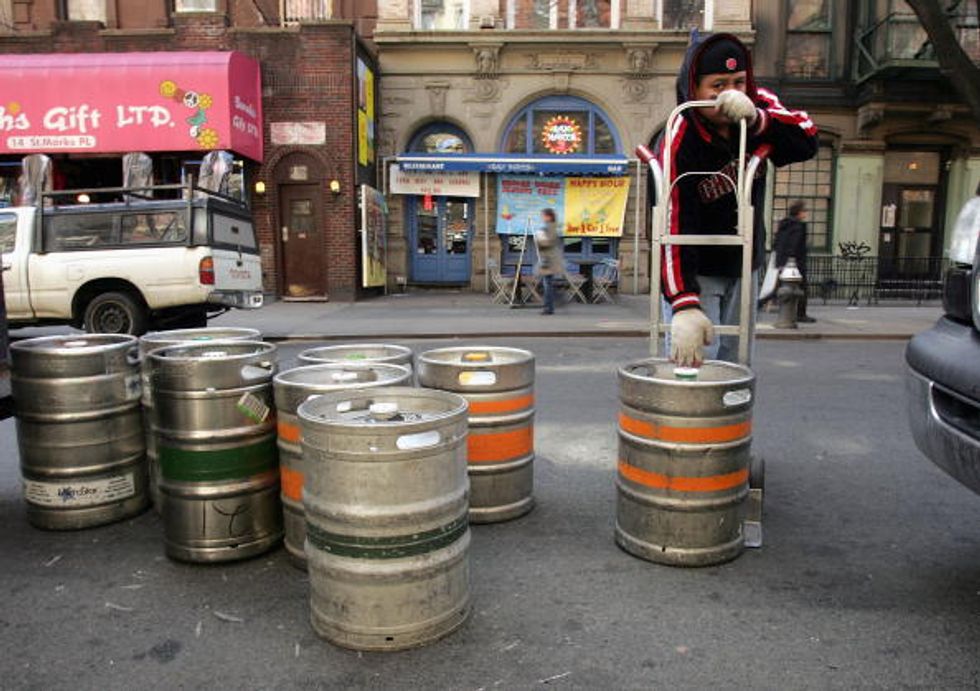 A delivery man moves kegs of beer into a bar in preparation for St Patrick's Day celebrations in New York City. (Spencer Platt/Getty Images)
An internal review estimated that, by doing this, the office could keep as many as 10,000 New Yorkers out of the system annually.
"Through this initiative, we are devoting our resources to best protect and serve New Yorkers," Manhattan District Attorney Cyrus R. Vance Jr. said. "By ensuring courts are not unnecessarily bogged down with minor offenses committed by those who pose no threat to public safety, we help focus police and prosecutorial resources on those who commit serious crimes."
New York City Mayor Bill de Blasio called the plan "an intuitive and modern solution" that would "help safely prevent unnecessary jail time for low-level offenses".
Even New York Police Commissioner Bill Bratton, a longtime advocate of so-called "broken windows" policing, or prosecuting minor crimes in order to prevent larger ones, voiced his support, saying, "This new policy in Manhattan will save valuable police resources … without jeopardizing the public safety."
The announcement came just over a month after City Council Speaker Melissa Mark-Viverito released a broad criminal justice reform proposal in her state of the city address that called for the decriminalization of quality of life offenses citywide and the expunging of 1.5 million old summons warrants from the city's books.
But not all alcohol-related restrictions will undergo similar reforms. The MTA announced Monday that alcohol will be banned on the city's Long Island Railroad and Upstate Metro-North trains on St. Patrick's Day.
The ban will begin Thursday and will not be lifted until 5 a.m. Friday. Bar carts at Grand Central Terminal and Penn Station will be closed as well.
According to MTA spokesman Aaron Donovan, St. Patrick's Day is one of three holiday-related alcohol bans the agency institutes, along with New Year's Eve and the famous SantaCon bar crawl.
Violators of the ban will not be arrested, but they will have their booze confiscated.
(H/T: Guardian)
—
Front-page image via Shuttershock