The results of the 2016 presidential election will have lasting effects on the nation's future. When searching for a metaphor to better explain the voting process, one might consider comparing it to getting a tattoo.
A lot of thought and research often goes into getting a tattoo and voting, and both decisions are deeply personal processes for many people. At the same time, plenty of people get tattoos or vote for a particular candidate on a whim because it seems like the "trendy" or "daring" thing to do at the time. And over time, many come to regret decisions to vote for a certain candidate or to get a particular tattoo.
The reality that the November 2016 election is still several months away and neither party has so far elected a nominee hasn't stopped some people from boldly announcing their presidential endorsements by getting permanently inked.
Take a look at some of the tattoos inspired by the 2016 presidential race: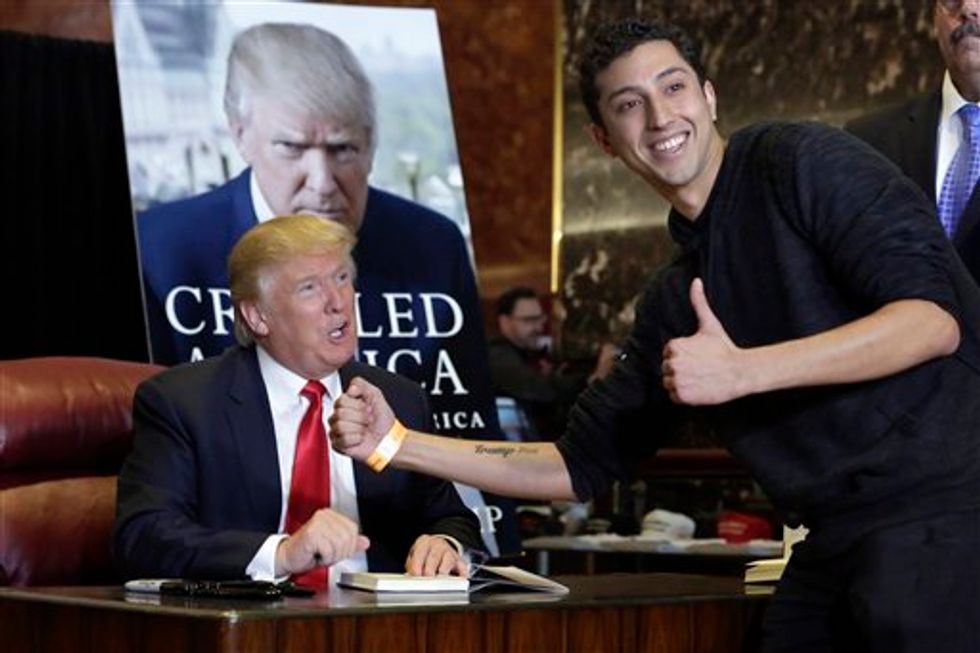 Jason Szkup of Leivittown, New York, shows his "Trump 2016" tattoo to Republican presidential candidate Donald Trump as the billionaire businessman autographs copies of his book "Crippled America" at Trump Tower in New York Nov. 3. (AP Photo/Richard Drew)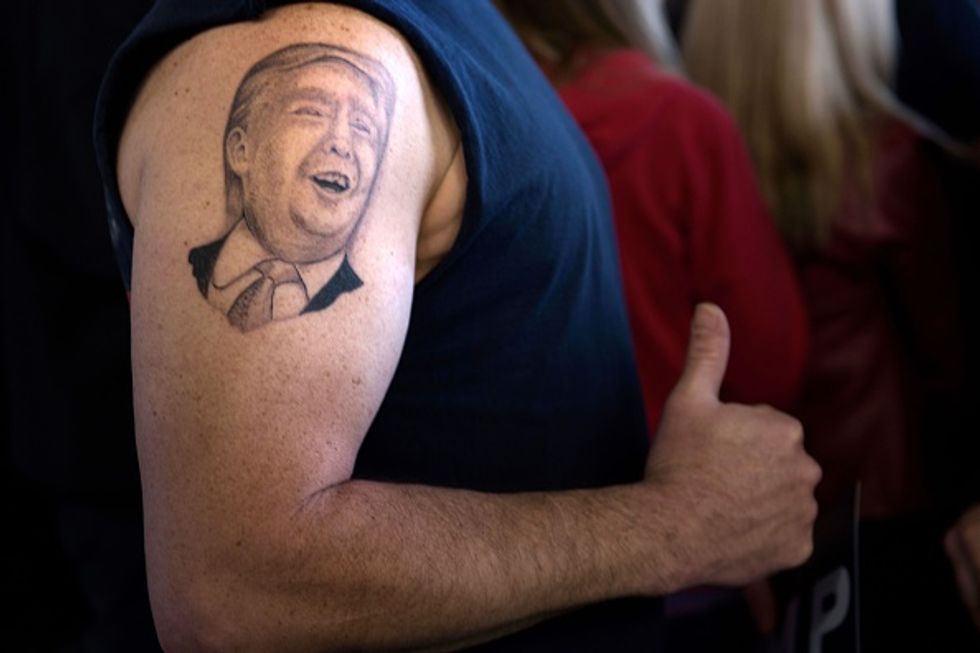 A tattoo of Republican presidential hopeful Donald Trump is seen on the arm of Anthony Borbell during a Monday rally in Vienna Center, Ohio. (Brendan Smialowski/AFP/Getty Images)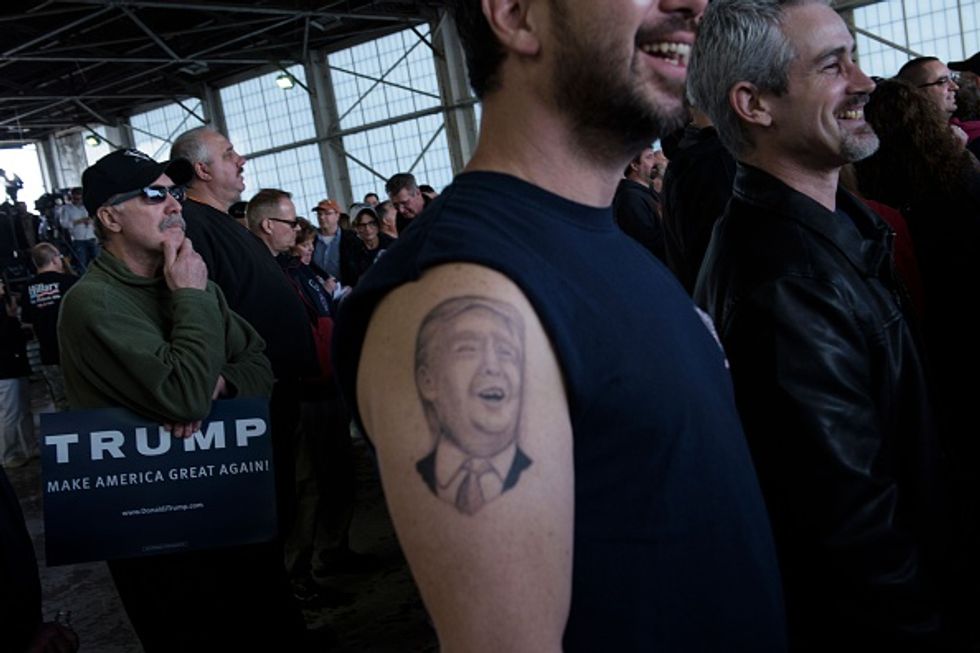 Brendan Smialowski/AFP/Getty Images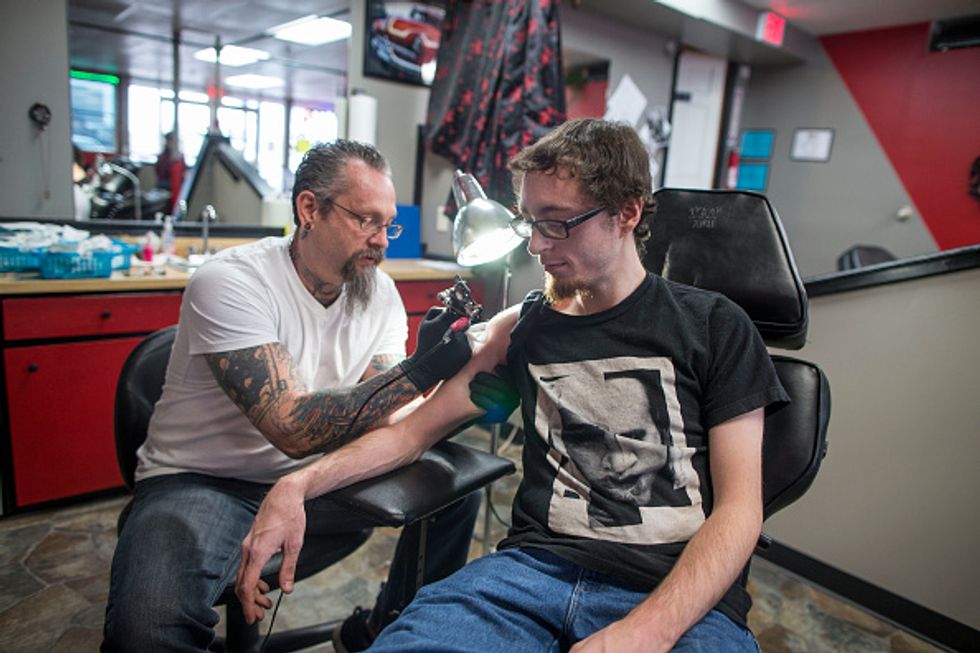 Bob Holmes, owner of the Clay Dragon Tattoo Shop, tattoos a portrait of Republican presidential candidate Donald Trump on the arm of Seth Bailey Jan. 29 in Seabrook, New Hampshire. Holmes gave away free Donald Trump tattoos to clients at his shop and booked more than 30 appointments for the first two weeks of February. (Scott Eisen/Getty Images)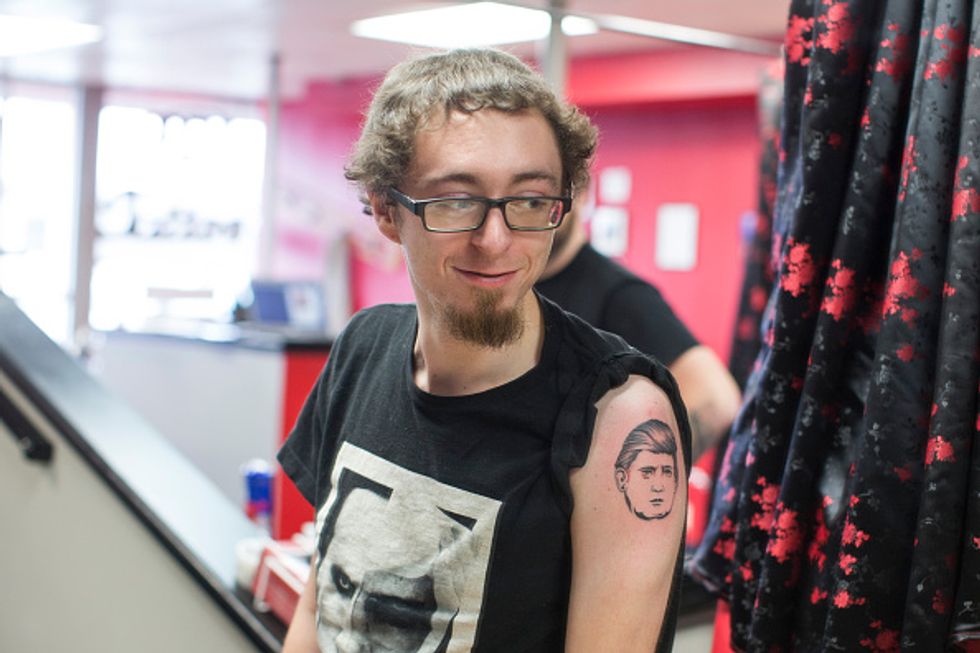 Scott Eisen/Getty Images
One Bernie supporter opted for an artsy outline of the Democratic Vermont senator: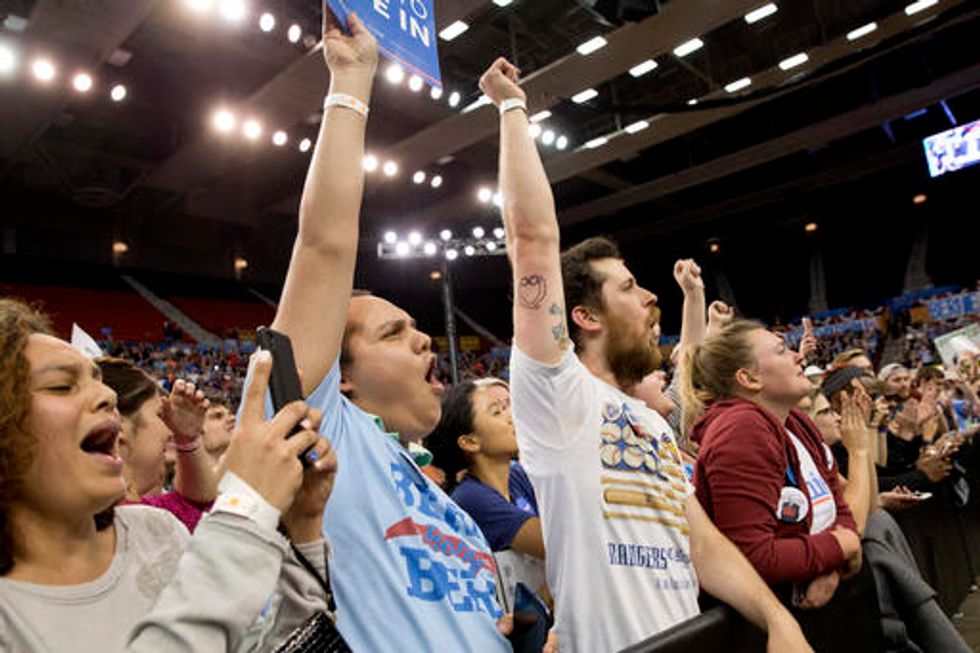 Roger Tomlinson of Oklahoma City, center, sports a new tattoo of Democratic presidential candidate Sen. Bernie Sanders (Vt.) as he cheers for the candidate during a campaign rally at the Cox Convention Center Arena in Oklahoma City Feb. 28. (AP Photo/Jacquelyn Martin)
We might just have to check back with these individuals after the final results are in to see if they are still content with their choices.
(H/T: Gizmodo)