The Islamic State recently released a video depicting the burning of a huge pile of Bibles and other Christian literature at a bonfire in Mosul, Iraq.
After driving the last Christians out of the city, the Islamic State released a video titled "Diwan of education destroys Christian instruction books in Mosul," which was filmed by the Islamic State's Diwan Al-Hisbah, also referred to as the "morality police," according to Fox News. The video was publicly released as the U.S. government continues to deliberate over whether or not to label the Islamic State's actions in Iraq as "genocide."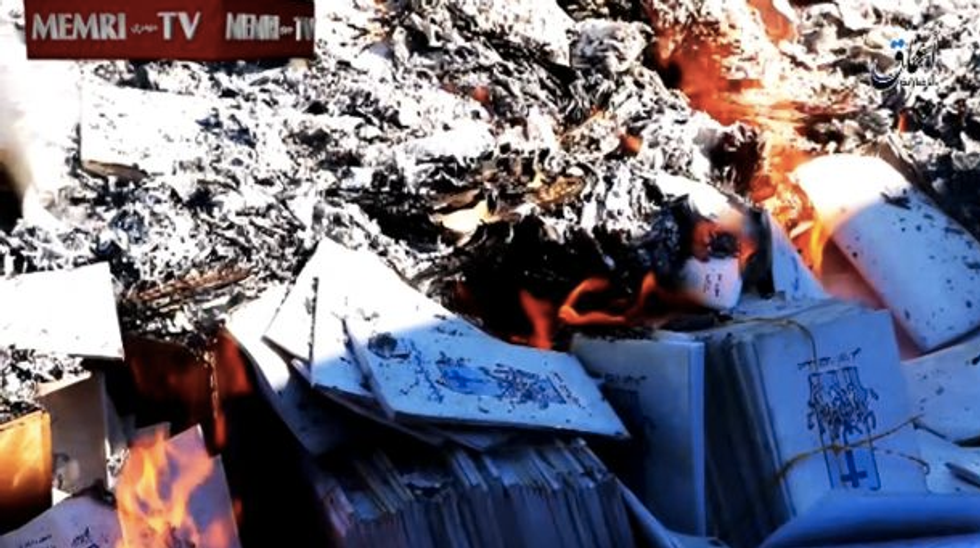 Image source: MEMRI-TV
On Monday, the U.S. House of Representatives voted unanimously to approve a resolution that would brand the terrorist group's actions as genocide, or "acts committed with intent to destroy, in whole or in part, a national, ethnical, racial or religious group." If the State Department arrives at the same conclusion, the U.S. would be obligated to take action.
"It's another example that ISIS means what they say," David Curry, CEO of Open Doors USA, told Fox News. "That's what makes the debate so powerful. They want elimination and they are very serious."
Diwan Al-Hisbah's video, which surfaced last week, shows Islamic State militants as they burn a large pile filled with hundreds of books with crosses on their covers at an unknown location in the city of Mosul, which had once been considered a haven for Iraq's Christian population until it was taken over by militants in 2014, Fox News reported. Officials for the Jihad and Terrorism Threat Monitor team for the Middle East Media Research Institute confirmed that the books being burned in the bonfire represented Christian literature.
"It is in line with ISIS' treatment of Christians, which MEMRI regularly monitors in ISIS publications," the officials said. "There is not any particularly new or recent trend in regard to ISIS's treatment of Christians, which has been consistent in its statements and actions since ISIS declared its caliphate in 2014."
Fox News reported that Iraq's Christian population has plunged from 1.5 million to 275,000 since the Islamic State established its caliphate.
"The stated purpose [of ISIS] to eliminate and force the Christians and Yazidi people out of the region," Curry told Fox News. "They are succeeding. ... This has always been genocide. The West has realized that they cannot deny it any longer."
(H/T: Fox News)
—
Follow Kathryn Blackhurst (@kablackhurst) on Twitter