A young, Atlanta-area homosexual couple is recovering from second- and third-degree burns after police say an older man poured boiling water on them in their sleep.
According to WSB-TV, 21-year-old Marquez Tolbert and his boyfriend, Anthony Gooden, were sleeping after a long day of work when they were attacked and severely burned. Police say Gooden's mother's boyfriend walked in on him and Tolbert in bed together, sleeping. That's when he reportedly boiled water and poured it on the unsuspecting couple.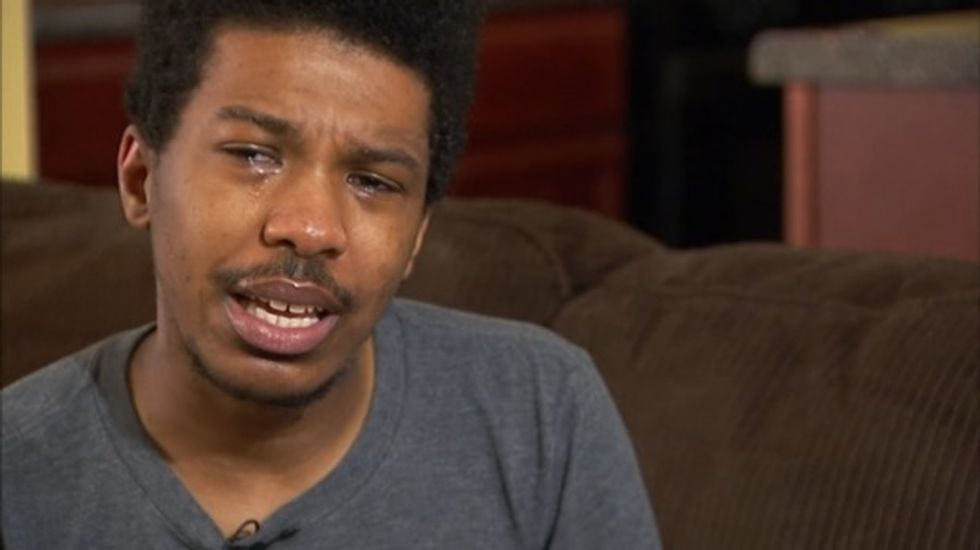 Marquez Tolbert (Image source: WSB-TV)
"The pain doesn't let you sleep. It's just, like, it's excruciating, 24 hours a day, and it doesn't go anywhere. It doesn't dial down, anything. It's just there," Tolbert told WSB in an emotional interview. "Why else would you pour boiling hot water on somebody? I can barely think straight because the burning, the stinging is everywhere."
Police say 48-year-old Martin Blackwell, the couple's attacker, was arrested and charged with two counts of aggravated battery. He remains in the Fulton County jail. Authorities told WSB that the Atlanta Police Department's LGBT liaison has assisted in the case to ensure that Blackwell does not receive bond. Prosecutors are pursing federal hate crime charges against Blackwell.
However, Blackwell didn't even reside in the apartment where the crime occurred. Police say that apartment belonged to Gooden and his mother. Still, Blackwell apparently does not have any remorse for his actions.
"They'll be all right," Blackwell reportedly told police. "It was just a little hot water on them."
Tolbert ended up spending 10 days in the hospital, undergoing skin grafts to replace the damaged skin on his back. He recounted the harrowing event in his interview with WSB.
"Martin pulled me up and said, 'Get out of my house with all that gay.' I couldn't stop screaming," Tolbert said. "Like, where was your head at? Why would you do this?"
Gooden was released from the hospital Tuesday.
—
Follow the author of this story on Twitter and Facebook:
[facebook //www.facebook.com/plugins/like.php?href=