Speaking to a group of his Minnesota supporters, former Republican presidential contender Sen. Marco Rubio (Fla.) argued that Texas Sen. Ted Cruz is the "only conservative left in the race."
According to the Twin Cities Pioneer Press, Rubio did not endorse any of the remaining GOP presidential candidates on the call to his supporters, but he did make the case that his fellow senator is the best option for voters to stop Republican front-runner Donald Trump.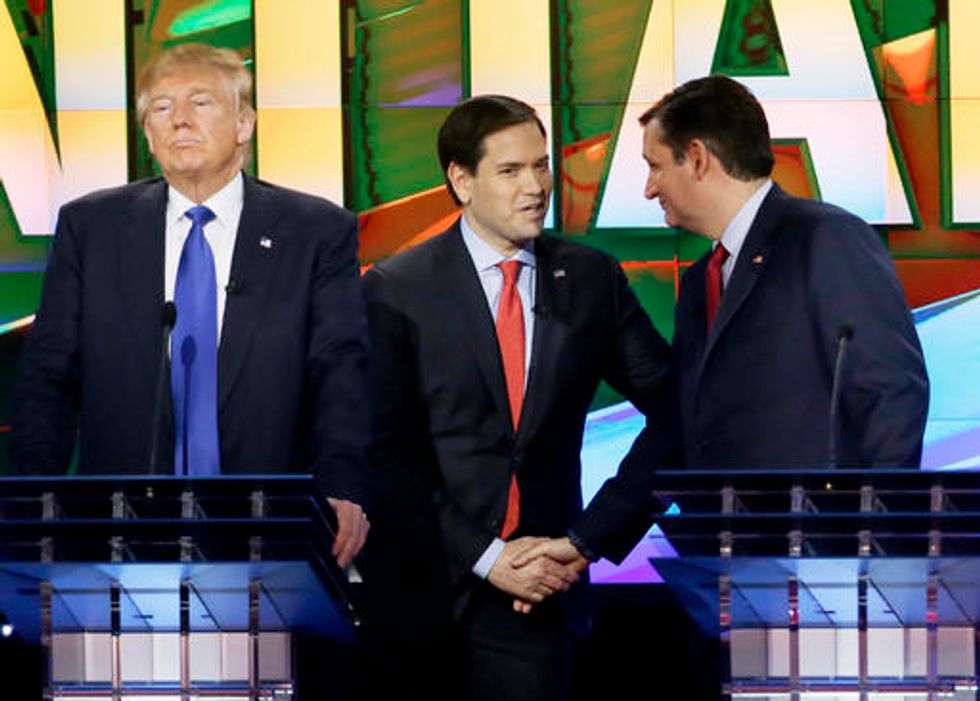 Republican presidential candidate Donald Trump waits as fellow candidates Sen. Marco Rubio (Fla.) and Sen. Ted Cruz (Texas) talk during a break in the GOP presidential primary debate at the University of Houston. (AP Photo/David J. Phillip, File)
The Pioneer Press reported that Rubio explained his decision to end his presidential campaign Tuesday after a crippling loss in his home state of Florida and said he was "at peace" with his decision. As a presidential contender, Rubio was able to win primaries in only Minnesota, Washington, D.C. and Puerto Rico.
"I really believe we're on the verge of an incredible era in our history," Rubio said on the call, according to an audio recording obtained by the Pioneer Press. "This is not the greatest year for that kind of message."
"This election was entirely driven by national media coverage, in many ways," Rubio also said. "When the media narrative goes negative on you, and all the news is bad, it kind of knocks us off."
While Rubio declined to explicitly blame Fox News for any negative coverage of his campaign, he did contend that "there were a couple of people on (Fox) that went full Trump." Rubio added that a "drumbeat" of negative news about his ability to secure the nomination made his ability to win over voters and donors an uphill battle.
"When the media is constantly telling you, 'So-and-so is winning and so-and-so is losing,' it impacts voters," he reportedly said.
As for his loss in Florida, Rubio said: "The only thing that happened over the weekend was the constant drip drip drip of 'Rubio's losing' [in the media]."
"I don't know for a fact it had an impact on voters, but there's nothing else that happened during that three-day period," he added.
And while 2016 was not the year for Rubio, he did say he remains "open to public service in the future if the opportunity is right."
(H/T: Pioneer Press)
—
Follow Kaitlyn Schallhorn (@K_Schallhorn) on Twitter