Democrats plan to force a Senate vote on President Barack Obama's Supreme Court nominee, Merrick Garland, by targeting the re-election efforts of vulnerable GOP senators, the Washington Post reported.
Former Obama aides are putting the political effort in place. It will involve Republicans facing re-election this year, with the potential threat of endangering the GOP majority.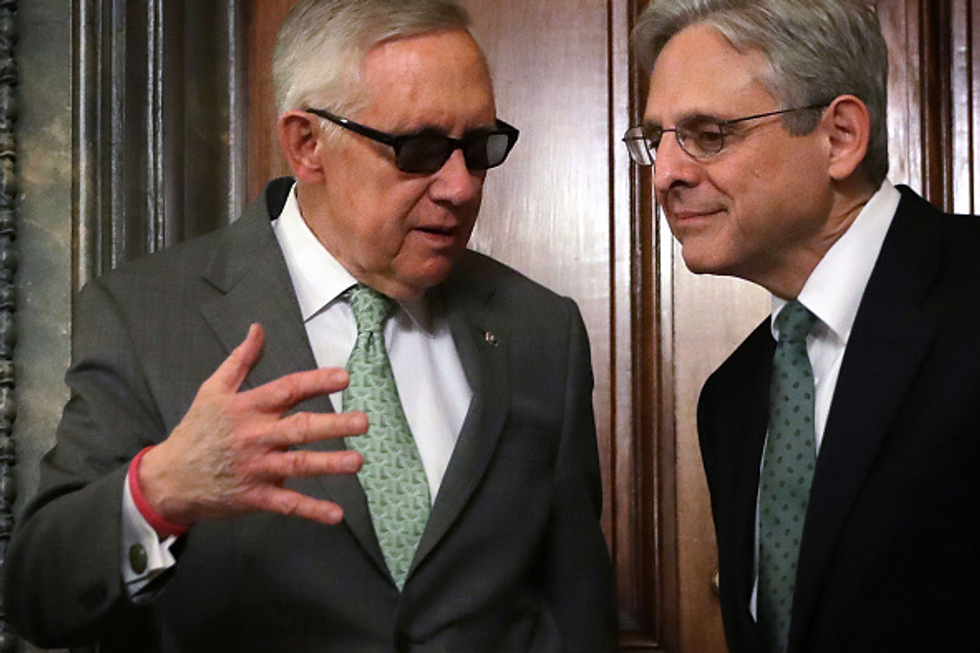 Senate Minority Leader Harry Reid (D-Nev.) meets with Supreme Court nominee Merrick Garland on Capitol Hill. (Alex Wong/Getty Images)
The former Obama operatives established the Constitutional Responsibility Project for the purpose of advocating for the nomination. These operatives include Anita Dunn, who while working for the White House in 2009 praised Mao Tse-tung, the former Chinese communist dictator. It also includes former White House communications staffer Stephanie Cutter, who was for a time the co-host of CNN's "Crossfire." Other former Obama aides include Amy Brundage and Julianna Smoot. They are helping to coordinate with other activists on the left, the Post reported.
MoveOn.org is planning MoveOn Days of Action rallies in states with vulnerable Republican senators to gain support for the nomination. The Ohio teachers union will be doing "Do Your Job Learn-ins" to pressure Republican Sen. Rob Portman to vote for Garland. In Pennsylvania, unions for nurses and firefighters will hold rallies to push Sen. Pat Toomey to meet with Garland and back a hearing.
"You're going to be surprised at how hard we're going to work to make sure this is on the front pages of all the papers," Senate Minority Leader Harry Reid (D-Nev.) said.
Several Republican senators who are in tough races this year are willing to meet with Garland as a likely way to fend off Democratic attacks they are being unfair.
"I'll meet with the guy, but trust me: We're not going to let the Supreme Court flip," said Sen. Ron Johnson (R-Wis.). "And this nominee obviously would flip the court, particularly on an issue that is pretty important in Wisconsin — the right to keep and bear arms."
Republican Sens. Bill Cassidy of Louisiana and Mike Rounds of South Dakota are the most recent Republicans who said they would be open to meeting with Garland.
The Post reported that Democrats view this as a "slippery slope theory," with meetings turning into hearings that into a confirmation.
"It's a step at a time," said Sen. Charles E. Schumer (D-N.Y.). "A good number of them put their foot in the water yesterday by saying they'd see him. ... There'll be more of those. The next step will be to have a hearing."
In a floor speech Thursday, Senate Majority Leader Mitch McConnell (R-Ky.) said, "When it comes to filling the current Supreme Court vacancy, which could fundamentally alter the direction of the court for a generation, Republicans and Democrats simply disagree," he said. "Republicans think that the people deserve a voice in this critical decision."