Former Republican presidential candidate Sen. Marco Rubio (Fla.) is nearing a decision to endorse fellow Republican Sen. Ted Cruz (Texas) for president, Politico reported Friday.
According to the report, which cited sources familiar with the situation, Cruz first has to ask Rubio for his endorsement. Then both sides would have to agree that the endorsement will make a difference in their common goal of defeating GOP front-runner Donald Trump.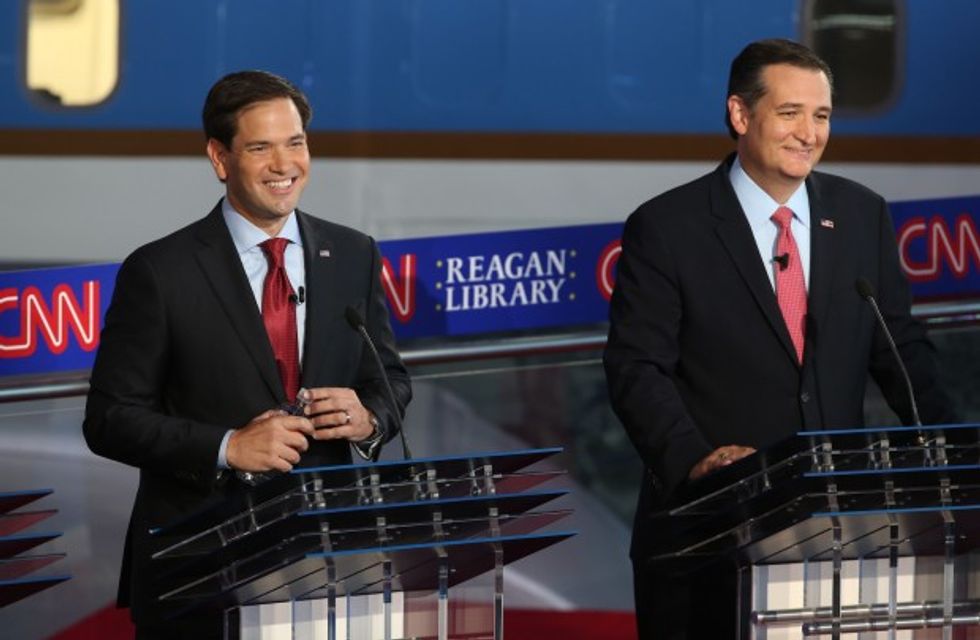 Sens. Marco Rubio (Fla.) and Ted Cruz (Texas) during a Republican presidential debate in Simi Valley, California. (Getty Images/Justin Sullivan)
Rubio, who accused Cruz of lying on the campaign trail but otherwise has a positive relationship with the Texan, said Thursday that Cruz is the "only conservative left in the race."
With Rubio's departure from the race after failing to secure a primary victory in his home state of Florida on Tuesday, the GOP establishment seems to be shifting their support to Cruz.
In a shock announcement Thursday, South Carolina Sen. Lindsey Graham — a proud member of the GOP's core establishment and former presidential candidate — declared that he will be headlining a fundraiser for Cruz next Monday.
One Cruz adviser, who spoke to Politico, pointed to Graham's pseudo-endorsement to illustrate just how many people Cruz is courting.
"Obviously, there are a lot of conversations going on with a lot of people, and that includes Rubio's people," the adviser said. "Look, if Lindsey Graham is endorsing Ted, that should tell you something."
—
Follow the author of this story on Twitter and Facebook:
[facebook //www.facebook.com/plugins/like.php?href=