A black police officer who attended the tense rally in Tucson, Arizona, for Republican presidential front-runner Donald Trump said he was shocked by the behavior he witnessed Saturday.
But he wasn't talking about Trump supporters — he was talking about protesters.
Brandon Tatum — whose Facebook page indicates he's with the Tucson Police — posted a video describing what he observed while attending Saturday's rally as an interested citizen dressed in civilian clothes.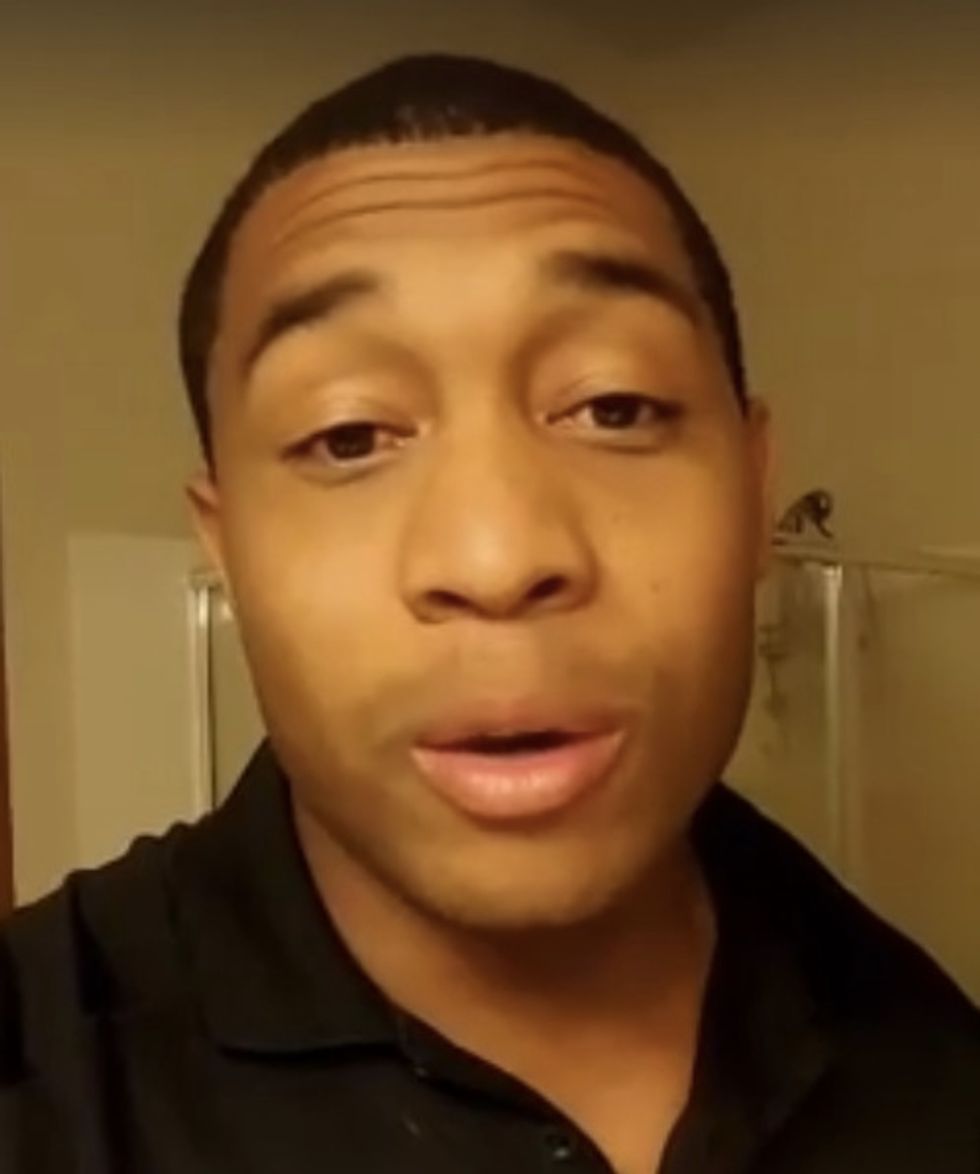 Brandon Tatum (Image source: Facebook/Brandon Tatum)
"It was very, very shocking," Tatum said. "I wasn't expecting what I saw."
Tatum said protesters were "verbally violent" at the door into the rally and that "people were directly yelling at me as if I'm a criminal, and all I wanted to do was hear what the man had to say."
"These people were acting a fool," Tatum recalled about the protesters, adding that they were "cussing" and "screaming" and "saying F Donald Trump and flipping people off" and yelling "black lives matter" in front of families. He added that he saw a mother covering her kids' ears and walking them away.
"It was outlandish and out of control," Tatum said.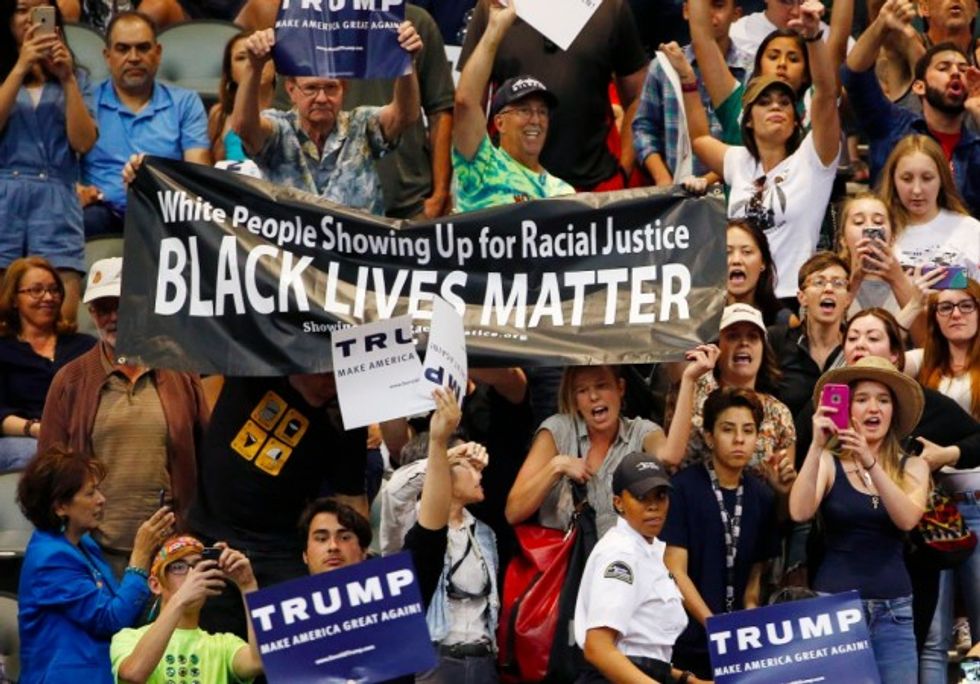 Protesters shout to try to stop Republican presidential candidate Donald Trump as he speaks during a campaign rally Saturday in Tucson, Arizona. (AP Photo/Ross D. Franklin)
"I'm a police officer, and I have been through a lot of dramatic situations, and I have to be honest," he continued. "I felt very uncomfortable there. I thought that at any moment ... I could get sucker punched ... they were the most hateful, evil people I've ever seen."
As for Trump, Tatum said that "he gained my respect," noted that the candidate said nothing "hateful or prejudiced" and that he "wasn't a crazy psychopath like some would say."
Tatum added that he was expecting Trump supporters to be "a lot more aggressive toward these protesters" who were "all in people's faces and everything — it was crazy. But [the Trump supporters] were restrained and it wasn't violent — the violence was coming from these protesters."
"It was a crapshow," Tatum said. "I thought at some point it was gonna be a full-fledged riot" because of the protesters' "outrageous" behavior and that "somebody was gonna lose their temper and it was going to be a full brawl."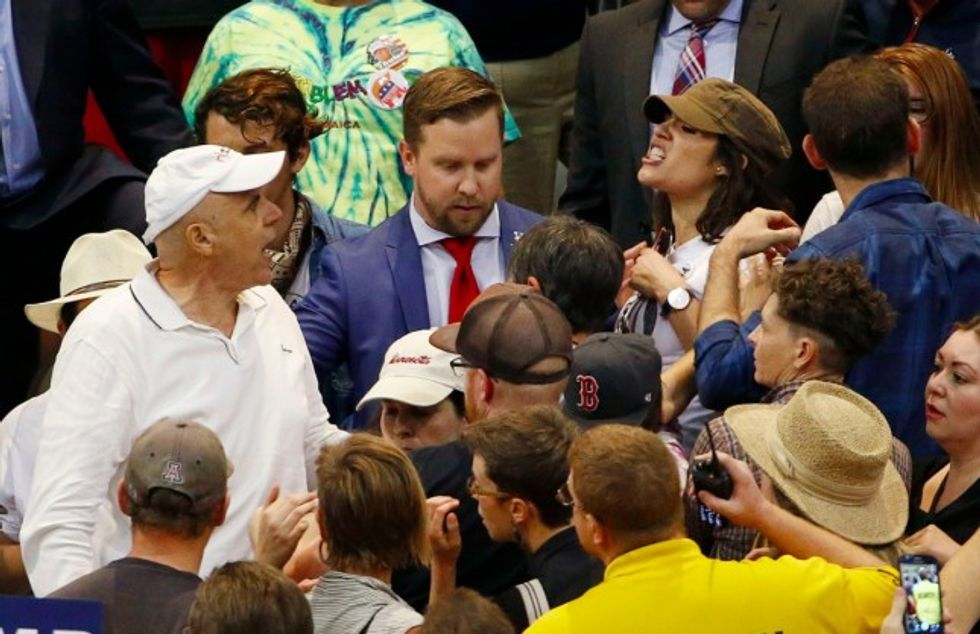 A supporter of Republican presidential candidate Donald Trump, left, shouts with an anti-Trump protester, second from right at top, as the candidate speaks during a campaign rally Saturday in Tucson, Arizona. (AP Photo/Ross D. Franklin)
On Tatum's clip, he said he saw a protester wearing a KKK-like hood and another who was beaten. Of the protester who was beaten, Tatum said he may have done something to his attacker to incite the altercation — but in a follow-up note on the Facebook post, Tatum said "after further investigation the protester that was punched did not provoke the other male, according to authorities. I don't need to state the obvious regarding my stance on assault."
"If you want to know the truth about stuff, you gotta examine it, you gotta physically show up," Tatum said about his experience at the Tucson rally, later adding that it "was an eye-opening experience for me. These protesters were extremely crazy."
My experience at Donald Trump's rally in Tucson, AZ. #PressPlay*I'd like to add that after further investigation the protester that was punched did not provoke the other male, according to authorities. I don't need to state the obvious regarding my stance on assault.

Posted by Brandon Tatum on Saturday, March 19, 2016