During his final day in Cuba, President Barack Obama met with 13 Cuban dissidents who actively oppose the nation's communist government — some of whom also opposed the United States normalizing relations with the Castro regime.
The meeting was not open to the public or press other than a short pool spray, but Obama recalled the conversation during an ESPN interview while he attended a baseball game between the Tampa Bay Rays and the Cuban national team.
"I met with some dissidents before I came here, those who supported this change in policy, a few who thought it somehow rewarded or validated the existing government," Obama said. "What I explained to them is that we will continue to speak out loudly on the things that we care about. That's not going to change, but isolation had in some ways empowered those who didn't want to see change."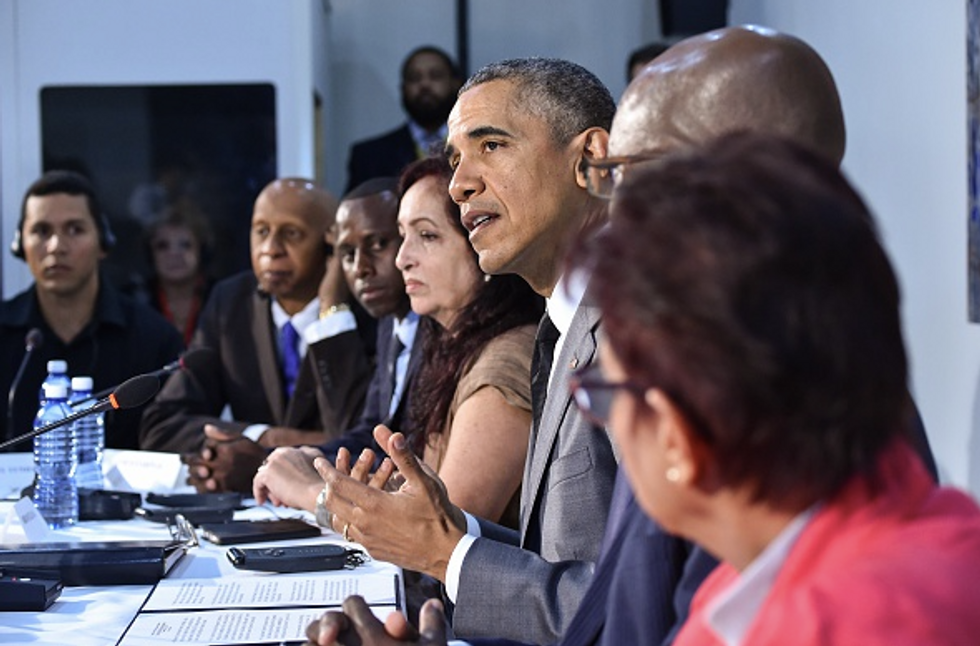 President Barack Obama takes part in a Civil Society Roundtable discussion at the U.S. Embassy in Havana, Cuba, Tuesday. Obama said in a speech televised across the communist-run nation Tuesday that Cubans should be free to speak without fear, should not be detained for their thoughts and should embrace democracy. (Nicholas Kamm/AFP/Getty Images)
Obama held a bilateral meeting with Cuban President Raul Castro Monday and on Tuesday delivered a speech on democracy and human rights. After that he met with dissidents, a list of whom was provided by the White House:
Augel Yunier Remon

Antonio Rodiles

Juana Mora Cedeno

Jose Daniel Ferrer

Laritza Diversent

Berta Soler

Dagoberta Valdes Hernandez

Guillermo Coco Farinas

Nelson Alvarez Matute

Miriam Celaya Gonzales

Manuel Cuesta Morua

Miriam Leiva Viamonte

Elizardo Sanchez
Obama said he told the dissidents that, if the United States continues to isolate Cuba, then the dictatorial government would have an excuse to continue in place.
"Essentially they are in a position to blame all the problems they have here on the United States and we could not do what I did today, which is speak to the entire Cuban population and talk about the values that America cares about and the extraordinary success that Cuban Americans have had when they've had freedom of speech, freedom of religion, the ability to start their own businesses and so forth," Obama said.