When students at Emory University headed to classes Monday morning, they were greeted with a sight that a number of them couldn't stomach: Numerous chalk messages around the Atlanta campus supporting Republican presidential front-runner Donald Trump.
So about 40 students gathered later that day at the school's administration building to protest the messages and demand help from university officials over feeling "afraid" and "in pain" due to the political messages.
A number of the chalking images were posted by the Tab: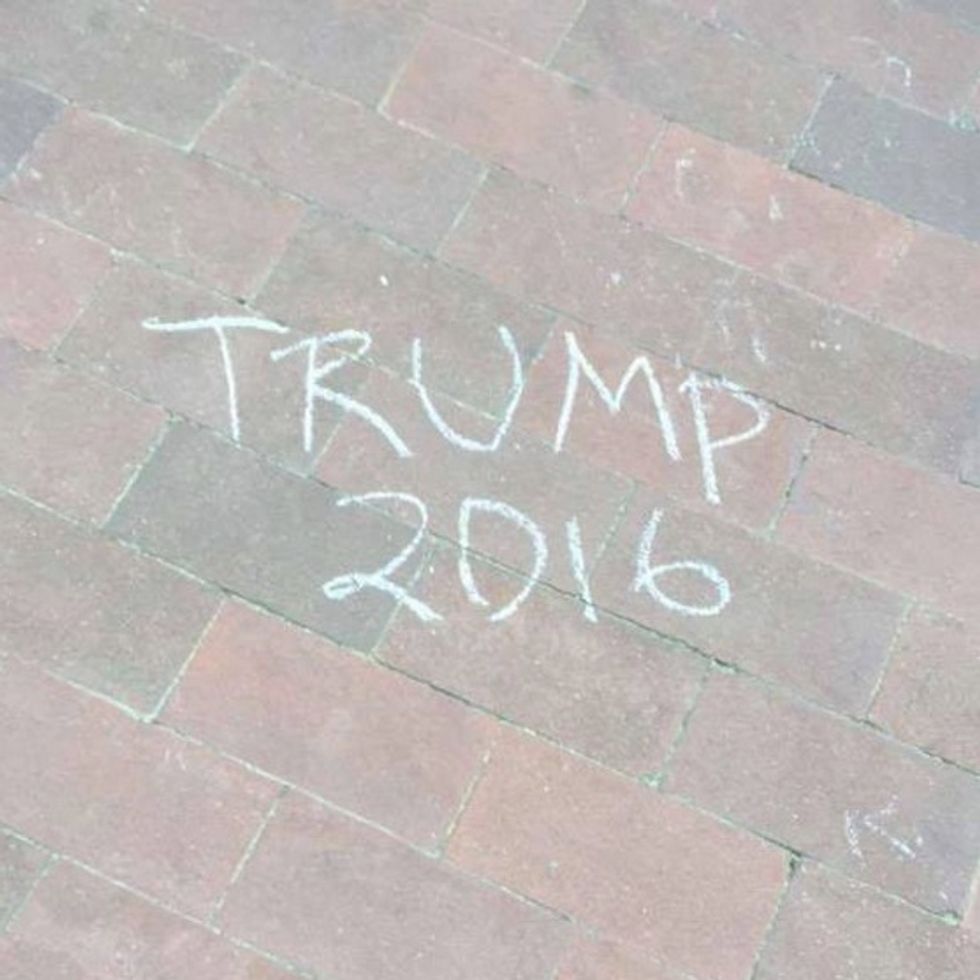 Image source: The Tab
The college's paper, the Wheel, reported that sophomore Jonathan Peraza led the proceedings: "You are not listening! Come speak to us, we are in pain!"
Peraza opened a door to the administration building, the Wheel reported, and students moved forward and shouted, "It is our duty to fight for our freedom. It is our duty to win. We must love each other and support each other. We have nothing to lose but our chains."
Soon students entered the building, the paper said, and filled a stairwell where one student expressed frustration with the chalkings: "I'm supposed to feel comfortable and safe [here]. But this man is being supported by students on our campus and our administration shows that they, by their silence, support it as well. … I don't deserve to feel afraid at my school."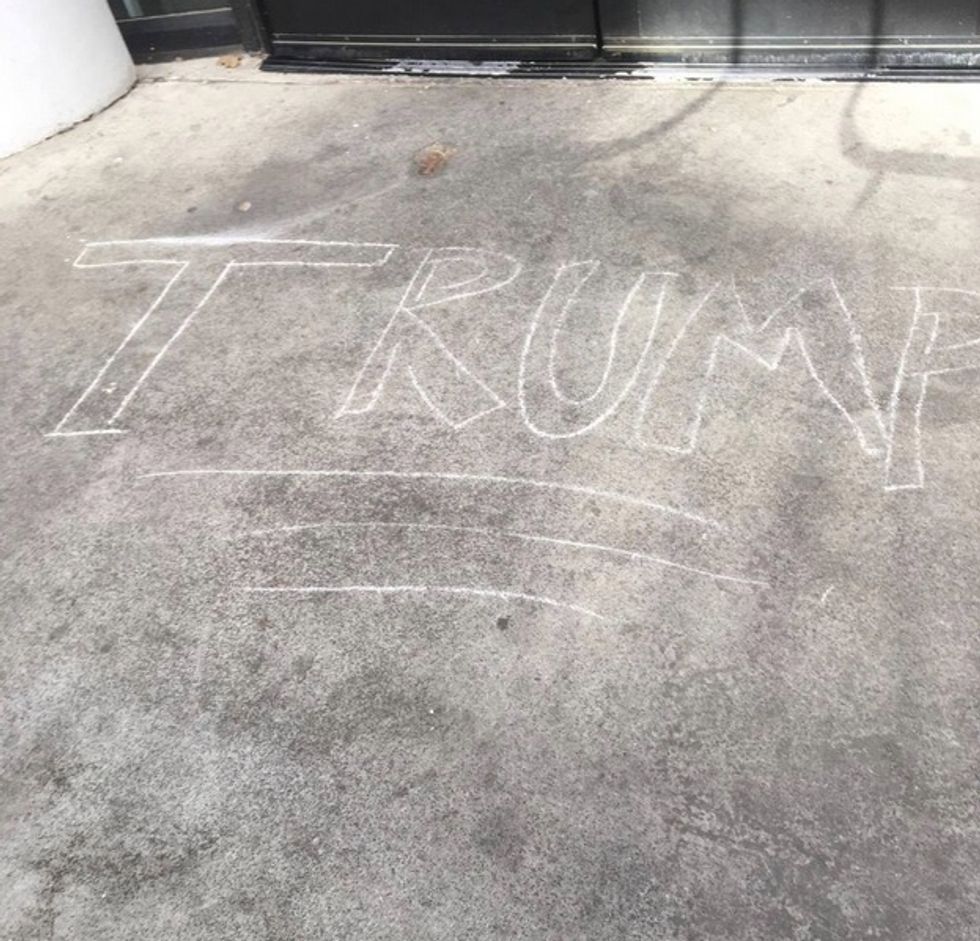 Image source: The Tab
After the group got into the administration building's board room, Peraza asked his fellow students what they were "feeling," the Wheel reported.
One replied tearfully, "How can you not [disavow Trump] when Trump's platform and his values undermine Emory's values that I believe are diversity and inclusivity when they are obviously not [something that Trump supports]."
"Banning Muslims?" another asked, the Wheel said. "How is that something Emory supports?"
Students called James W. Wagner, the school's president, into the board room to hear their grievances — and the paper reported that he listened to them for about an hour.
The Wheel reported that one student asked Wagner if Emory would send out a university-wide email to "decry the support for this fascist, racist candidate."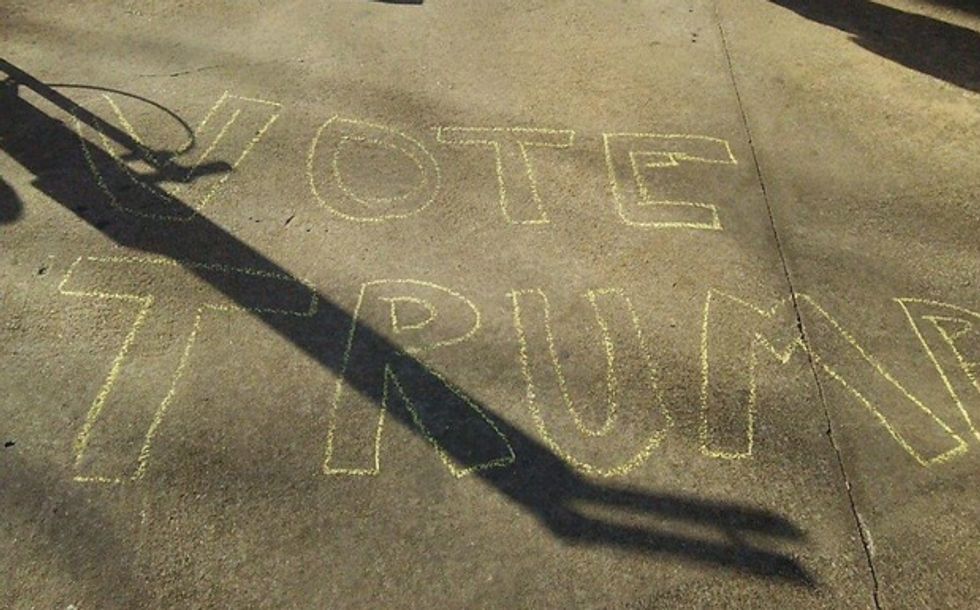 Image source: The Tab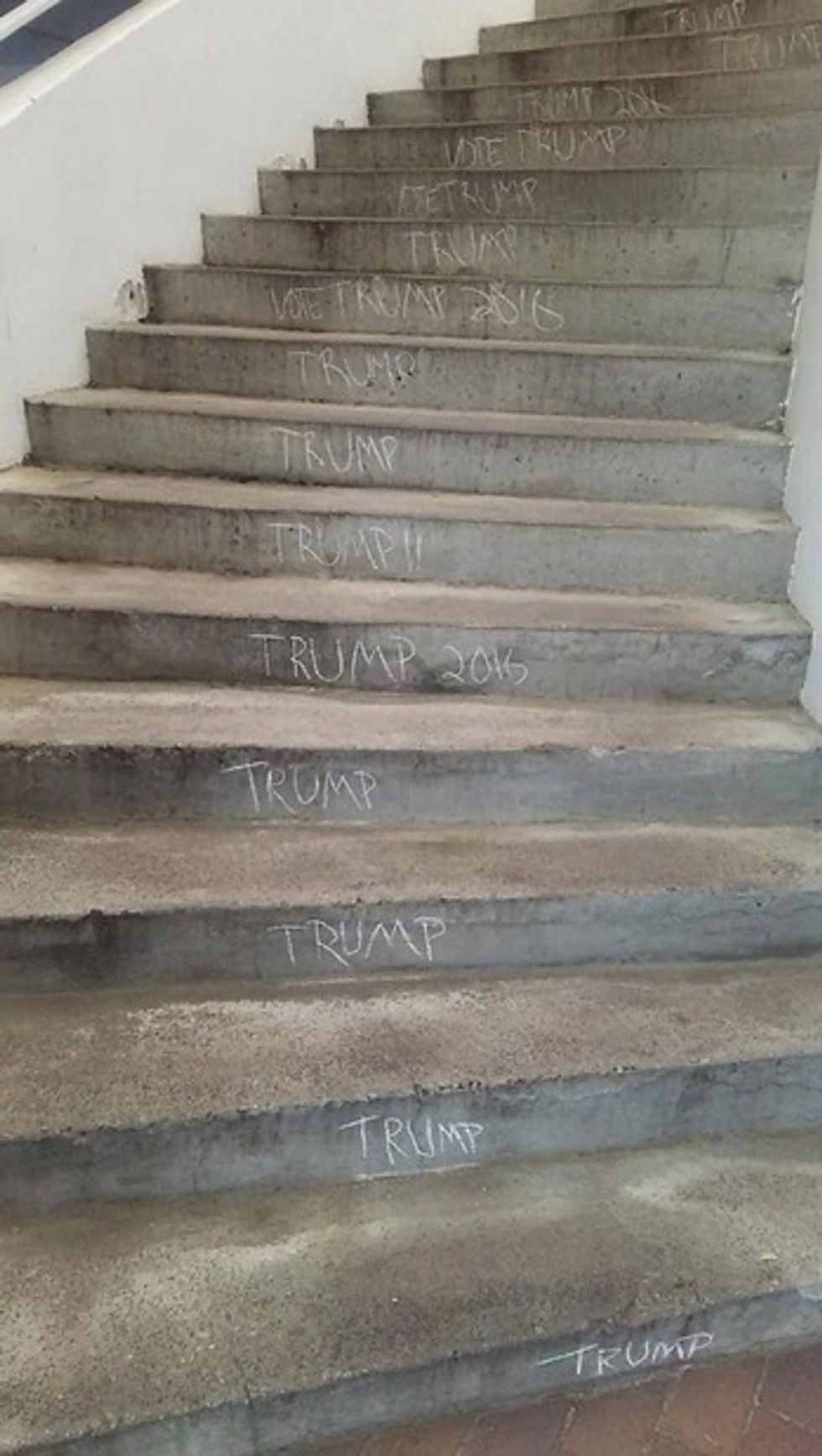 Image source: The Tab
"No, we will not," Wagner replied, the paper said.
A student came back, saying, "The university doesn't have to say they don't support Trump, but just to acknowledge that there are students on this campus who feel this way about what's happening … to acknowledge all of us here."
By the end of the hourlong back-and-forth, the Wheel said Wagner changed course and appeared to indicate that he'd get to work on a letter — and he told the protesters that security camera video would be reviewed to identify who was responsible for the chalkings. If they're students, he said they would be subject to the school's conduct violation process; if they're non-students, trespassing charges will be pressed, the paper added.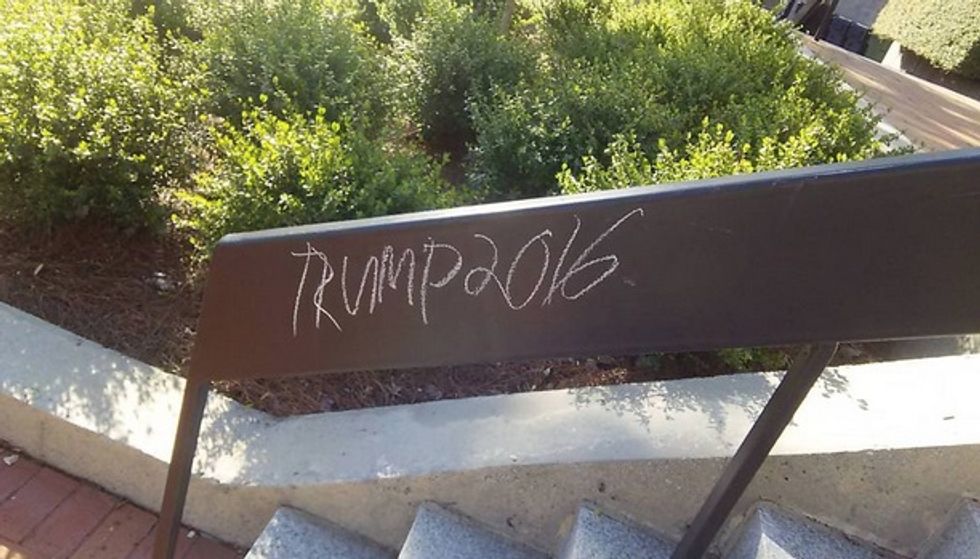 Image source: The Tab
School policy indicates that permission must be obtained before chalking is carried out.
Junior Harpreet Singh told the Wheel that one chalking example — "Accept the Inevitable: Trump 2016" — disturbed him: "That was a bit alarming. What exactly is the inevitable? Why does it have to be accepted?"
Freshman Amanda Obando told the paper in a Wednesday article that her reaction to the chalkings was "fear."
"I told myself that it was a prank and that the responsible individual was probably laughing in their room," she added. "I told myself that Emory would do something about it."
By Tuesday, a letter was sent to the Emory community, the Wheel reported, in which Wagner said the chalkings represented "values regarding diversity and respect that clash with Emory's own."
In the Wheel's follow-up piece Wednesday, Wagner wondered if the chalkings simply represented "a message about a political preference, a candidate preference or was it a harsher message? And I will tell you, those who met with me were genuine in their concerns that it was the latter."