Larry Wilmore, the host of Comedy Central's "Nightly Show," does not understand the appeal of Donald Trump to black voters. So the host, himself a black man, assembled an all-black panel of Trump supporters to ask them to explain why they were voting for the billionaire Republican.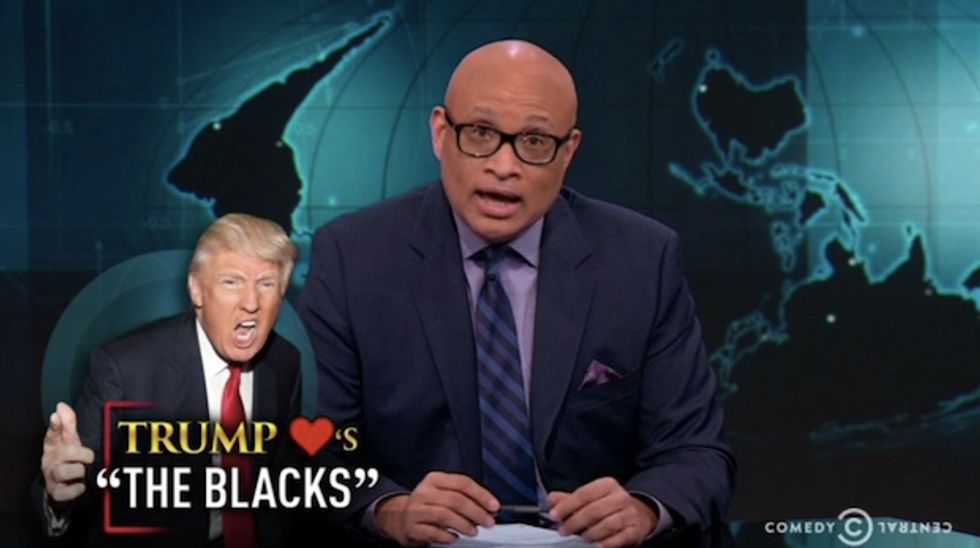 Image source: Comedy Central
The first person to respond to the question, "Why do you support Donald Trump?," was Kevin, a man who admitted to being a "registered Democrat." The Trump fan said he had "lost faith and belief in the current state of our party right now with our two candidates."
One of the female panelists said she was "open to Donald Trump" because he is a "gangsta." She added, "He's going out here, and he's kind of 'gangstering' the whole situation...ya know, he's like, 'If you come up to my mic, I'm taking you out.'"
With his tongue firmly planted in his cheek, Wilmore compared Trump to a rapper, saying of the GOP front-runner, "He is kind of like a rapper. He's into gold. He has his own vodka. He's got a private jet, and he really likes white women."
A female panelist added, "And he's married to a model."
After listing the similarities between Trump and a rapper, Wilmore asked if those rapper-like qualities might be attractive to any of the panelists. One man responded, "The way you express it, I never thought of that way, ya know, he's pretty cool."
Watch the segment:
—
Follow the author of this story on Twitter and Facebook: