© 2023 Blaze Media LLC. All rights reserved.
Cruz Wants a One-on-One Debate With Trump — See Who He Says Should Moderate
"I would love to debate him one-on-one."
During an extended interview with Fox News host Bill O'Reilly Tuesday, Republican presidential hopeful Sen. Ted Cruz (Texas) renewed his call for a one-on-one debate with GOP front-runner Donald Trump. This time, however, Cruz proposed that the Fox host moderate the debate.
While discussing the Manhattan mogul's foreign policy plan, which Cruz labeled "one of weakness and isolationism," O'Reilly told Cruz that he would not defend Trump or his foreign policy positions. That's when Cruz hatched the idea for Trump to come onto the program and defend himself.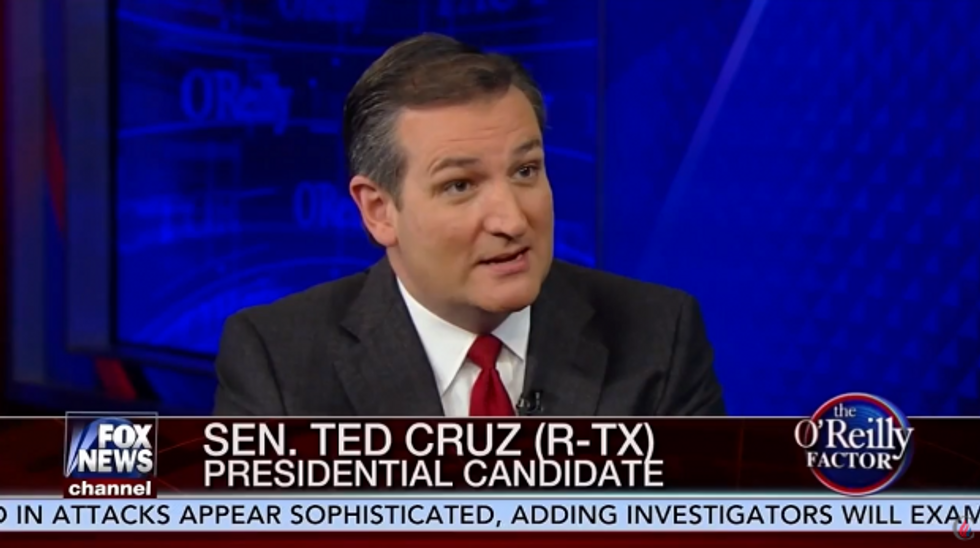 Image source: Fox News
"You know what? I've got an idea. Why don't you ask Donald Trump to come here and defend himself," Cruz said. "Donald is afraid to debate."
"Bill, you can moderate. He wouldn't argue that you're an unfair moderator," the Texas Republican added.
O'Reilly, however, disagreed that Trump would think he is a fair moderator. Still, he told Cruz that he and his program would "follow up" on the idea.
"It'd be terrific," Cruz said.
Tuesday's call for a one-on-one debate is not the first time Cruz has challenged the brash billionaire to a heads-to-head contest. Following Trump's announcement that he planned to skip Fox's January debate, Cruz immediately issued a challenge to Trump, saying that he would debate him with the moderator of his choice — even proposing a "mano a mano" debate.
—
Follow the author of this story on Twitter and Facebook:
[facebook //www.facebook.com/plugins/like.php?href=
Want to leave a tip?
We answer to you. Help keep our content free of advertisers and big tech censorship by leaving a tip today.
Staff Writer
Chris Enloe is a staff writer for Blaze News
chrisenloe
more stories
Sign up for the Blaze newsletter
By signing up, you agree to our
Privacy Policy
and
Terms of Use
, and agree to receive content that may sometimes include advertisements. You may opt out at any time.