Israel's transportation minister disparaged Belgians for enjoying their national delicacy — chocolate — while shirking their responsibility to combat terrorism.
"If in Belgium they continue to eat chocolate and continue to enjoy life and to appear to be big liberals and democrats and they don't define that some of the Muslims who are sitting there are from terror groups, they won't be able to fight them," Yisrael Katz told Israel Radio Wednesday.
The minister, who is from Prime Minister Benjamin Netanyahu's right-wing Likud Party, also issued a dig at the Obama administration for failing to admit the "war is on Islamic terror."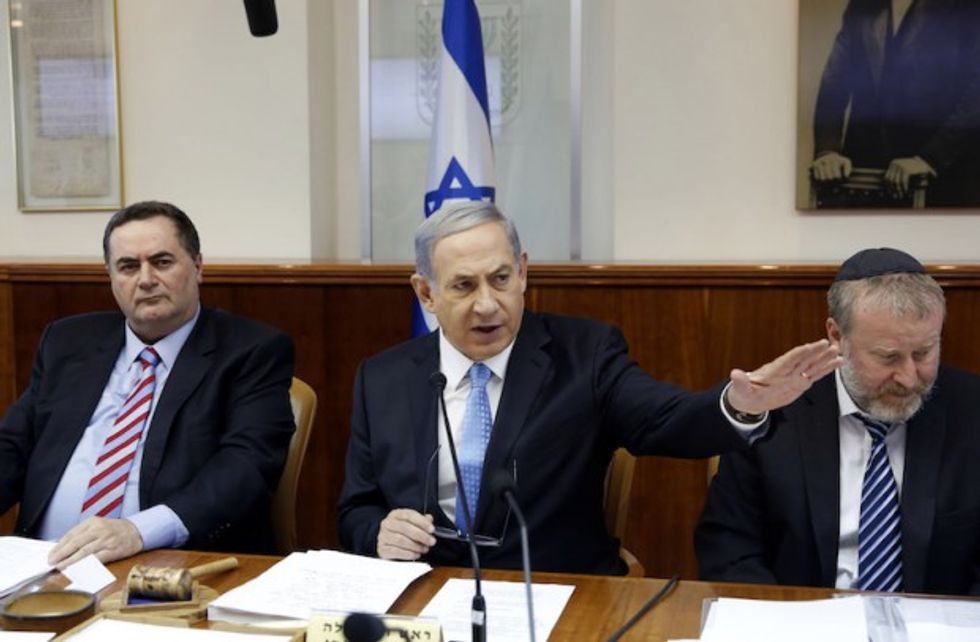 Israeli Prime Minister Benjamin Netanyahu chairs the weekly cabinet meeting with Cabinet Secretary Avichai Mandelblit, right, and Transportation Minister Yisrael Katz, left, at the Prime Minister's office in Jerusalem. (Gali Tibbon/Pool Photo via AP)
"Europe and the U.S. aren't prepared to define that the war is on Islamic terror," Katz said, according to a translation by the Times of Israel. "When your definition isn't right and doesn't exist, you can't lead a global war."
Comparing Tuesday's attacks in Brussels to the six-month wave of nearly daily Palestinian stabbing attacks against Israelis, Katz said, "We carry on our life here, but we are prepared and have no illusions and that comes from our ability to define who is the enemy."
"The Europeans, and even the United States, haven't defined who is the opponent," the minister added.
Israeli government officials have repeatedly chided European countries involved in an effort to specially label products made in Jewish settlements in the West Bank as a cloaked effort to eventually boycott Israel.
The new terror attacks led several Israeli politicians to slam what they view as the Europe Union's exaggerated focus on product labeling measures rather than anti-terror efforts.
Science, Technology and Space Minister Ofir Akunis said, "Many in Europe have preferred to occupy themselves with the folly of condemning Israel, labeling products, and boycotts."
"In this time, underneath the nose of the Continent's citizens, thousands of extremist Islamic terror cells have grown," he added
Member of Knesset Kesenia Svetlova of the left wing Zionist Union party said that the Brussels attacks showed that "European multi-culturalism has failed as a result of continued neglecting and ignoring of the challenges it poses."
Netanyahu on Tuesday tied the Brussels attacks with Islamist terrorism around the world, asserting that terrorists would not be placated by concessions.
"It's not as if we could offer them Brussels, or Istanbul or California, or even the West Bank. That won't satisfy their grievances. Because what they seek is our utter destruction and their total domination," Netanyahu said in a live video address to the AIPAC conference in Washington.
What terrorists want "is that we should simply disappear," Netanyahu added.
(H/T: Times of Israel)
—
Front-page image via Shutterstock