Talk show host Rush Limbaugh was pressed Thursday by a caller who repeatedly asked why the conservative personality was not "warning" his audience about what she considered to be the dangers of a Donald Trump presidency.
The caller, who self-identified as Terry, said at the outset of the call that she was a "little confused."
"I've been listening to you warn us for years about the Democrats, you say, 'when you can't win in the arena of ideas you resort to personal attacks,' and that's what Donald Trump does all the time," the caller said, according to an online transcript. "If you're a woman, you become a bimbo and a pig, And if you're a man, then you've been on your knees begging him for money. I just wondered, do you think for a minute that he wouldn't use the IRS, the EPA, and the FBI to go after his enemies? He's still got a vendetta against Megyn Kelly, and now he's starting on Heidi Cruz."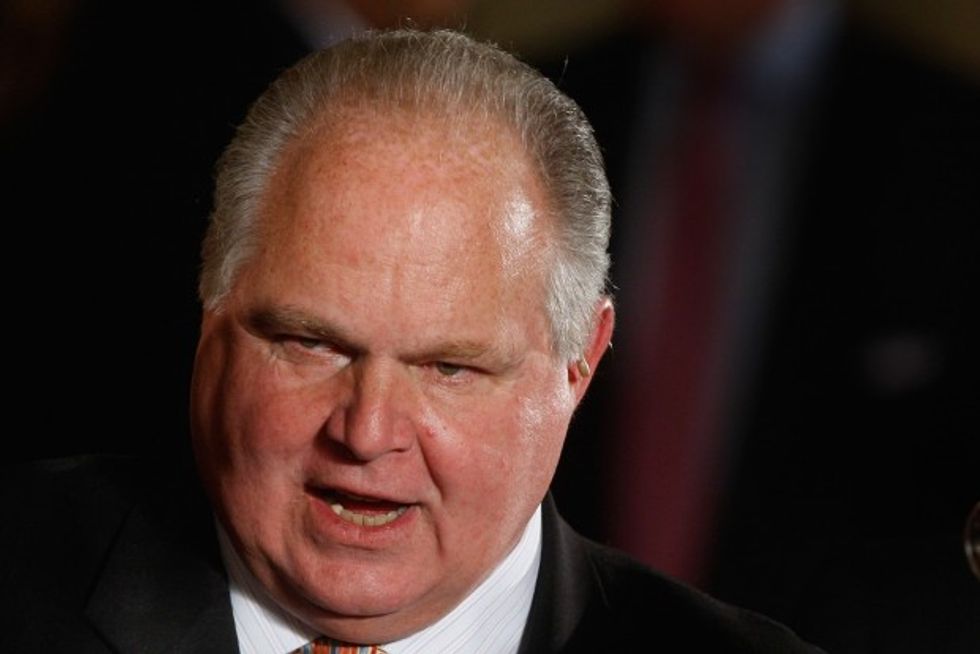 AP Photo/Ron Edmonds
"Yeah, isn't it amazing how he gets away with this stuff? Why do you think that is, Terry?" Limbaugh asked.
The caller replied that she did not know why.
"Well, there has to be a reason," Limbaugh insisted.
"Well, there has to be a reason, but we don't need another know-it-all with a king complex in the White House," the caller replied. "When asked who he consults on foreign policy, he said himself."
"Just like Obama, he always thinks he's the smartest man in the room," the caller added.
Limbaugh said that he had read a story about how some Trump critics might support Democratic front-runner Hillary Clinton in the general election.
"If they say they're voting for Hillary, then they are insane," the caller said.
" Well, yes. But that's my point," Limbaugh quipped. "[B]ut, look, we're getting a little bit off the path of your question. I'm like you, I'm asking. Look, you say I'm not condemning. All kinds of people are."
That answer didn't satisfy the caller.
"But why aren't you, Rush?" she asked. "I've listened to you for years—."
"I don't think it needs to be. It speaks for itself," Limbaugh said. "There's a lot of people that don't understand liberalism, Terry, there are a lot of people that I think, by definition, still need to be informed and educated that it isn't the soft, loving, compassionate stuff that it's portrayed to be. Trump speaks for himself. Who Trump is and what he's doing is not a mystery to anybody. It's the exact opposite of a mystery. It's in your face."
"But right now we have a candidate with all the qualities that you said for years that you wanted, and he's a real conservative, and you've said real conservatives can win. But I hear you every day just talking about both sides, Trump and Ted Cruz, like you're a disinterested observer," the caller shot back.
"No, not correct. I talk about the news here," Limbaugh said. "I don't do topics, and I don't do causes. Yesterday's entire first two hours was about Ted Cruz. It was in total support. It was defining what Cruz was doing. It was defending him."
"I know. I know," the caller replied. "I never have heard you say anything bad about Ted Cruz. I know—."
Limbaugh said that he does not "do causes" on his radio show. Terry still wasn't sold.
"You warn us every day about the Democrats and Hillary and Bernie," she said. "Why aren't you warning us? Why aren't you warning people?"
"Because I'm not voting for Hillary," Limbaugh replied. 'If Trump's the nominee I'm voting for him."
Limbaugh argued the Democratic Party is "the most destructive force in this country today" and that he would not vote for Clinton "no matter what."
"Daffy Duck could be our nominee. He gets my vote. I am not voting for Hillary or Bernie or Biden or whoever ends up being the nominee, pure and simple," the host said.
—
Follow the author of this story on Twitter and Facebook: