A Virginia man was forced to live his "worst nightmare" after the DMV threatened to suspend his driver license for not showing up to a court date that he knew nothing about for a speeding ticket he never got.
Tim Gallagher lives in Williamsburg, Virginia, and commutes to Washington, D.C., where he works as a pilot for a major airline. So without his license, Gallagher can't get to work, WAVY-TV reported.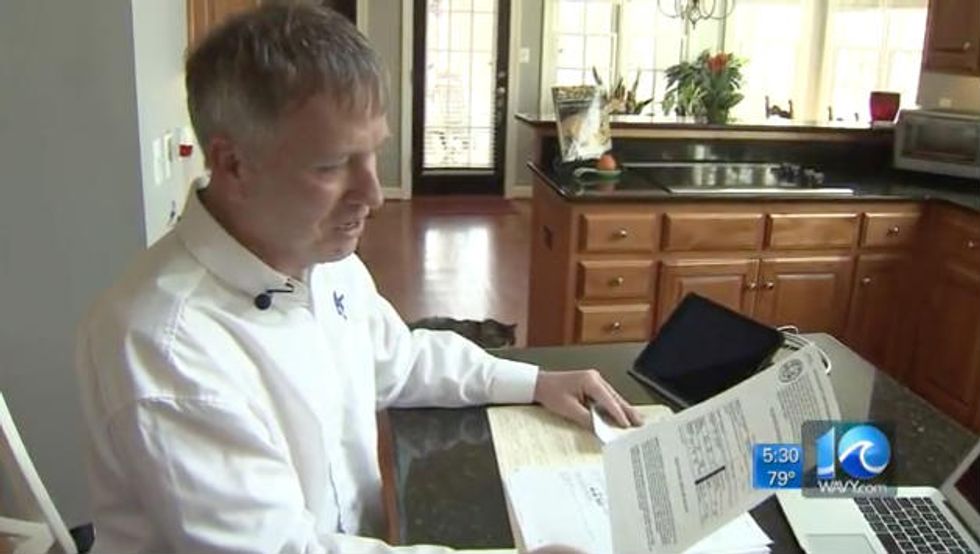 Tim Gallagher (Image source: WAVY-TV)
Gallagher received a notice in January saying he had failed to appear in court for a speeding ticket he supposedly got on Interstate 95 in Ridgeland, South Carolina. There was just one problem: Gallagher wasn't even in South Carolina that day.
And there's proof.
Gallagher obtained paperwork from his employer showing that he was flying the same day police in South Carolina say they issued him the ticket — and he wasn't flying anywhere near the Palmetto State.
Gallagher notified the DMV of the situation and said even they acknowledged it must have been a mistake. But that didn't keep them from still threatening to suspend his license next week.
"Everyone knows I'm not the person — that's what's so maddening," Gallagher told WAVY-TV. "Everyone feels my pain, and no one can do anything."
In a last-ditch effort to keep his driving privileges, Gallagher informed the local news station of what was happening. The Ridgeland Police Department has agreed to dismiss the ticket while the DMV looks into exactly what happened.
"This is everyone's worst nightmare," Gallagher recalled of the incident. "Bureaucracy gone very bad."
(H/T: WAVY-TV)
–
Follow the author of this story on Twitter and Facebook: