A CNN segment got awkward Friday after a Donald Trump supporter floated the idea that her fellow panelist is one of the women rumored to have had alleged affairs with Texas Sen. Ted Cruz, as reported in The National Enquirer.
Amanda Carpenter, who once served as communications director for Cruz in the Senate, immediately pushed back against the unverified report after Boston Herald columnist and Trump supporter Adriana Cohen mentioned it on air.
The National Enquirer tabloid claimed that Cruz has had extramarital affairs with five women. Social media users have speculated that Carpenter and Katrina Pierson, a spokesperson for Trump who also used to work for Cruz, are among them.
CNN's Kate Bolduan asked Cohen, a Donald Trump supporter, if she was ready for her candidate to "move on" from his attacks on Heidi Cruz.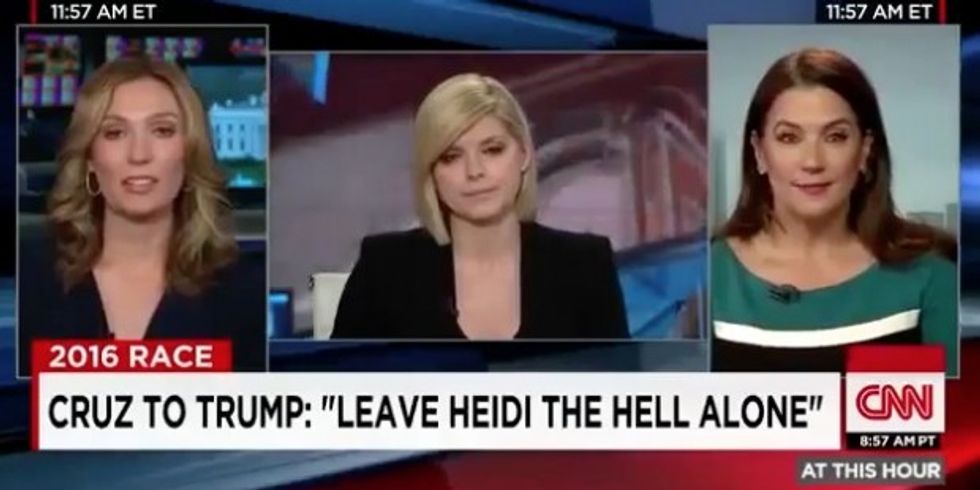 Image source: YouTube
"Oh, absolutely I think we should move on," Cohen said. "Where we should move to is The National Enquirer story that has reported that has Ted Cruz has had affairs with five mistresses, including you've been named as well, Amanda."
"I don't think that's moving on at all, Adriana," Bolduan interjected.
"If we're going call Donald Trump's character into question, I would like Ted Cruz to issue a statement whether or not the National Enquirer story is true, that he has had affairs with many women, including you were named, Amanda," Cohen said again. "Will you denounce this story or will you confirm it?"
Carpenter was not named in The National Enquirer's story.
"What's out there is tabloid trash. If someone wants to comment on it, they can talk to my lawyer," Carpenter replied. "It's categorically false, you should be ashamed for spreading this smut. Donald Trump supporters should be held to account for it."
"I'm not spreading smut-" Cohen interrupted.
"I will not be intimidated," Carpenter continued. "I will continue to make my thoughts known about Donald Trump, and I am not backing down."
Bolduan cut her guests off to remind viewers that the report was in a tabloid and unverified.
"It will come as no surprise to our viewers, CNN has no reporting on what you're talking about coming from The National Enquirer," Bolduan said, before ultimately ending the segment because "I don't want to talk about a National Enquirer report."
The CNN segment took place prior to Cruz denying the report and accusing Trump of circulating it.
I want to be crystal clear: these attacks are garbage. For Donald J. Trump to enlist his friends at the National...

Posted by Ted Cruz on Friday, March 25, 2016
Pierson also denied the report Friday.
Of course the National Enquirer story is 100% FALSE!!! I only speak to myself, however. Carry on...

— Katrina Pierson (@Katrina Pierson) 1458921592.0
The National Enquirer has endorsed Trump, and David Pecker, the tabloid's chief executive, is friends with Trump.
In a Facebook post, Trump wrote that he "had absolutely nothing to do with" the tabloid's claim and he has "no idea whether or not" the story is true.
"Unlike Lyin' Ted Cruz, I do not surround myself with political hacks and henchmen and then pretend total innocence," Trump added. "Ted Cruz's problem with the National Enquirer is his and his alone."
Watch below: