Democratic presidential candidate and Vermont Sen. Bernie Sanders appeared on CNN's "State of the Union" Sunday to discuss his triple caucus win over Clinton. Sanders claimed victories in all three states holding Democratic Party caucuses Saturday: Washington, Alaska and Hawaii.
Following the win, Sanders told host Jake Tapper that he is optimistic about some of his party's most influential constituents shifting their support in favor of him.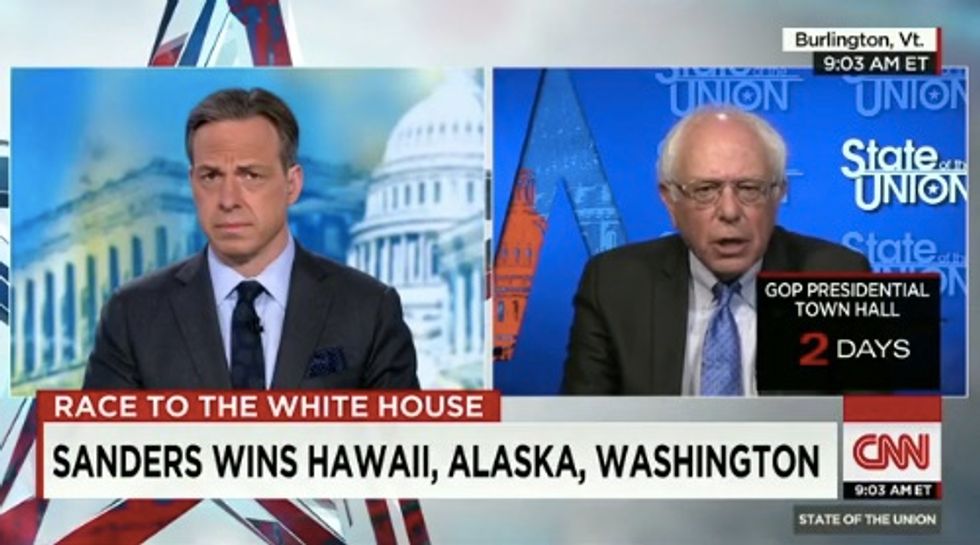 Image source: CNN
"In terms of superdelegates, a lot of superdelegates have pledged for Secretary Clinton," he said. "But I think when they begin to look at the reality — and that is that we, in poll after poll, are beating Donald Trump by much larger margins than Secretary Clinton ... I think the momentum is with us."
Sanders cited a recent CNN poll that show Sanders to be 20 points ahead of the Republican front-runner.
Republican National Committee Chairman Reince Priebus released a statement Following Saturday's Democratic caucuses, calling Clinton's "embarrassing" losses this week "another reminder of her deeply flawed candidacy.":
Hillary Clinton's repeated stumbles at this stage of the race are another reminder of her deeply flawed candidacy. Winning only one out of six primaries and caucuses this week is an embarrassing performance for the Democrat front runner. At a time when the public's concern about terrorism is growing, Hillary Clinton's glaring record of failure on fighting terrorism and her decision to set up a secret email server shows she recklessly jeopardized national security and can't be trusted in the White House. Americans looking for new leadership will not get it from two candidates promising to rubber stamp more of the extreme Obama agenda. Only a Republican president will offer the course correction our country badly needs.
"A lot of these superdelegates may rethink their position with Secretary Clinton," Sanders said Saturday. "A lot have not yet declared."
Watch:
Bernie Sanders: "A lot of these superdelegates may rethink their position" https://t.co/6OZtrfIwim #CNNSOTU https://t.co/NPrpBWGkxv

— CNN Politics (@CNNPolitics) March 27, 2016