Republican presidential front-runner Donald Trump called into Wisconsinite Charlie Sykes' radio show just days ahead of the state's primary, unaware that the show host is part of the #NeverTrump movement — and the conversation was brutal.
"Welcome to Wisconsin, and I know you realize that here in Wisconsin, we value things like civility, decency and actual conservative principles, so let's possibly make some news," Sykes charged.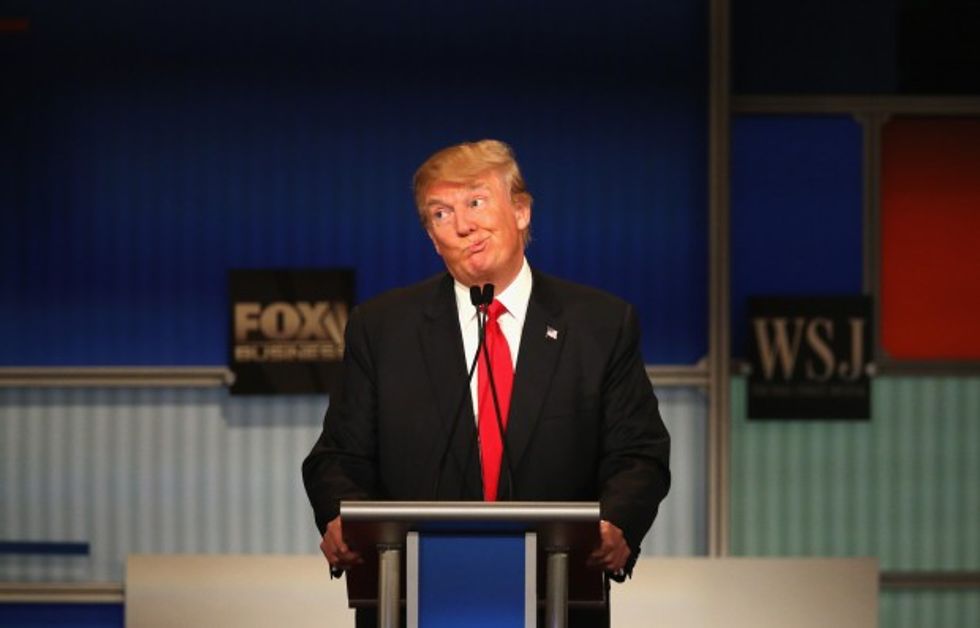 Donald Trump during the Republican Presidential Debate sponsored by Fox Business and the Wall Street Journal at the Milwaukee Theatre, Nov. 10, 2015. (Getty Images/Scott Olson)
The Radio 620 WTMJ host spent the first half of the 17-minute interview pressing Trump for an apology for his attack on GOP rival Ted Cruz's wife, Heidi, by retweeting a post featuring a flattering image of the businessman's wife, Melania, who is a supermodel, next to an unflattering image of Cruz's spouse, along with the text, "The images are worth a thousand words."
The controversial retweet by Trump came after a conservative super PAC unaffiliated with Cruz's campaign published an ad ahead of last week's Utah caucuses featuring a risqué image of Trump's wife along with the text, "Meet Melania Trump. Your next first lady. Or you could support Ted Cruz on Tuesday."
"You know, wouldn't it be a good way to start off your Wisconsin campaign by saying that wives should be off limits, and apologize for mocking [Heidi Cruz's] looks?" Sykes asked Trump.
The brash billionaire, however, stood his ground, telling Sykes that Cruz "totally knew about" the super PAC's ad. Trump said if he didn't believe Cruz knew about the Utah ad, "it would be a totally different thing."
"So is this your standard — if the supporter of a candidate and not the candidate himself does something despicable, then it's OK for you personally, the candidate for president of the United States, to behave in that same way?" Sykes pushed back. "I mean, I expect that from a 12-year-old bully on the playground, not somebody wanting the office held by Abraham Lincoln."
Trump continued his defense of his Twitter post, telling Sykes that the image he tweeted "was a retweet" and a "very minor response" to the Utah ad. In fact, Trump said, "I didn't even know it was necessarily a bad picture of [Heidi] versus Melania."
"@Don_Vito_08: "A picture is worth a thousand words" @realDonaldTrump #LyingTed #NeverCruz @MELANIATRUMP pic.twitter.com/5bvVEwMVF8"

— Donald J. Trump (@realDonaldTrump) March 24, 2016
Sykes also played an ad featuring women reading less-than-complimentary things Trump has said about women in the past, asking him how he will defend himself against those comments. In response, the brash real estate mogul said "women are just going to have to see what I've done," noting the "tremendous numbers of women" he's hired and placed in executive positions within the Trump Organization.
Additionally, Trump defended his past comments about women by saying he has been in the entertainment business and has "been quoted over the years by everybody from the time, almost from the time I started business."
"Are the rules different for celebrities?" Sykes asked. "Are celebrities allowed to insult women? ... You have mocked Megyn Kelly, you have mocked Carly Fiorina."
Perhaps Sykes' boldest confrontation of Trump came when he asked the GOP front-runner how parents should "explain" his comments about women and his attack on Cruz's wife.
"How should fathers and mothers explain this? I mean, is this the way you would want anyone, do you want your sons to be behave—," Sykes said.
Trump cut the radio host off, dodging the question by telling him he thought the controversial retweet of Cruz's wife was a "dead issue" and that he would rather be talking about trade, border security and "the things I'm best at."
Among the issues the two discussed, Trump and Sykes talked about the New Yorker's liberal history, the many donations he has made to Democrats and trade, an issue that has given Trump some problems as many have said he is not truly conservative on the issue because he has suggested restricting free trade in order to keep jobs inside the United States.
"Why shouldn't conservatives here in Wisconsin think that your claim to be a conservative is just a giant fraud?" Sykes asked, to which Trump said he was Republican but "gave money to all politicians, ... which is a thing that every businessman would do."
Toward the end of the interview, Sykes dropped a major, unexpected question for Trump: "Before you called into my show, did you know that I'm a #NeverTrump guy?"
"That I didn't know," Trump said. "But I assume you're also an intelligent guy – I know you're an intelligent guy — and you understand what's going on. Our country is getting ripped off left and right by every country we do business with."
Ultimately, though, Sykes ended the interview telling Trump he "failed in my effort to introduce you to Wisconsin in our tradition of civility and decency by getting an apology from you for Heidi Cruz."
But Trump stood firm, saying the Utah ad was not from an outside group and Cruz knew about it, asking Sykes, "Is Ted Cruz going to apologize?"
"Do you ever apologize?" Sykes shot back. "Most real men, when they screw up, they'll go, 'You know what, I was a hothead, I shouldn't have done that.'"
Trump refused to apologize until Cruz apologizes to him because "he started it."
—
Follow the author of this story on Twitter: