A college student is under investigation after an Uber driver posted a video of the student screaming obscenities at him. The student in the now-viral video says that it doesn't show what sparked his rant.
According to WXYZ-TV, Jake Croman, a freshman at the University of Michigan, became agitated with his Uber driver, Artur Zawada, who posted the video.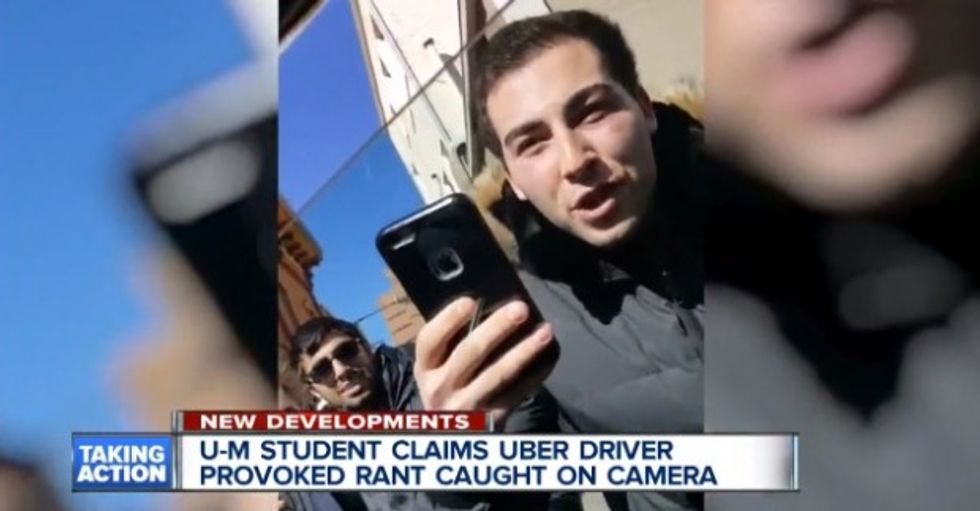 Image source: WXYZ-TV
"Yeah, f*** you, Artur, you little f***ot f***," Croman said in the video. "You wanna kick me off? Kick me off you little piece of s***. You're an Uber driver, go f***ing drive, you little f***. Minimum wage f***ot. Go f*** yourself."
In a statement provided to WXYZ, Croman accused the driver of anti-semitism, and that an offensive remark sparked his vulgar rant.
"This video shows one side of an argument I had with an Uber driver two weeks ago after he refused to pick me up on the basis of my religion," Croman said. "What you don't see in the video is that the driver had made a number of offensive anti-semitic remarks that provoked my response. I am not proud of my reaction to his discrimination, and I regret my choice of words. Shortly after the verbal altercation, I filed a complaint with the Ann Arbor police department and they are now dealing with the issue."
Croman faces potential disciplinary action by his university.
In a statement to WXYZ, a spokesperson for the school said:
"We find the actions depicted in this video to be reprehensible and completely inconsistent with our community's closely held values. We expect more from members of the U-M community. Regardless of the circumstances, no one deserves to be treated that way."
Croman also faces an investigation by his fraternity, Tau Kappa Epsilon, who said in a statement that "we are extremely disappointed by the individual's demeaning words."
Watch below:
--