Wisconsinites who vote for Republican presidential candidates Sen. Ted Cruz (Texas) or Donald Trump are essentially just giving their vote to Democratic contender Hillary Clinton, according to former Wisconsin GOP Gov. Tommy Thompson.
Thompson made the case Tuesday for Ohio Gov. John Kasich to get the party's nomination during an interview on CNN, arguing that the GOP candidate "has the pedigree, the credentials, to be the best candidate."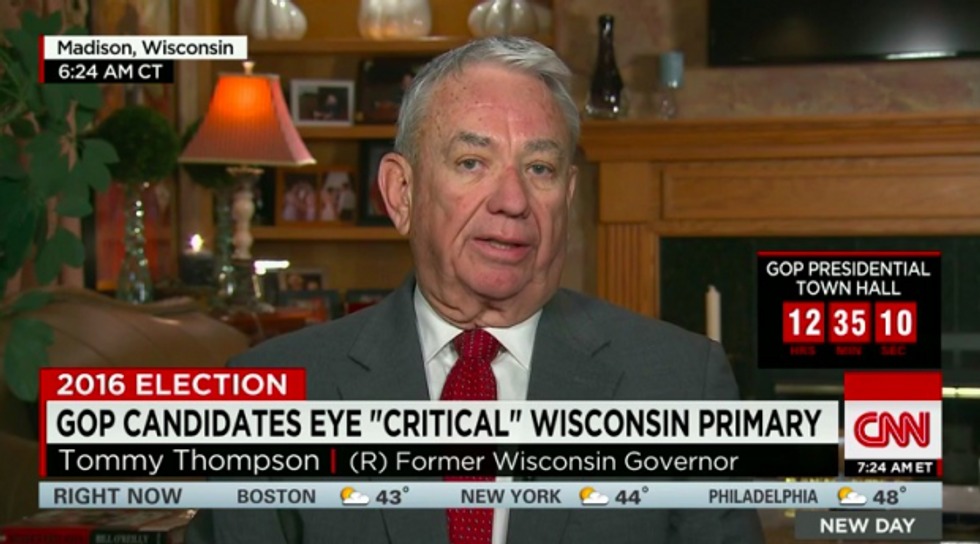 Former Wisconsin Gov. Tommy Thompson (R) says Ohio Gov. John Kasich is the best GOP presidential candidate to defeat Hillary Clinton in November. (Image source: CNN)
"When people are saying, 'a vote for Kasich is a vote really for Donald Trump,' it's really not the case," Thompson said. "I think a vote for Donald Trump and Ted Cruz is a vote for Hillary Clinton because the big race, the big contest, is a presidential election, and John Kasich is the only one of the three candidates that definitely will defeat Hillary Clinton."
The 74-year-old, who was governor for 14 years and then served as secretary of Health and Human Services for four years under President George W. Bush, continued to speculate during CNN's "New Day" that voters in the Badger State will eventually arrive at the same conclusion: "John Kasich is the best qualified and is the one that can really do the best job going against Hillary Clinton."
Real Clear Politics' aggregated polling data does appear to back up Thompson's assertion that Kasich is the only Republican candidate still in the race who can defeat Clinton in November. The data show that Clinton would beat Trump by 11.2 points and would beat Cruz by 1.8 points. However, according to the data average, Kasich would defeat the former secretary of state by 6.5 points.
Wisconsin's Republican primary will be held April 5 and delegates will be awarded on a winner-take-all basis.
Watch a clip of Thompson's interview on CNN below.
—
Follow Kaitlyn Schallhorn (@K_Schallhorn) on Twitter