"The Establishment" received some great publicity Tuesday afternoon.
No, not "Establishment" Washington, but the feminist magazine, "The Establishment." However, one avid supporter of Republican front-runner Donald Trump didn't seem to know that.
A woman identified as Joy Montiel on Twitter has spent a lot of time tweeting pro-Trump videos to GOP rival Ted Cruz, Democratic contender Hillary Clinton and the official GOP Twitter handle, and on Tuesday, she set her sights on "The Establishment."
Montiel began her rant — which was unknowingly aimed at a team of feminist journalists — with a tweet saying, "F*** you!!!!" along with a video of comedian George Carlin explaining how politicians "own" the American people.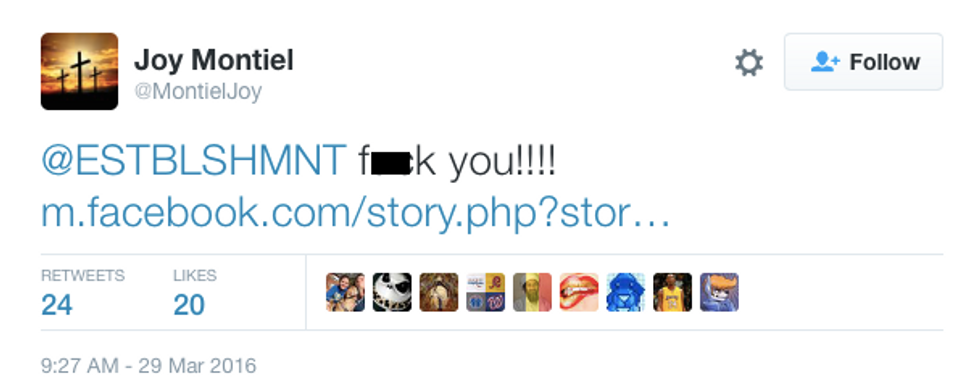 Image: Twitter @MontielJoy
"The Establishment" staff was quick to respond to Montiel's intense verbiage: "Wow, Joy, thanks. We're so lucky you tweet your Trump support at us every day, it's something special to look forward to."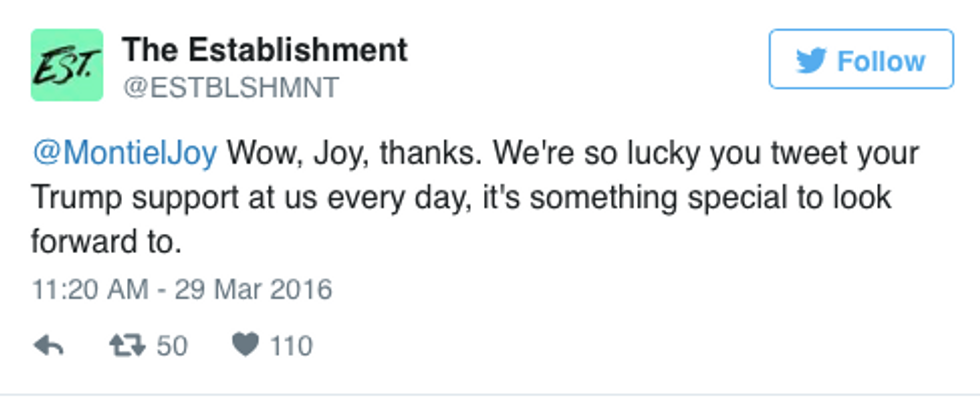 Image: Twitter @ESTBLSHMNT
But the Trump supporter still didn't seem to look into who, exactly, @Estblshmnt was, continuing with her misdirected message.
"Screw you all, your [sic] all corrupt, you make me sick," she tweeted. "Trumps people know what your doing as do we the people, ever heard of us?"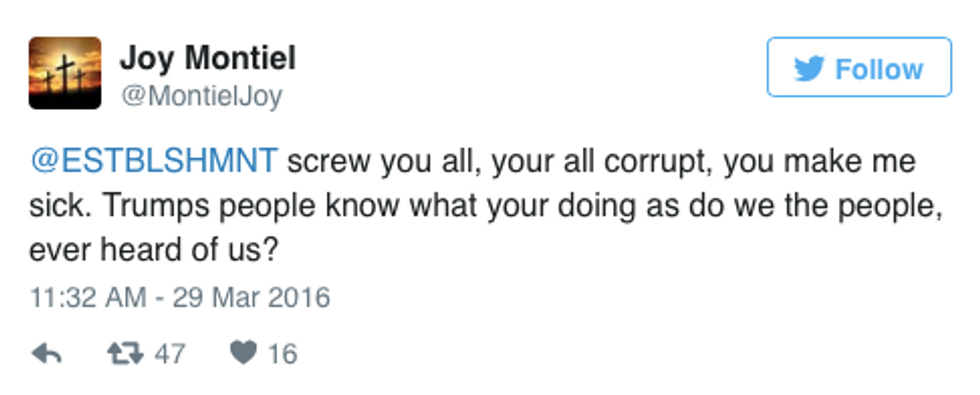 Image: Twitter @MontielJoy
Finally, "The Establishment" told Montiel outright that they are "not the government," and the Twitter foe asked for forgiveness.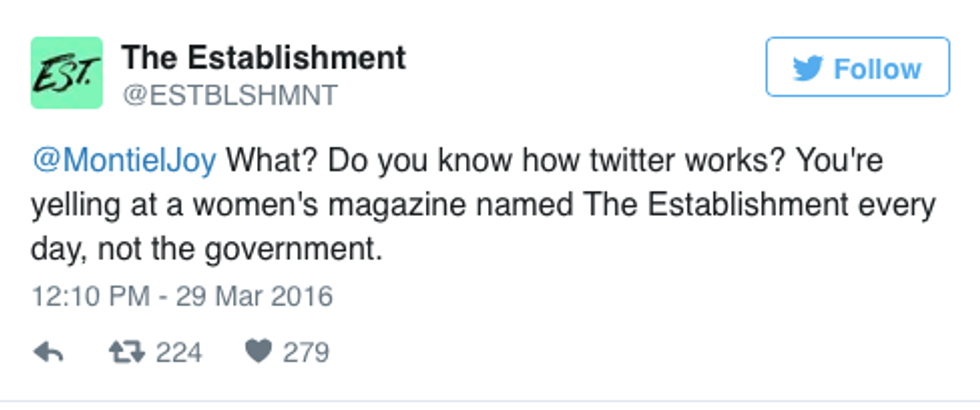 Image: Twitter @ESTBLSHMNT

Image: Twitter @MontielJoy
Apparently, Montiel still continued to receive flack for her mistake, tweeting that "least I put what's right and know how to apologize when I'm wrong," which she said is "more than any liberal can or would do."
In this instance, Miley Cyrus' once-famous lyrics really do ring true: "Everyone makes mistakes, everyone has those days."
(H/T: New York Magazine)
—
Follow the author of this story on Twitter: