After a police scanner report of Middle Eastern men in their 20s "up all night chanting Allahu akbar-type stuff" and a 911 call that a group "wearing turbans" fired more than 100 shots, 17 men were detained and then released Sunday in a hiking area about an hour northeast of San Bernardino, California — the site of a mass shooting in December reportedly inspired by radical Islam.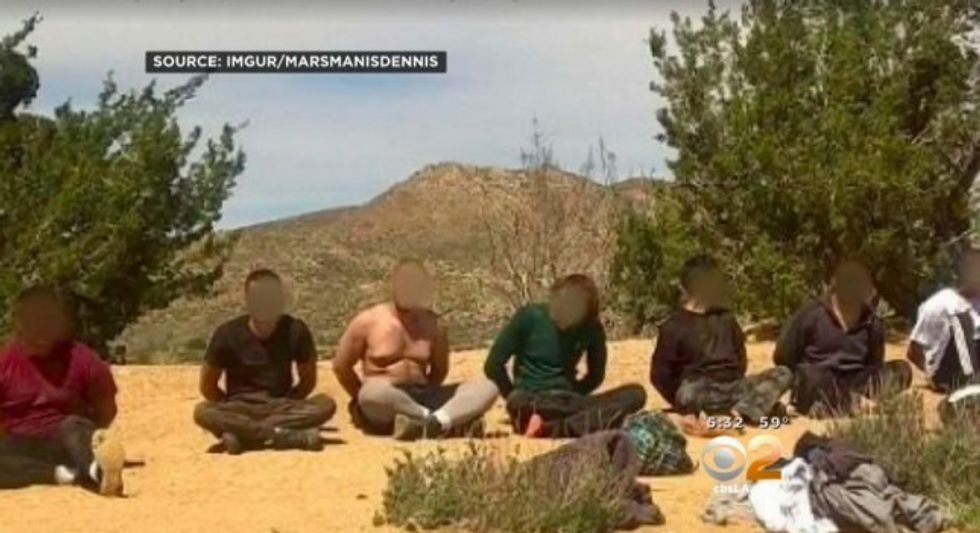 Image source: KCBS-TV via Imgur/marsmanisdennis
The FBI was continuing to investigate the incident Tuesday, KCBS-TV reported, after one of its agents and San Bernardino County Sheriff's deputies responded to the scene in the Deep Creek Hot Springs area where the group was camping.
A county sheriff's helicopter spotted the men hiking near a creek with backpacks "and other items," the sheriff's report said, adding that deputies from Apple Valley, Hesperia, and Victorville Police Stations also responded.
After the 17 men were detained and searched, a number of handguns, a rifle and a shotgun were found, the report said. But a records check of the men — along with their weapons and vehicles — showed that none of them had criminal histories or outstanding warrants and the weapons were registered with the Department of Justice, except for the rifle. An FBI spokesman told the Los Angeles Times that the rifle reportedly didn't have a serial number because it was purchased in parts.
Other hikers who were interviewed didn't witness guns being fired, the report said, adding that there was no evidence that the men — who were very cooperative — had committed a crime, so they were released.
Here's the police scanner traffic posted online by the Victor Valley News Group, which includes a report of the group "up all night chanting Allahu akbar-type stuff":
The FBI will conduct further interviews with the men to determine if any crimes were committed, KCBS reported.
"If there's something going on, wouldn't you want your local police or your law enforcement to take care of it so that citizens like you or myself don't have to take it in your own hands?" a resident, Eliseo Rodriguez, asked KCBS.