A Colorado State Patrol officer was just inches from tragedy when he stepped out on the roadway while investigating a crash — and the nail-biting footage was all captured on dashcam.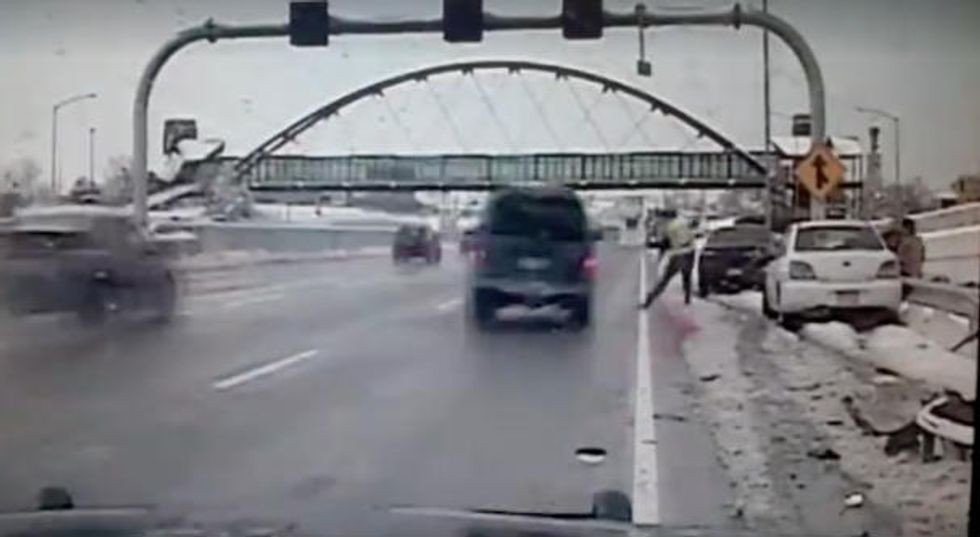 Image source: KDVR-TV
"While investigating a crash, one of our troopers was very lucky things did not get worse because someone forgot to SLOW DOWN and MOVE OVER," the Colorado State Patrol wrote in a Facebook post Tuesday.
The post included video from the incident, which shows an officer stepping out onto a snowy highway just as an SUV barrels by in the far-right lane. The officer jumps back, before he eventually goes back to do his job.
"The driver has not been found but we hope she (and everyone that watches) will remember that lives can change — or be lost — in an instant," the state patrol concluded in the Facebook post.
Light-footed Trooper

It's Colorado; inclement weather can happen quick and we still have plenty of rain and snow right around the corner. While investigating a crash, one of our troopers was very lucky things did not get worse because someone forgot to SLOW DOWN and MOVE OVER. The driver has not been found but we hope she (and everyone that watches) will remember that lives can change -or be lost- in an instant. (Please feel free to "share" to help get the word out!)

Posted by Colorado State Patrol on Tuesday, March 29, 2016
(H/T: KDVR-TV)
—
Follow the author of this story on Twitter and Facebook: