As the University of North Carolina and Syracuse University prepare for their semi-final matchup in the NCAA Final Four men's basketball championship, the governors of the two schools' states are locked in their own battle — and not over sports.
New York Gov. Andrew Cuomo (D) officially signed an executive order banning non-essential state travel to North Carolina in the wake of the Tar Heel State's passing of the controversial HB2 law, which, among other things, requires people to use public restrooms that correspond to their sex and not necessarily their gender identity.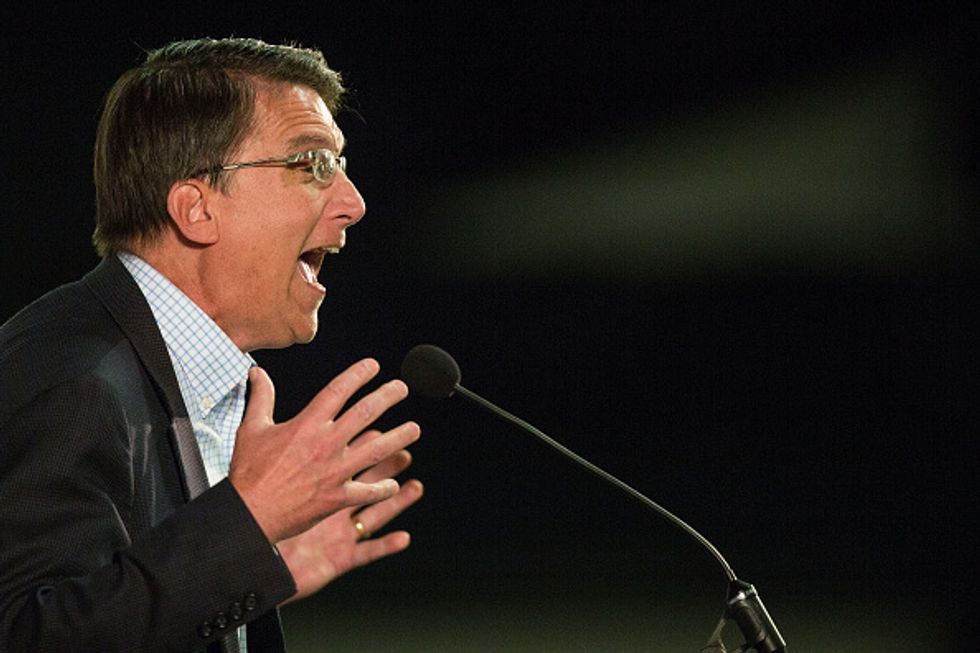 North Carolina Gov. Pat McCrory speaks at the Wake County Republican Party 2016 county convention at the North Carolina State Fairgrounds in Raleigh March 8. (Al Drago/CQ Roll Call)
"In New York, we believe that all people — regardless of their gender identity or sexual orientation — deserve the same rights and protections under the law," Cuomo said in a statement Monday. "From Stonewall to marriage equality, our state has been a beacon of hope and equality for the LGBT community, and we will not stand idly by as misguided legislation replicates the discrimination of the past."
The liberal governor added that as long as the law in in place, which he said "creates the grounds for discrimination against LGBT people," he would ban non-essential state travel to North Carolina.
But on Tuesday, North Carolina Republican Gov. Pat McCrory's office fired back.
"Syracuse is playing in the Final Four in Houston where voters overwhelmingly rejected a nearly identical bathroom ordinance that was also rejected by the state of North Carolina," Josh Ellis, McCrory's communications director, said in a statement. "Is Governor Cuomo going to ask the Syracuse team to boycott the game in Houston? It's total hypocrisy and demagoguery if the governor does not, considering he also visited Cuba, a communist country with a deplorable record of human rights violations."
As the law also nullified local ordinances which would have extended additional protection against discriminations for LGBT people, HB2 has angered many in the state as well as activist groups. The ACLU and Equality North Carolina have already promised to take legal actions.
Cuomo isn't the only elected official who has barred travel to North Carolina. Seattle Mayor Ed Murray and San Francisco Mayor Ed Lee have also banned non-essential travel. And some private companies and organizations have made the same decrees.
The UNC Tar Heels will face the Syracuse Orange on April 2. The winner will head to the championship game.
—
Follow Kaitlyn Schallhorn (@K_Schallhorn) on Twitter