Israeli Prime Minister Benjamin Netanyahu had sharp words for Sen. Patrick Leahy (D-Vt.) over a letter the U.S. lawmaker sent to Secretary of State John Kerry suggesting Israeli security forces had committed "gross violations of human rights" in the shooting deaths of Palestinians who Israel said were in the act of perpetrating stabbing attacks.
"The IDF and the Israel Police do not engage in executions. Israel's soldiers and police officers defend themselves and innocent civilians with the highest moral standards against bloodthirsty terrorists who come to murder them," Netanyahu said in a statement Wednesday.
Netanyahu asked Leahy why he hadn't displayed concern for victims of Palestinian terrorism.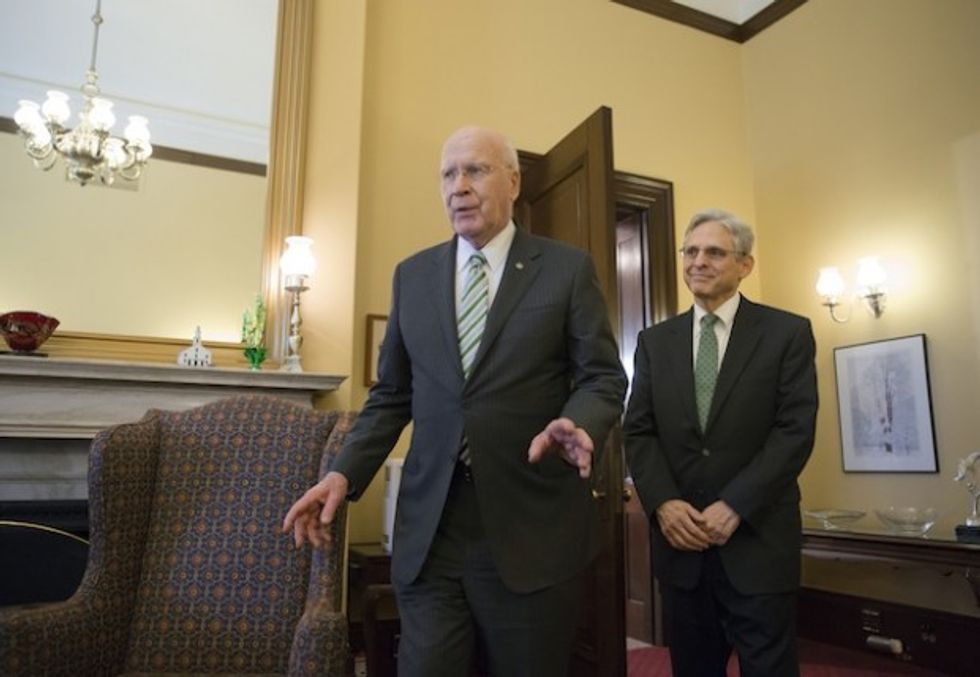 Sen. Patrick Leahy (D-Vt.), left, is the top Democrat on the Senate Judiciary Committee. (AP Photo/J. Scott Applewhite)
"Where is the concern for the human rights of the many Israelis who've been murdered and maimed by these savage terrorists?" Netanyahu said.
"This letter should have been addressed instead to those who incite youngsters to commit cruel acts of terrorism," the Israeli leader added, hinting at Palestinian Authority President Mahmoud Abbas whom Israel accuses of glorifying terrorists, and thus encouraging more violence.
Politico this week obtained the letter that Leahy and 10 members of Congress sent Kerry dated Feb. 17 that asked if Israeli and Egyptian military actions could trigger the "Leahy Law," which prohibits the U.S. from providing assistance to foreign militaries which grossly violate human rights.
"There have been a disturbing number of reports of possible gross violations of human rights by security forces in Israel and Egypt," stated Leahy's letter to Kerry.
Kerry was asked to look at "what may be extrajudicial killings by the Israeli military and police" and "to determine if they trigger the Leahy Law."
Israel has said that the four Palestinians mentioned in Leahy's letter were killed while trying to carry out attacks on Israelis in Jerusalem and Hebron.
Israeli opposition Member of Knesset Yair Lapid in a letter to Senate Minority Leader Harry Reid called the allegations "outlandish" and asked him to "speak up and make clear that these views [in Leahy's letter] do not represent the Democratic Party in any way."
"A clear statement distancing the leadership and the Democratic members of Congress from these spurious allegations will send a clear message that the U.S. and Democratic Party stand by Israel," Lapid wrote, according to the Jerusalem Post. "It is saddening to see Democratic members of Congress seeking to use this wave of terrorism to undermine Israel's national security by calling to stop crucial military aid to Israel. They are willing to put the lives of every Israeli at risk by weakening our armed forces."
Leahy's letter also asked Kerry to investigate killings by Egyptian security forces, including the Rab'aa Square killings in 2013 in which hundreds of Muslim Brotherhood supporters were killed.
Israel has since September faced a wave of nearly daily stabbing and other attacks by Palestinian assailants, many of whom are teenagers.