Despite their names being whispered as possible "saviors" of the Republican Party should this summer's convention be contested, 2012 Republican nominee Mitt Romney and his onetime running mate House Speaker Paul Ryan (R-Wis.) would likely lose to Democrat Hillary Clinton in a general election match-up, according to a new Public Policy Polling poll released Thursday.
What's worse for those wishing for Romney or Ryan is that GOP front-runner Donald Trump outperforms Romney against Clinton and may even beat Ryan, too.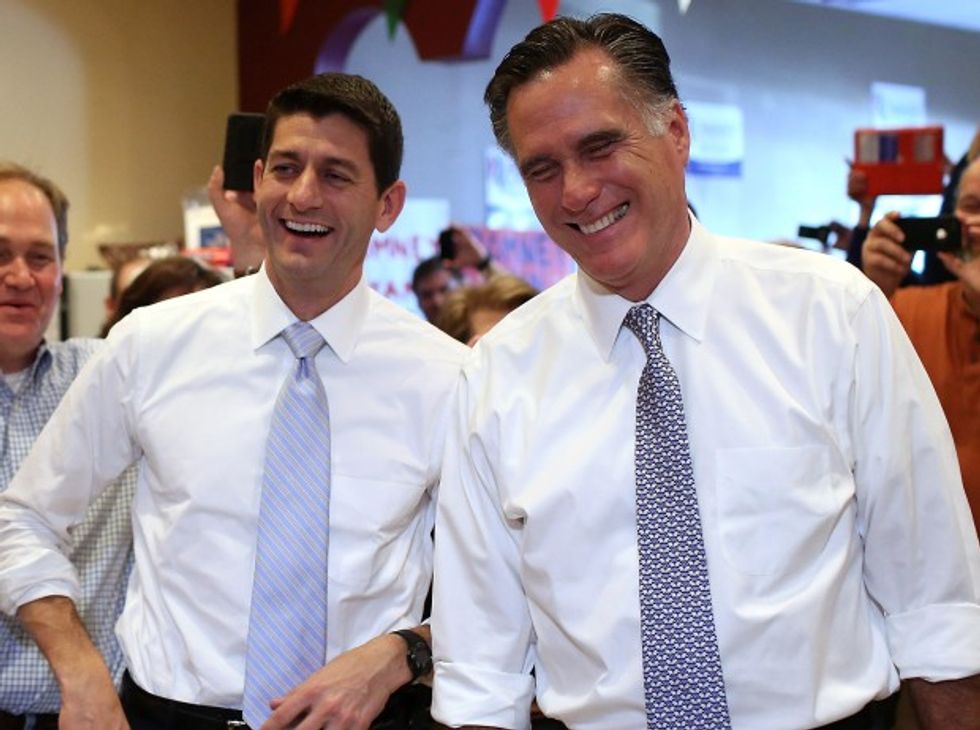 Justin Sullivan/Getty Images
According to the data, Clinton would defeat Romney by 13 points, 45 percent to 32 percent. Ryan would fare much better, losing to the controversial secretary of state by five points, 44-39 percent. Trump, on the other hand, loses to Clinton by only seven points, 48-41, a hypothetical contest.
"Donald Trump doesn't do very well against Hillary Clinton," Dean Debnam, president of Public Policy Polling, said. "But it's not clear the white knights the GOP dreams of would do any better."
Democratic presidential hopeful Vermont Sen. Bernie Sanders also beats Trump, Romney and Ryan, while both Clinton and Sanders would suffer defeat at the hands of Ohio Gov. John Kasich, the poll found.
The survey of 1,083 registered voters was conducted March 24-26 and has a margin of error of +/-3 percentage points.
—
Follow the author of this story on Twitter and Facebook:
[facebook //www.facebook.com/plugins/like.php?href=