Vermont Sen. Bernie Sanders' name could be missing from the Washington, D.C., Democratic primary ballot due to an error by the city's party.
Although both Sanders' and Hillary Clinton's campaigns submitted their registration fees on time, the D.C. Democrats did not email their registration information to the D.C. Board of Elections until a day after the deadline, according to WRC-TV.
And though both candidates' registrations were late, a voter filed a complaint against only Sanders' appearance on the ballot — not Clinton's.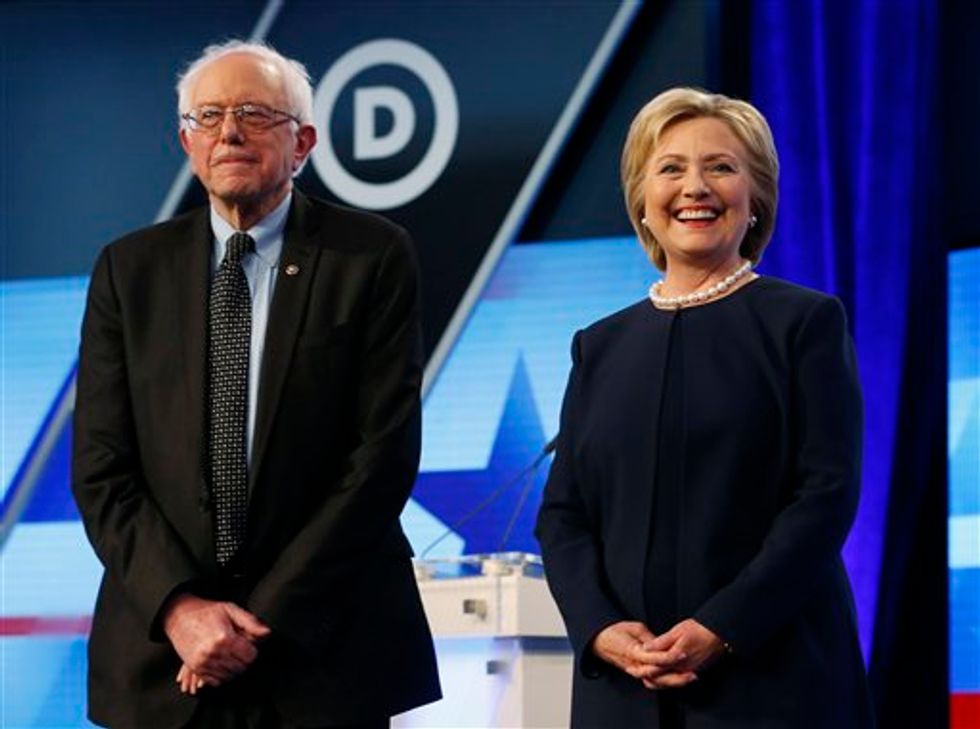 Democratic presidential candidates Hillary Clinton and Sen. Bernie Sanders (Vt.) stand together before the start of the Univision, Washington Post Democratic presidential debate at Miami-Dade College in Miami, Florida, March 9. (AP Photo/Wilfredo Lee)
According to WRC, the Board of Elections rules state that a hearing will be held to decide whether to include Sanders on the June 14 primary ballot. D.C. Democratic Party Chairwoman Anita Bonds told WRC that the D.C. Council could resolve the issue through an emergency vote, or the board could deem the mistake an administrative error and correct it.
"We did what D.C. law requires in order to get Bernie on the ballot, and we are confident he will be on the ballot," a Sanders spokesperson told WRC in a statement.
A hearing could possibly occur next week, WRC reported.
Clinton leads Sanders by nine points nationally, according to Real Clear Politics' aggregated polling data.
(H/T: WRC-TV)
—
Follow Kaitlyn Schallhorn (@K_Schallhorn) on Twitter