Fox News host Megyn Kelly confronted Trump campaign spokeswoman Katrina Pearson on Thursday night about Donald Trump's recent abortion controversy, while also questioning how the GOP candidate can win a general election with such unfavorable ratings among women.
Kelly began by asking Pearson to respond to critics who say that Trump often "misspeaks" and reverses his positions.
"He said the war in Afghanistan was a mistake and then said that was misspeaking, he said that Obamacare — that he liked the mandate — and then said, no he misspoke there," Kelly said. "He said women should be punished for abortions if abortions were illegal, and now he says that he misspoke there."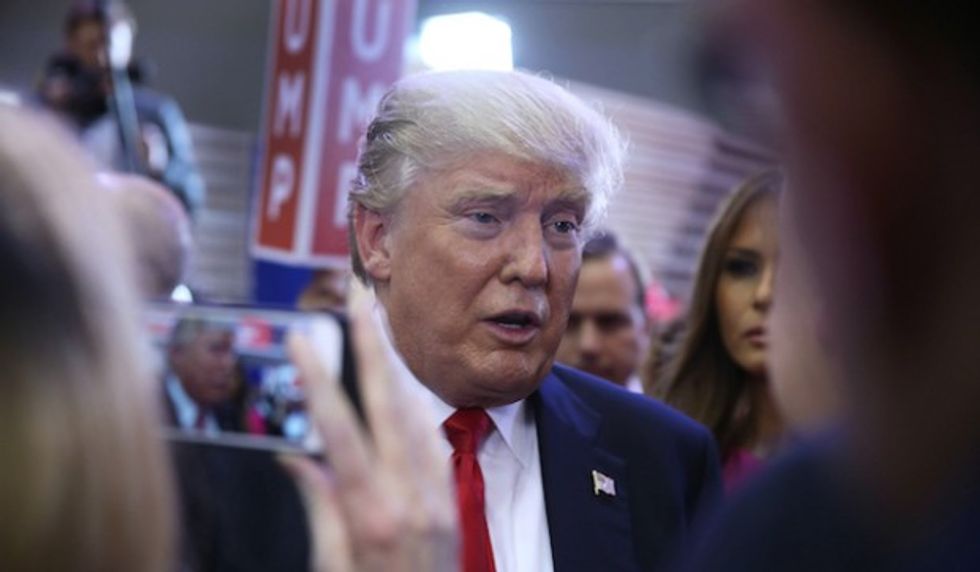 Republican presidential candidate Donald Trump speaks to the media in the spin room after the CNN, Salem Media Group, The Washington Times Republican Presidential Primary Debate on the campus of the University of Miami on March 10, 2016 in Coral Gables, Florida. (Joe Raedle/Getty Images)
But Pierson said that Trump is known and revered for not being too scripted, which sometimes leads to these reversals.
"When you are a politician candidate for eight months, you are speaking off the cuff," she said.
Pierson also charged that Trump's critics are "going to say anything at this point" and that there is a "full-blown anti-Trump movement going on."
As for the abortion controversy, she offered up an explanation.
"This was a hypothetical context of something happening that was illegal," Pierson said. "Mr. Trump was just reinstating that if something is illegal, yes it should be punished."
Kelly also pressed the spokeswoman on the fact that polls show that more than 70 percent of American women disapprove of Trump, with the host noting that Romney's disapproval among females was much lower at 51 percent, but that he only captured 44 percent of female voters.
"How is Donald Trump going to do better than that with a 73 percent disapproval rate with women?" Kelly asked.
Watch the discussion below:
(H/T: Mediaite)