Despite recent threats from the three remaining Republican candidates, Republican National Committee chairman Reince Priebus said that he's confident the candidates will eventually honor their pledge to support the GOP nominee.
Discussing the issue with Fox News host Greta Van Susteren on her show "On the Record" Thursday evening, Priebus said that because of the potential for an open convention in July, the candidates are making the threats in an attempt to better "posture" themselves.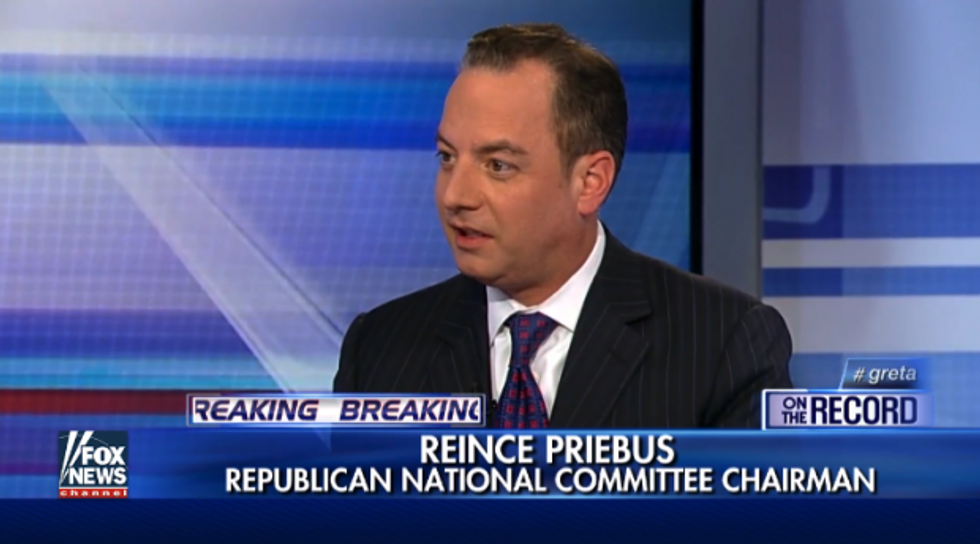 Image source: Fox News
"We're going into potentially – we don't know for sure – but potentially an open convention. So the candidates, I think, are going to posture a little bit as far as what they're willing to do and who they're willing to support, who they're not," Priebus said. "I'm not really worried about [them] in regards to supporting the eventual nominee or the party."
However, if a candidate does eventually follow through with their threat, Priebus said that the RNC would take measures to reprimand that candidate.
"They're not going to get the data and the tools of the RNC – and run to be our nominee – and tell me that they're not going to support the party," Priebus said. "It doesn't work that way. They're running to be the nominee of our party."
Talk of disloyal GOP candidates resurfaced this week after front-runner Donald Trump, Texas Sen. Ted Cruz and Ohio Gov. John Kasich failed to say in a CNN town hall that they would eventually support the GOP nominee.
—
Follow the author of this story on Twitter and Facebook:
[facebook //www.facebook.com/plugins/like.php?href=