A surrogate for Republican presidential candidate Donald Trump said that overturning Roe v. Wade is "not gonna happen" during an interview on CNN's "New Day" on Friday.
Roe v. Wade is the 1973 Supreme Court decision that legalized abortion.
Rep. Chris Collins (R-N.Y.), who was the first member of Congress to endorse Trump, also said that asking the candidate about abortion is "certainly" a "gotcha question."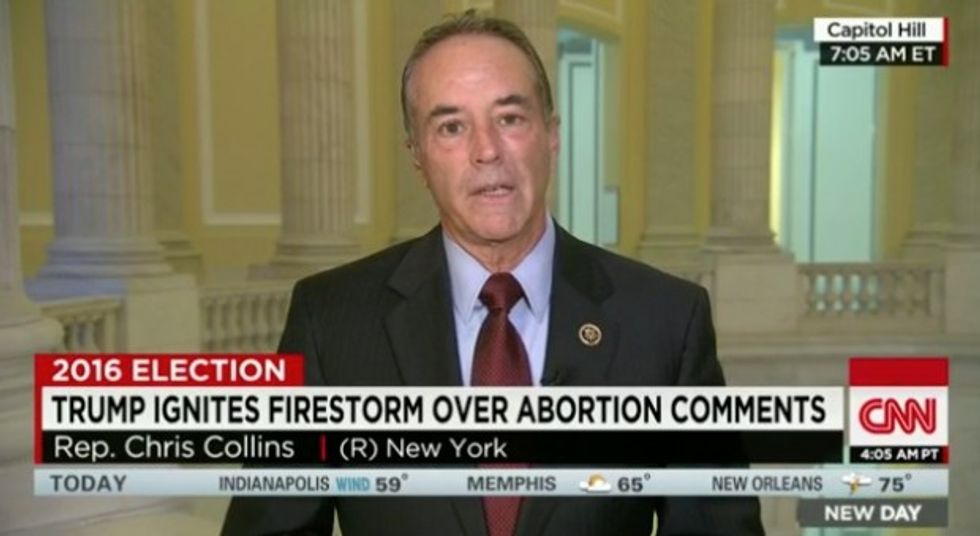 Rep. Chris Collins (R-N.Y.). (Image source: CNN)
"It's the settled law of the land. Roe v. Wade is not gonna be overturned, we all know that," Collins said. "So a kind of hypothetical, gotcha question is frankly not appropriate. I would have simply answered it by saying, 'It's not gonna happen, what's your next question,'" Collins said.
Trump made controversial remarks about abortion during an interview with MSNBC host Chris Matthews on Wednesday, arguing that "there has to be some form of punishment" for women who have abortions.
The remark was subsequently roundly condemned by both pro-life and pro-choice organizations.
Trump later backtracked from his earlier comments, issuing a statement that should abortion become illegal, "the doctor or any other person performing this illegal act upon a woman would be held legally responsible, not the woman."
Trump's claim that he is pro-life is a reversal from his previously held position on the issue of abortion. In 1999, he told NBC's "Meet the Press," he is "pro-choice in every respect."
Trump has defended taxpayer funding for Planned Parenthood during his presidential campaign.
Watch the interview with Rep. Collins below:
.@RepChrisCollins: Roe v Wade won't be overturned, asking about abortion is gotcha question https://t.co/1SzgTeWlcz https://t.co/H62ZnkScIn

— Alisyn Camerota (@AlisynCamerota) April 1, 2016
—
Follow Kate Scanlon (@kgscanlon) on Twitter