A heartwarming video of a California police officer teaching an 11-year-old homeless girl how to play hopscotch has gone viral since it was posted to Facebook on Wednesday.
Huntingdon Beach Police Officers Zach Pricer and Scott Marsh were out responding to a March 30 call describing reports of a suspicious vehicle, according to USA Today. When the officers arrived at the scene, they discovered that homeless girl and her mother were living in the car because they had no other place to go. While Marsh was busy arranging for housing for the mother and daughter through calling the department's homeless task force, Pricer, 38, decided to try his hand at brightening up the 11-year-old girl's day by teaching her how to play hopscotch.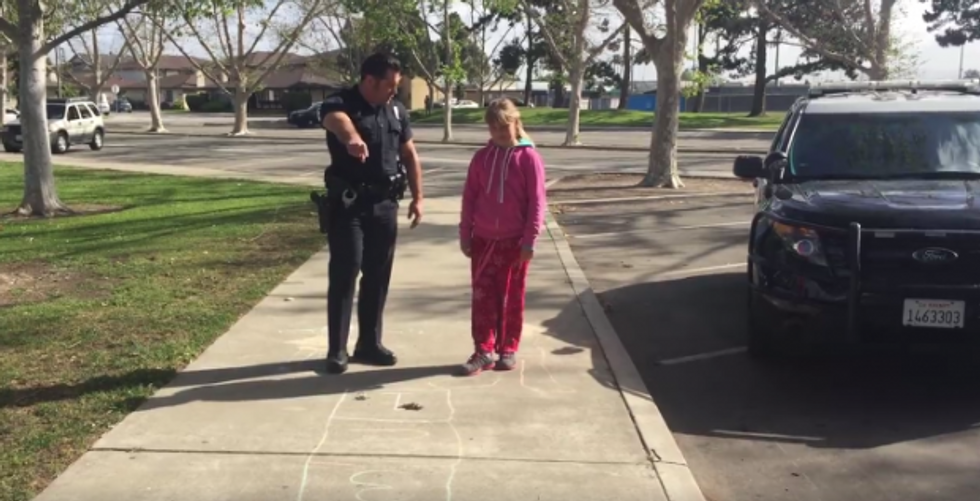 Image source: Huntingdon Beach Police Department's Facebook page
"OK, your feet touched the line, but I'll let you go because this is your first time," Pricer can be heard telling the girl in the video.
The adorable footage shows Pricer and the girl laughing together as Pricer wobbles and almost loses his balance at one point.
"It distracted her from an adult problem," said Huntington Beach Police spokeswoman Jennifer Marlatt, according to Fox News.
Pricer, who has been with the police force for 13 years, said that he thought using hopscotch to learn more about the girl and inquire into her welfare as they played together was a effective tool.
"For an 11-year-old girl, to see a police officer towering over her is a scary thing," Pricer said, according to Fox News. "I was trying to break the ice and get her to feel more comfortable with me."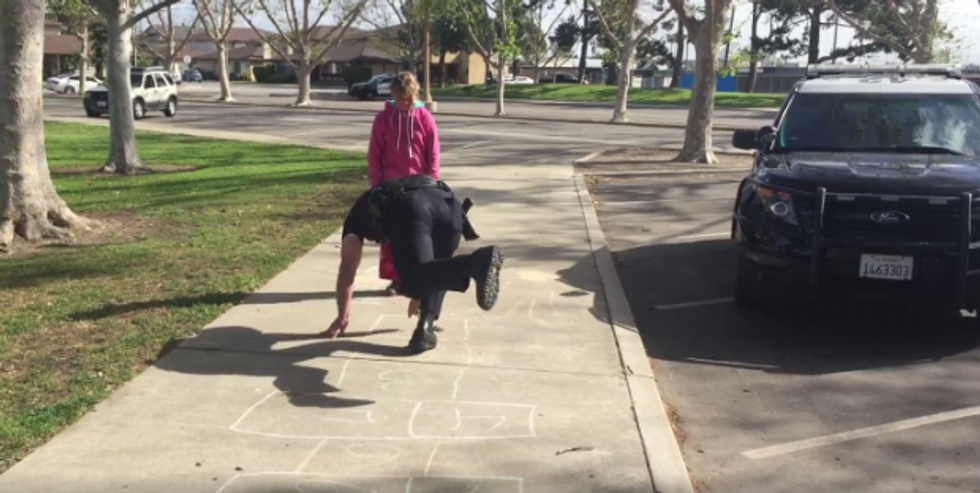 Image source: Huntingdon Beach Police Department's Facebook page
Video footage showing Pricer and the girl laughing as they play hopscotch together went viral on social media after the Huntington Beach Police Department posted it to its Facebook page on March 30.
"Very sweet, but the officer is out. You can't use your hand to balance when picking up the marker," one commenter wrote. "Way to go Officer Pricer, you're a good man."
"Yes, police officers are human too! Absolutely love this; heartwarming," another person wrote. "Officer Pricer, thank you for your service and giving this child the gift of your time."
"The hand of God in action. His angels are everywhere even in blue," another commented. "Thank you officers for being helpful, caring, and protective. Your humanity and efforts are so much appreciated. Blessings to you and your families."
This morning an officer checked on a suspicious occupied vehicle in the area of Graham and Edinger. During his investigation he learned the people in the vehicle were a mother and her 11 year old daughter and they had been living out of their car. The officer contacted our Homeless Task Force to help arrange housing. As the officer worked on housing arrangements with the mother, another officer on scene, Officer Pricer, began displaying his expertise in hopscotch to the daughter. #Copslovehopscotch

Posted by Huntington Beach Police Department on Wednesday, March 30, 2016
—
Follow Kathryn Blackhurst (@kablackhurst) on Twitter