A Tennessee mother has been charged with child neglect after police say she forced her children walk to school.
Lisa Marie Palmer, 32, told Marion County Sheriff Ronnie "Bo" Burnett that she made her two daughters walk to school after they missed the bus. Police said Palmer was driving ahead of the girls when deputy Chris Ladd stopped her, the Chattanooga Times Free Press reported.
Police were not releasing the ages of the children.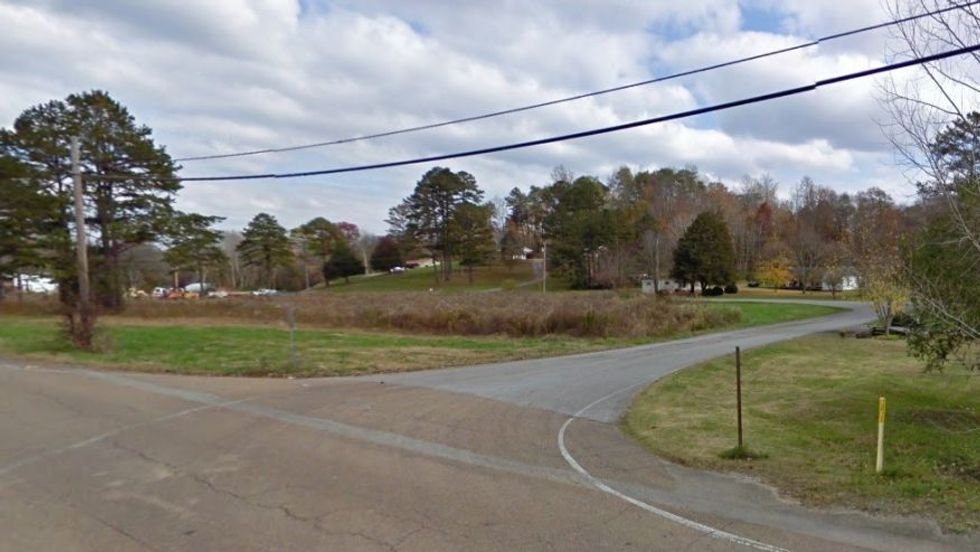 The intersection where police said they found the children walking to school. (Image source: Google Street View via Fox News)
"Temperatures were cold, and traffic was beginning to become heavy with citizens heading to work," Ladd said. "Mrs. Palmer was in no position to reach her children safely in the event of an emergency."
Ladd stated in the police report that it appeared as if she was driving ahead of the children and allowing them to catch up to her vehicle. He said the mother planned to drive ahead of them until they arrived at school.
The girls had already walked about a mile and a half, Ladd estimated. The school was about two miles away from where the mother was pulled over.
The deputy issued Palmer a citation for child neglect and not having a valid driver's license. Palmer then called her husband, Brandon Palmer, who later showed up with his father, Douglas Palmer. The elder Palmer, ended up getting into an argument with the officers after being asked to show identification.
Douglas Palmer began using obscene language "with the children observing his every word and action," Ladd said.
He went on to accuse one of the officers of being "the cop that beat me up last time," as he took off his seat belt and got out of the car.
Moments later, Douglas Palmer, who was carrying a fixed-blade knife in a sheath, allegedly grabbed Ladd's waist but was instead disarmed and arrested. Police found drug paraphernalia in Douglas Palmer's pocket, but no drugs.
Douglas Palmer was arrested on charges unrelated to the children walking to school, while Lisa Palmer is scheduled to appear in court on April 18 on charges of child neglect and driving without a valid license.
The Tennessee Department of Children's Services is investigating the case, Burnett told the Times Free Press.
(H/T: Chattanooga Times Free Press)
–
Follow the author of this story on Twitter and Facebook: